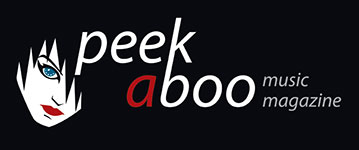 like this cd review
---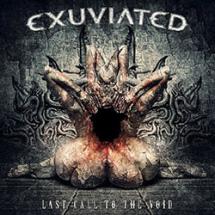 EXUVIATED
Last Call To The Void
Music
•
CD
Death Metal
[80/100]

Spinal Records
29/12/2015, Wim GUILLEMYN
---
Last months we're spoiled with excellent Belgian metal releases: after Komah, Temptations For The Weak, Hell City and Ython, Exuviated has a new album out! And yes, it's fantastic!
The band is based in Marche-en-Famenne and started around 2008, was very quickly noticed and played at the prestigious Wacken Open Air in 2012. Since their first album (Orphan Morpheus from 2012), their fan base has grown and their reputation as an excellent live band.
With their second album the fan base probably will grow again. Before we start saying some things about the music, we give some attention to the very nice artwork that contains a beautiful photo book and lyrics.

Musically you notice that the drums and the bass are more present on this new album. The guitars make the song colourful and because of the way the drums are mixed, it feels like they do what normally guitar riffs do! Add the superb bass, and you get a very solid sound, completed with the grunts and growls of singer Jean Philippe Sonnet. Personally, I like the alternation with clean vocals, but in the case of Exuviated that is no problem!
The songs contain some fine rhythm changes. The Open Mouth Of Decay is a good example: heavy riffs, tempo changes and good vocals. The same can be said about Secret Passenger, Under A Black Veil, Ode To The Wind. The Death Will Be Spread and Fallen Angel.
Last Call To The Void is a superb album, and we're sure that Exuviated is ready for a higher level!
Wim GUILLEMYN
29/12/2015
---
We worden de laatste maanden echt wel verwend door de Belgische metalscène: na Komah, Temptations For The Weak, Hell City en Ython, is er nu een nieuw album van Exuviated. Wederom kunnen we spreken van een ferme schijf!
De band komt uit Marche-en-Famenne en ontstond ergens rond 2008, om vervolgens heel vlug te worden opgemerkt, wat uiteindelijk resulteerde in een plaats op Wacken Open Air in 2012. Sinds de eerste cd (Orphan Morpheus uit 2012) groeide de fanbasis alsmaar, alsook hun reputatie als liveband, ook in Vlaanderen.
Met dit tweede album zal hun aanhang waarschijnlijk nog groeien. Last Call To The Void is immers een potig album met heel mooi artwork, een prachtig fotoboekje en lyrics. Wat opvalt is dat de drums en de bas op deze tweede plaat heel nadrukkelijk aanwezig zijn. De drums zijn heel goed gemixt: massief en met veel nuancering. De gitaren geven kleur aan de songs, terwijl de drums eerder dienst doen als snijdende gitaarriffs. Samen met de bas vormen ze een hecht geheel. De grunts en growls van zanger Jean Philippe Sonnet klinken goed. Persoonlijk hou ik er meer van als dat wordt afgewisseld met cleane zangpartijen, maar in het geval van Exuviated is dat niet eens zo erg!
De songs zijn snedig en bevatten soms fijne ritmewisselingen. The Open Mouth of Decay is daar een mooi voorbeeld van: heftige riffs, tempowissels en een goede zang. Op Secret Passenger zijn het vooral de gitaren die de song inkleuren. Dat zorgt voor een vrij melodisch resultaat. Dat geldt tevens voor Under A Black Veil of Ode To The Wind. Ook The Death Will Be Spread en Fallen Angel zijn het vermelden waard.
Met Last Call To The Void zou Exuviated wel eens op een hoger niveau kunnen meespelen!
Wim GUILLEMYN
29/12/2015
---