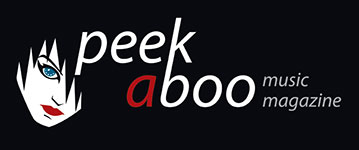 like this cd review
---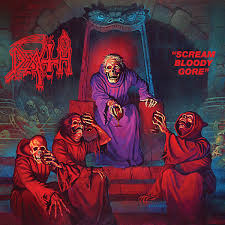 DEATH
Scream Bloody Gore
Music
•
CD
Death Metal
[80/100]

Relapse Records
11/12/2016, Benny CALUWE
---
Relapse Records re-issues a re-mastered version of the nearly 30 year old cult classic Scream Bloody Gore with a lot of bonus content. Death's game-changing debut album Scream Bloody Gore is heralded to be the first true death metal album. The band from Orlando, Florida, was a pioneering force and is considered to be one of the most influential bands in heavy metal. Evil Chuck is often referred to as the godfather of death metal. Death ceased to exist after Chuck Schuldiner died in 2001. The remaining members still perform as Death: DTA (Death To All).
Scream Bloody Gore kicks of with Infernal Death, which is building up pace after a slow start. Die! Die! Die, Chuck Schuldiner savagely screams. Not a low-tone growl like you hear nowadays, rather brutal mid-tone vocals. Some tracks remind me of Slayer: trashy riffs, pounding drums and multiple tempo shifts. But Death sounds even more brutal.
My personal favourites are Evil Dead with its eerie melodic intro, and the title track with its bloody and funny over the top lyrics: decapitated head licking your cunt…
The songs on Scream Bloody Gore are quite simple. Later outputs such as the more progressive Individual Thought Patterns and Symbolic appealed more to me with strong technical guitar work. Scream Bloody Gore sounds primitive and raw compared to those albums. The drumming lacks some variation. But anyhow, Scream Bloody Gore is a quintessential album for the collection of extreme metal fans. A cornerstone in the history of death metal.
Benny CALUWE
11/12/2016
---
Relapse Records geeft de geremasterde versie van de bijna 30 oude cultklassieker Scream Bloody Gore opnieuw uit met bonusmateriaal. Het vernieuwende debuut van Death wordt beschouwd als het eerste deathmetalalbum. De band uit Orlando, Florida was een pionier en wordt gezien als één van de meest invloedrijke bands van de heavy metal. Evil Chuck wordt vaak de godvader van de death metal genoemd. Death hield op te bestaan toen Chuck Schuldiner overleed in 2001. De overblijvende bandleden treden nog op als Death: DTA (Death To All).
Scream Bloody Gore start met Infernal Death. Na een trage start wordt het tempo opgedreven. Die! Die! Die!, schreeuwt Chuck Schuldiner woest. Geen laag gegrom zoals je dat tegenwoordig hoort, eerder brutaal geschreeuw. Sommige tracks herinneren me aan Slayer: trashy riffs, beukende drums en talrijke tempowisselingen. Maar Death klinkt nog brutaler.
Mijn persoonlijke favorieten zijn Evil Dead met zijn ijzingwekkende, melodische intro, en de titeltrack met de buitensporig bloederige tekst: Decapitated head licking your cunt…
De composities op Scream Bloody Gore zijn eerder eenvoudig. Latere, progressievere albums zoal Individual Thought Patterns en Symbolic spraken me meer aan met technische sterke gitaarwerk. Scream Bloody Gore klinkt primitiever en ruwer ten opzichte van die platen. De drums zouden ook wat gevarieerder mogen klinken. Maar hoe dan ook is deze Scream Bloody Gore een album dat thuishoort in de collectie van elke deathmetalfan. Een richtinggevend album in de geschiedenis van het genre.
Benny CALUWE
11/12/2016
---