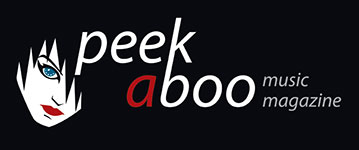 like this cult movies review
---
JOHN CARPENTER
Escape From L.A.
Movie
•
Cult movies
Action
[68/100]

Paramount Pictures
20/08/2014, Didier BECU
---
Escape From L.A. is one of the last movies that's been made by enfant terrible John Carpenter in times that he was still offered a gigantic Hollywood budget. Today the movie is labelled as cult but you can bet tons of money on it that the producers who invested 50 million dollars (ten went straight to Kurt Russell's pocket) had something else in mind.
The sequel from the 1981-classic Escape From New York is perhaps one of the funniest Carpenter has ever made, it's also one of his worst either! Kurt Russell plays again the outlaw Snake Plissken. The story is set in 2013. America is ruled by a violent oppressor. An earthquake has caused the separation from Los Angeles from the continent and has become a place where all unwanted villains are send to. This fact alone was enough for critics to see a sign that the director despised tinseltown that made him big. In several interviews the director denied this, but everyone who is familiar with Carpenter knows that he always refuses to obey the rules, and in a way Escape From L.A. can be considered as his middle finger.
The story itself is extremely silly: the president's daughter has stolen a sophisticated machine that can destroy the world. Snake Plissken has been given the task to get it back. That's all. The stupid special effects are even worse! Carpenter might be considered as one of the kings from the B-movies, you never saw so clear that the buildings are simply made out of cardboards! We haven't even mentioned the childish submarines or helicopters! Because Carpenter was a well-known name he was able to gather a cast of former superstars (from Cliff Robertson to Peter Fonda). In fact, the cast is another gigantic mistake, unless you can say that Pam Grier as a she-male is a good choice!
After that other fiasco (the science fiction movie Ghosts Of Mars) the career from Carpenter almost got ended, even if his last one (The Ward) is a wonderful return to his Halloween-days.
Escape From L.A. is still easy available in both DVD and Blu-ray.
Didier BECU
20/08/2014
---
Escape From L.A. is één van de laatste films geweest waarin enfant terrible John Carpenter nog op een groot Hollywoodbudget kon rekenen. Vandaag krijgt deze prent weliswaar het label van cult opgeplakt, toch zullen de producers die vijftig miljoen dollar (naar verluidt streek hoofdrolspeler Kurt Russell er zelf tien van op!) in deze sequel hadden geïnvesteerd heel wat anders van dit zooitje hebben verwacht.
Dit vervolg op Escape From New York uit 1981 is misschien wel één van de grappigste die Carpenter ooit heeft gemaakt, het is zonder twijfel ook één van zijn slechtste. Kurt Russell kroop terug in de huid van outlaw Snake Plissken. Deze keer speelt het verhaal zich in 2013 af en is Amerika een tirannieke staat geworden. Door een helse aardbeving is Los Angeles van het continent losgescheurd. Het gewezen filmparadijs doet nu dienst als plaats waar al het uitschot naar toe wordt gebracht. Dit feit alleen al was voor heel wat critici een teken dat de regisseur de filmstad een veeg uit de pan wilde geven. Zelf ontkent hij dat in alle talen, maar iedereen weet dat de sterregisseur zich nooit naar de wetten van tinseltown heeft willen gedragen.
Het verhaal is te stom voor woorden: de dochter van de Amerikaanse president heeft een apparaat gestolen waarmee ze de aarde kan vernietigen en Snake Plissken moet dat in handen krijgen. Nog erger is het met de special effects gesteld. Carpenter is wel een beetje de koning van de B-film, maar nog nooit zag je in zijn films zo duidelijk dat de gebouwen gewoon van karton zijn gemaakt. We hebben het nog niet eens over de kinderachtige duikboten en helikopters gehad! Door zijn naam kon Carpenter op een immense cast van gewezen supersterren rekenen (van Cliff Robertson tot Peter Fonda), maar ook hier sloeg hij de bal mis, tenzij je Pam Grier als travestie als perfecte casting beschouwt.
De film werd een fiasco en na het sciencefiction-vehikel Ghosts Of Mars was het zo goed als afgelopen met Carpenters carrière, ofschoon zijn laatste (The Ward) een prachtige terugkeer naar zijn Halloween-dagen is.
Zo slecht dat het goed wordt? Eigenlijk wel, ja!
Escape From L.A. is vlot op dvd en Blu-ray te verkrijgen.
Didier BECU
20/08/2014
---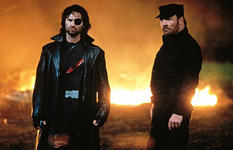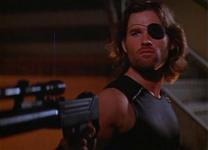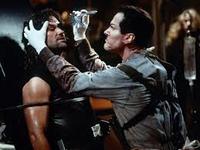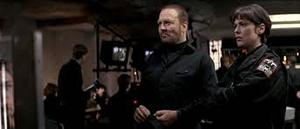 ---