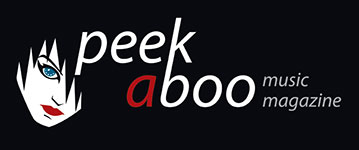 like this cult movies review
---
ALLAN MOYLE
Empire Records
Movie
•
Cult movies
Comedy
[62/100]

Warner Home Video
16/08/2014, Didier BECU
---
I had my doubts whether I would classify Empire Records as a classic or a cult movie. But you know, a classic automatically refers to something good and with cult you can go in any direction, as in all honesty: this movie isn't good, you can even say it's rather bad!
Yeah I know. I should have seen it by the cover, but because Empire Records is often cited as the equal from the magnificent High Fidelity I thought I'd give it a go. The only thing these Empire-people have in common with the guys from the Stephen Frears-movie is that they look down on those who know nothing about some records. For the rest, we never hope to enter Empire Records! The shop is a small one, but there's a huge danger of the competitors. A big chain wants to buy Empire Records.
On paper this comedy by Allan Moyle (the man who made the classic Times Square and that other music hit Pump Up The Volume) seems nice, but the mediocre performances destroy all the magic. The soundtrack is a nice choice from Gwar, The The, The Cranberries, The Flying Lizards and even Daniel Johnston. That's indeed the most positive thing you can say about it. That, and the fact that Renée Zellweger never looked so horny as here. But for the rest, up to the next store!
Didier BECU
16/08/2014
---
Het was eventjes twijfelen of ik Empire Records als klassieker of cultfilm zou onderverdelen. Maar goed, een klassieker impliceert iets goed, terwijl je met cult alle richtingen uit kan. Want tja, deze komedie is eigenlijk zeer matig (om niet te zeggen slecht).
Wist ik dat dan niet? Hmmm, het hoesje spreekt wel boekdelen maar omdat deze prent vaak wordt aangeprezen als de evenknie van (de geniale!) High Fidelity besloot ik hem toch een kans te geven. Het enige wat de verkopers met de winkel uit de film van Stephen Frears gemeen hebben is dat het allemaal arrogante kwallen zijn die neerkijken op klanten als ze iets niet weten van een bepaalde plaat. Voor de rest hopen we er geen voetstap binnen te zetten. Empire Records is zo'n kleine platenboer waar de muziek primeert op de verkoopcijfers. De concurrentie loert en de winkel dreigt te worden opgekocht door een grote keten.
Op papier klinkt deze komedie van Allan Moyle (man van de klassieker Times Square en die andere muziekhit Pump Up The Volume) best leuk, maar de debiele vertolkingen maken alles om zeep. De muziekkeuze is een bonte mengeling van Gwar, The The, The Cranberries, The Flying Lizards en zelfs Daniel Johnston. Dat is eigenlijk het enige pluspunt en ook dat Renée Zellweger er nooit zo geil uitzag als hier, maar voor de rest: naar de volgende winkel!
Empire Records is nog vlot verkrijgbaar op dvd via Warner.
Didier BECU
16/08/2014
---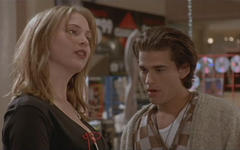 ---