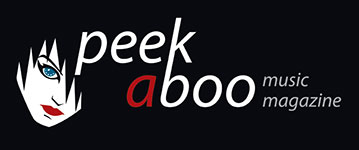 like this movie classics review
---
MICHAEL APTED
The World Is Not Enough
Movie
•
Movie classics
Spy Movie
[82/100]

MGM
14/09/2014, Didier BECU
---
These days the Russians seem to be again the enemy to beat. It wouldn't surprise us at all if the James Bond-producers have already come up with some brand new scripts that feature this new threat. At the end of the 90's things were different though. Not only Bond's film competitors were doing it better, there was also the end of the Cold War. We're not even mentioning the actors! Timothy Dalton has never been able to erase Roger Moore (we're not even talking about Sean Connery!), and Pierce Brosnan couldn't do that either. This mediocre actor couldn't put enough charisma in his personage. He was just a stiff, boring Bond. Despite all these harsh words, we're convinced that The World Is Not Enough (along with Goldfinger) is the best Bond-movie if you don't count the three Craig-pearls. The reason is simple: Sophie Marceau.
The French beauty is not your typical Bond-girl. She dives in bed with the British spy, but at the end of the day the rich Electra King wants to have 007 six feet under. For MI6 she is the poor girl that's been kidnapped by the cruel Renard (Robert Carlyle). When Electra's dad is killed, M (Judi Dench) sends her favourite spy to Electra for protection but she doesn't know that she has fallen in love with her kidnapper (that old devil called The Stockholm Syndrome, remember?) Because every Bond-movie has to end with a love scene, the makers have added Dr. Christmas Jones (we know!) who knows everything about nuclear weapons!
You see, there are more than enough clichés in this 19th Bond-movie. You can say it's outdated and too polished, but once again it works. Only in 2014 007 can be forgiven to come up with something silly as a remote control-driven BMW with rockets on! A traffic light is probably more interesting than Brosnan, John Cleese is stupid as the new Q and the talent from Denise Richards is probably located somewhere under her chin. But luckily enough there is Sophie Marceau who makes this whole film without any problems her own. Three years later Brosnan made Halle Berry go awol in Die Another Day, but the producers were smart enough to realize that the public wasn't interested in this old fashioned spy. It was time for a tougher version that didn't give a damn about the fact if his Martini was shaken, not stirred! But look, for the beautiful eyes (and the rest!) from Sophie Marceau we have no problems in declaring The World Is Not Enough a classic in his kind!
Didier BECU
14/09/2014
---
Nu de Russen weer ongenaakbaar de vijand bij uitstek dreigen te worden, zou het ons geen sikkepit verbazen dat de James Bond-producers ondertussen al de meest wilde verhalen klaar hebben. Op het einde van de jaren 90 was dat wel eventjes anders. Zowel zijn filmconcurrenten als het einde van de Koude Oorlog hadden 007 een kater van jewelste bezorgd. Timothy Dalton is er nooit in geslaagd om Roger Moore (laat staan Sean Connery) te doen vergeten en ook met Pierce Brosnan ging het behoorlijk de verkeerde kant uit. Deze matige acteur is er immers geen seconde in geslaagd om zijn personage ook maar enige charisma te bezorgen. En toch is The World Is Not Enough (samen met Goldfinger) de beste Bond-film als je de drie laatste Craig-pareltjes niet meetelt. De reden is zijn tegenspeelster. Haar naam: Sophie Marceau.
De Française is wel geen typische Bondgirl. Ze deelt wel de lakens met de Britse spion (kwestie van zijn machogedrag voldoende eer aan te doen!), maar uiteindelijk wil de steenrijke Electra King haar beschermheer het liefst onder de zoden zien verdwijnen. Voor MI6 is zij wel het arme wicht dat op jonge leeftijd door de wrede Renard (Robert Carlyle) werd ontvoerd. Als haar vader wordt omgebracht stuurt M (Judi Dench) 007 op pad om Electra te beschermen, maar die weet wel niet dat zij verliefd is op haar gijzelnemer (het Stockholm-syndroom, juist ja!) Omdat iedere Bondfilm met een vrijscène moet eindigen hebben de makers er ook nog eens Denise Richards bijgelapt die de rol vertolkt van Dr. Christmas Jones (jawel!) die alles van nucleaire wapens afweet!
Het ontbreekt deze negentiende Bondfilms dus geenszins aan clichés, maar hoe oubollig en afgelikt het ook is, het werkt wederom! Alleen 007 raakt er anno 2014 nog mee weg dat hij over een BMW met afstandsbediening met daarop gebouwde raketten beschikt, maar toch doet hij het. Een verlichtingspaal is nog steeds interessanter dan Brosnan, John Cleese is als Q gewoonweg potsierlijk en de troeven van Denise Richards beperken zich louter tot haar balkon. Maar gelukkig is er nog Sophie Marceau die heel de Bondfilm op alle fronten naar zich toe trekt en zo de wankele meubelen ruimschoots redt! Drie jaar later mocht Brosnan in Die Another Day nog eens het hoofd van Halle Berry dol maken, maar toen wisten de makers al lang dat het publiek de fratsen van de spion niet meer zou slikken. Voortaan zou 007 geen moer meer om het feit geven of zijn martini geschud of geroerd zou worden. Maar kijk, voor de mooie ogen (en de rest!) van Sophie Marceau dopen we The World Is Not Enough graag om tot een klassieker in zijn soort!
Didier BECU
14/09/2014
---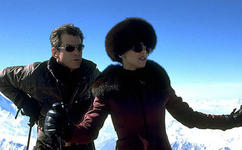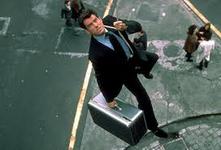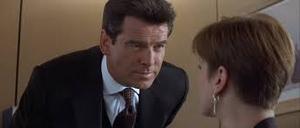 ---