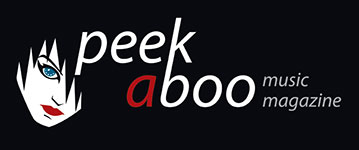 like this movie classics review
---
ALFRED HITCHCOCK
The 39 Steps
Movie
•
Movie classics
Spy Movie
•
Thriller
[75/100]

05/12/2014, Didier BECU
---
Finding an answer to the question whether Alfred Hitchcock is really the best director ever or not, is almost as difficult as finding out if the Beatles are the best musicians ever. Fact is, whether you agree or not, that the master of suspense had an incredibly large impact on film history. Until 1940 (Rebecca) the director made a whole range of British films that are disrespectfully released on cheap DVD's (often not restored). The 39 Steps from 1935 (his tenth if you do not count his silent movies) is one of them.
The movie, based on a book by John Bucan and a play that is still performed in theaters today, is important because of various reasons. The main one is that many film historians see this film as a precursor of North By Northwest.
Even though the story is thin, it is all quite difficult to follow. There are two reasons: the film tells the story in a very short time and tarHitchcock used a completely different film style halfway the production. Some even go as far as to say that the espionage film became a comedy. Just as in subsequent films we witness in The 39 Steps an innocent man who is accused of a crime. Richard Hannay (Robert Donat, is a Canadian who ends up in London. We never know why, but he get to meet Annabella (Lucie Mannheim) there. The woman tells him that she is a spy and knows secrets about the British army that no one else may hear. She must be careful for an organization named The 39 Steps. The next day Annabella is murdered and of course Richard is suspected. The only thing he can do is run off to Scotland and prove that The 39 Steps is behind tes crime.
The film is never really exciting (even never really interesting), the performances quite stiff and yet you realize that you are watching a unique work. Maybe it has to do with the fact that after all Hitchcock remains Hitchcock, and you see definitely a master at work here. All in all, do not forget that this work was directed in 1938; the train scene for example looks spectacular for that time. Maybe some people will consider The 39 Steps to be boring and corny. That maybe be so, but it remains a masterful piece of cinema.
Didier BECU
05/12/2014
---
Een antwoord vinden op de vraag of Alfred Hitchcock nu werkelijk de allerbeste regisseur is of niet, is bijna even moeilijk als die of The Beatles de beste muzikanten ooit zijn. Feit is, of je het er nu mee eens bent of niet, dat the master of suspense een ongelofelijke grote invloed heeft gehad op de filmgeschiedenis. Tot 1940 (Rebecca) maakte de regisseur een hele resem Britse films die op allerlei dvd's een beetje oneerbiedig (vaak niet gerestaureerd) zijn gegooid. The 39 Steps uit 1935 (zijn tiende als je de stomme films niet meerekent) is daar eentje van.
De film, gebaseerd op het boek van John Bucan en tegelijkeen toneelstuk dat tot vandaag wereldwijd in theaterzalen wordt opgevoerd, is belangrijk om diverse redenen. De voornaamste is wellicht dat heel wat filmhistorici deze film zien als een voorloper van North By Northwest.
Ook al gebeurt er niet zo veel in het verhaal, is het allemaal toch een beetje moeilijk om te volgen. Daar zijn twee redenen voor: vooreerst gaat deze film in een vliegensvlug tempo waardoor er nauwelijks tijd is om het verhaal te vertellen, maar Hitchcock stapt halfweg ook op een andere filmstijl over. Sommige gaan zelfs zo ver om te stellen dat de spionagefilm een komedie werd. Net zoals Hitchcock dat in latere films zou herhalen, gaat het in The 39 Steps om een onschuldige man die van een misdaad wordt beschuldigd. De pineut van dienst is Richard Hannay (Robert Donat), een Canadees die in London is verzeild geraakt. Waarom komen we nooit te weten, wel dat hij Annabella (Lucie Mannheim) ontmoet. De vrouw vertelt hem dat ze een spionne is die geheimen kent over het Britse leger die niemand anders mag horen. Ze moet vooral op haar hoede zijn voor een organisatie die opereert onder de naam The 39 Steps. De volgende dag wordt Annabella vermoord en natuurlijk wordt Richard verdacht. Het enige wat hij kan doen is vluchten naar Schotland en de ordehandhavers bewijzen dat The39 Steps achter de misdaad zit.
De film is nooit echt spannend (zelfs nooit echt interessant), de vertolkingen vrij houterig en toch besef je dat je naar een uniek werk zit te kijken. Misschien heeft het onbewust wel allemaal te maken met het feit dat Hitchcock nu eenmaal Hitchcock is, toch zie je dat hier een grootmeester aan het werk is. Al bij al mag je niet vergeten dat dit werk is gedraaid in 1938, zo oogt de treinscène meer dan spectaculair. Misschien vinden sommige mensen The 39 Steps saai en oubollig. Dat is het misschien ook, maar het blijft wel een stukje meesterlijke cinema.
Didier BECU
05/12/2014
---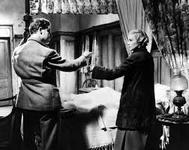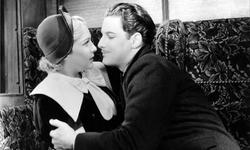 ---