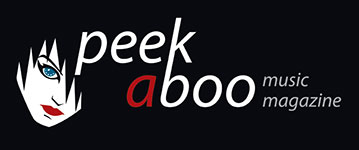 like this concert review
---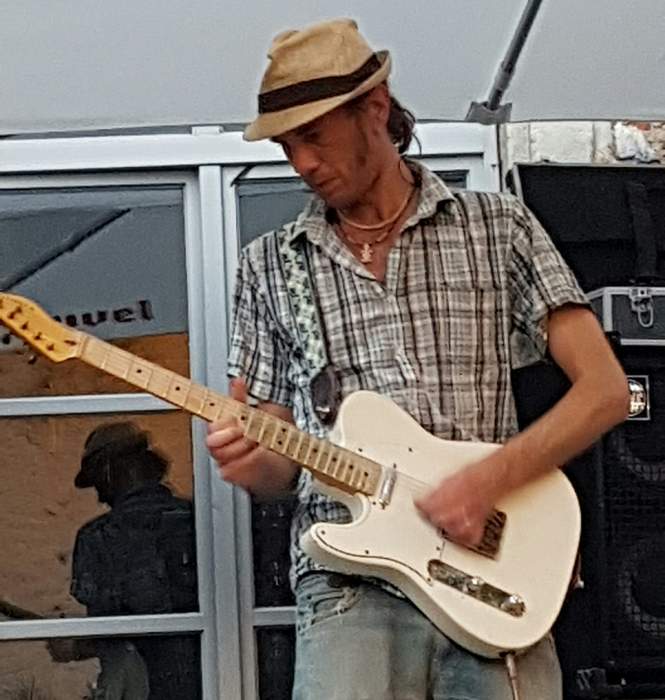 THE ROADRUNNERS
Mechelen, De Borrel Babbel (17/08/2016)
Concert
Blues
11/12/2016, Mark VAN MULLEM
---
The weekly Summer terrace concerts from Mechelen's smallest bar, 'De Borrel Babbel', 'Borrel Babbel Zomert', are quite interessting. Each time another musical genre is featured. On wednesday august 17th the focus was on blues. Wednesdays guests were Antwerp based power trio The Roadrunners who played a very groovy set.

Whilst singer-guitarist Wim Degezelle was promoting the bar's Mojito's the band themselves delivered a delicious rocking cocktail; an exquisite and unique mixture of blues, southern rock, swing, rock and even country!

Degezelle's guitar playing is truly phenomenal. Great technique and how the guitar howld in one the blues ballads: wow! Degzelle was accompagnied by the fine rhythm section Seppe Donvil and Dirk Michielse on percussion and bass. Together they provided a very tight and groovy rock sound, clearly enjoying what they're doing to the maximum.

The Roadrunners are working on an album which is due for release some time soon. Should be good. We already got to hear some of the new material with beauties such as Cold Wind, Love Twister and If that's The Way, with the clear message: If that's the way your love goes, your love don't mean a thing.

At times Degezelles voice reminded at Steve Miller in his better days.

Apart from their own songs, new and old, then band also performed some covers. A man in the audience kept on shouting for a Status Quo song. There was no Status Quo-material in the set though. Instead the band dwelled into the catalogues of both Jimi Hendrix and Eric Clapton. Their epical rendition of Hendrix' Foxy Lady was awesome as was Hey Joe were Degezelle directed the not so well trained audience choir.

The way The Roadrunners covered Robert Johnson's Crossroads and certainly Further Up On The Road (Johnny Cash), both best known from the recordings by Eric Clapton, was just sublime. Who needs Status Quo then?

The Roadrunners played two sets, starting at about 20.15 and playin' their last tune only ten minutes before midnight and still you felt that it was way too short! Anyways, this is a band to follow and that album release can't come soon enough if you ask me!

On the band's website you can hear some of their new material.
Mark VAN MULLEM
11/12/2016
---
Tijdens zomermaanden juli en augustus is er elke woensdagavond wel iets te beleven op het Nieuwwerkplein in Mechelen tijdens Borrel Babbel Zomert. Woensdagavond 17 augustus 2016 stond de swingende blues rock 'n roll van het Antwerpse power trio The Roadrunners op het programma. Een ontdekking!

Op het facebookevent prijkte 'Blues bij de Borrel Babbel'. Blues was slechts één van de bestanddelen. The Roadrunners brachten een unieke mengeling van blues, rock, swing, southern rock en zelfs country! Altijd gepaard gaand met een vette groove en een gezonde overdosis spelplezier.

Zanger-gitarist Wim Degezelle prees de Mojito's van de Borrel Babbel gretig aan, zelf serveerde hij, samen met zijn strakke ritmesectie Seppe Donvil (drums) en Dirk Michielse (bas) Mechelen een stevige rockende cocktail met sterke eigen nummers en een uitstekende selectie covers die het trio met brio bracht.

De 'rocking blues' van The Roadrunners wist te bekoren en vooraleer je het goed en wel besefte was de tweede set alweer voorbij. We hadden dan uitvoerig kunnen genieten van Degezelle's uitmuntende gitaarspel, met percussie-tandem Michielse-Donvil als perfecte backbone. Het eigen songmateriaal was van hoge kwaliteit, met toppers zoals Cold Wind, Love Twister en zeer zeker If That's The Way. If that's the way your love goes, your love don't mean a single thing. Duidelijke taal!
Naar verluidt komt een en ander dra op een album terecht; alvast iets om naar uit te kijken!

Een man in het publiek zat alsmaar om een Status Quo-nummer te roepen. Hij bleef dienaangaande op zijn honger maar hij heeft vast ook genoten van de meesterlijke en episch renditie van Jimi Hendrix' Foxy Lady én een lekker lang uitgesponnen Hey Joe van dezelfde meester waarbij Degezelle plots op het tafeltje naast jullie verslaggever stond te spelen, dan weer een voorbijganger de snaren liet beroeren en aanstoker was van het plots ontstane niet al te goed geoefende gelegenheidskoor.

Had ik al gemeld dat de covers van Crossroads (Robert Johnson) en vooral Further Up On The Road (Johnny Cash), die we allemaal kennen in de hertalingen van grote meneer Eric Clapton, subliem waren? Wie wilt er dan nog Status Quo horen?

Heel af en toe deed Degzelle's stem een beetje aan die van Steve Miller in diens betere dagen denken, al moet niemand zich ongerust maken; de rauwe blueskantjes zijn er ook. Dat Degezelle een sterk gitarist is, verklapte ik al, hoe hij zijn gitaar kon laten huilen in een ongeloofelijke mooie blues ballad; fenomenaal!

De twee sets van The Roadrunners vlogen zo voorbij en wanneer je na de laatste bis toch om meer bleef roepen, besefte je dat het eigenlijk al meer dan laat genoeg was en er daags nadien nog gewerkt moest worden. Om in de gaten te houden dus. Laat maar komen, dat album!

Op de band's webstek kun je alvast enkele nummers beluisteren.
Mark VAN MULLEM
11/12/2016
---