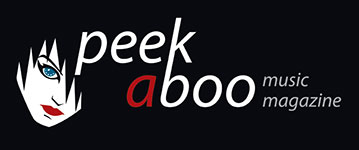 like this concert review
---
BIMFEST 2014 DAY 2 FT SERPENTS, COCKSURE AND DIE FORM
Concert
22/12/2014, Benny CALUWE
---
It's the first year that BIMfest was organised at the Zappa venue (Antwerp). Although Bodybeats had some events there before, it was my first time at the Zappa. With a bigger and higher stage then for instance Trix Club, a large bar, plenty of space for the merchandise stands and a good sound we can not complain about this venue move.

Pokemon Reaktor kicked off the second day and they did that with tons of enthusiasm. They play old school EBM in an infectious way. A song as Blow your head away musically reminds me of DAF. During Steam Pressure drill and kick it, the guy of Full Contact 69 climbed on stage to sing along. They were energetic, humorous and tried to interact with the crowd. They even made some efforts to make the public sing lalala in one of their songs and when that did not work out very well, the singer just switched over to the Smurfs' tune. Pokemon Reaktor was a nice and entertaining opener. Full Contact 69's electro-industrial set wasn't bad either. I heard some promising tracks and they made some people move too. But unfortunately they had the bad luck to play between the highly contagious Pokemon Reakor and the very strong Tyske Ludder.
Tyske Ludder was the first big name of the second BIM-day. They immediately started in high gear with Der androgyne Held. The charismatic frontman Claus Albers easily won over the crowd. He wore a Mexican wrestling mask. Their EBM sounded great and the crowd started to move in larger numbers. Tyske Ludder even surprised us with a nice cover of TC Matic's Oh Lalala. Their EBM version of this Belgian classic was just "magnifique". They also played their most recent single Bambule (Mexican edit). Panzer ended their solid set. During Panzer Claus wore a Putin-mask and waved the Russian flag. It was undoubtedly one of the highlights of the day.

Serpents were next. Kazim Sarikaya was assisted on stage by Matthias Bischoff of Cyber. Claus Kruse of Plastic Noise Experience was the man behind the buttons who took care of the sound. Kazim opened with My heart will beat again. The classic Kill what kills you was another highlight. Kill what kill you is a Serpents track and not a Plastic Noise experience track, although they often played it live and released it on the Dead Or Alive album. Serpents also played some recent tracks as Komm noch naeher and Immer Voran! The majority of the public responded well. Serpents ended their solid EBM set with their most famous track Das zweite Leben.

After Serpents The Force Dimension followed with their reboot concert. René van Dijck is the only remaining original member, while nowadays Betty Correa (vocals, guitars and percussion) is the other member. Their melodic old school EBM tempted me, but not everybody seemed charmed. Kill the light, All systems out, Deus ex machine and especially Tension were the highlights of a nice set in my opinion.

Also Cocksure divided the crowd. Cocksure is the new project of Chris Connelly (Ministry and Revolting Cocks) and Jason Novak (Acumen Nation and Pigface) You can not deny that they make strong electro-industrial, but a lot of people are not to fond of rap. So during the Cocksure concert the entrance hall was a bit crowded. The Americans made the best of it and enjoyed playing their set. The first lines were dancing on Skeemy gates; Guilt, speed and carbon and the singles Klusterfuck Kulture and TKO mindfuck. Their songs, were accompanied by nice videos. Although I dislike rap myself, I stayed the whole time. Somehow Cocksure tempted me. Assault on cocksure 13 is undeniably an outstanding track. And I am happy I stayed, because the people who did were treated on the RevCo classic Beer, steers and queers. Awesome!

And then the big moment! A moment I awaited for sixteen years..; It was back in the days after the release of their Histories album (='98) that I saw Die Form perform. I just remember it as it was yesterday. They impressed me, adolescent as I was, with their erotic act with S/M imagery. So my expectations were high. Philippe Fichot was the first to mount the stage, wearing his SM-styled gasmask as usual. During the mysterious intro the dancer wore a mask on the back of her head and we were treated with a special dance. When she left, Eliane came. "Are you ready to lose control with me?", she sang. I certainly was. After Voltaic control system, they played some songs of the new album Rayon X: Scopic pulsion, Black leather gloves, ReBirth/ReDeath (Ich bin tot) during which the dancer returned. This time wearing a straitjacket. Under that she wore bandages. Another nice dance followed while she was waving with those bandages. After this Amnesia followed, another Rayon-X track. A part of the crowd seemed to lose interest. There were some cheers when the first classic Silent order started. Next sext song was La 7'ème face de dé, again a track of the last album. After this the dancer returned in a new outfit for a nice intermezzo. A piano based track with a noisy middle parted. Once again she showed what she was capable of. Also Eliane performed on a very high level. She still has an angelic voice and despite her age, she still can dance attractively herself.
Next was Iron Cross (of RayonX), Hertz frequenz (of Noir Magnetic), Politics (of Rayon X) and Inhuman. Die Form easily matched my high expectations, but a part of the crowd was impatiently longing for classics. An excellent version of Bite of dog followed. It started hypnotizing and evolved to an up tempo track. But the hope of the impatient part of crowd was crushed as they played again a new song: Mon Amour2. There was sweet and nice interaction between Eliane and Philippe during this track.

Kagami was the first encore with a nice erotic video. Their videos were not as S/M styled as in my memory. During Nature destruction the dancer returned, this time waving with branches. Void of Hell, another Rayon X track followed. And they ended with two tracks from the early 90's: Chronovisions and the fantastic Savage logic, which they played in a nice updated version.

Die Form performed on a high level, but the only thing that I missed was an enthusiastic crowd, maybe the majority was just tired after a long day or weekend.
Below you can find a selection of pictures made by Xavier Marquis. On our photopage you can see them all!
Benny CALUWE
22/12/2014
---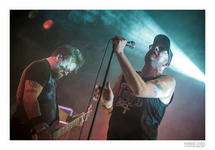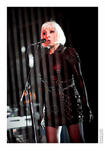 ---