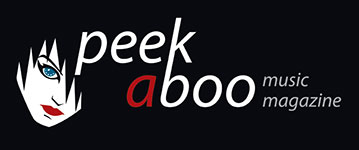 like this concert review
---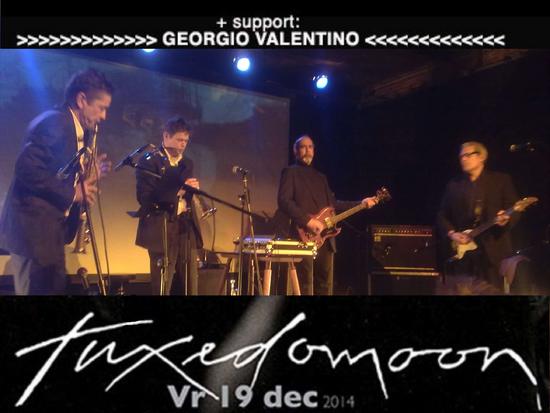 TUXEDOMOON (+ SUPPORT GEORGIO VALENTINO)
Hasselt, KC België (19/12/2014)
Concert
Jazz
•
Rock
[90/100]

22/12/2014, William LIÉNARD
---
It was past 09.15 p.m. when Georgio Valentino climbed on the stage in the arts center België (Hasselt). This is by far the only place in Flanders where concerts end shortly before midnight and no one seems to care that people often come from far and barely can find public transport at that late hour. Fortunately Georgio Valentino and his two-man band didn't mind the fact that they only had half an hour for this first concert in Hasselt. They played the stars from the sky.
In just three songs Valentino showed what he is capable of. His guitar usually takes the lead (his style is related to Swans), firmly supported by the bass and a barrage of drums (sounding like Charles Hayward of This Heat now and then). When I asked Georgio Valentino afterwards why he mixes the voice as inconspicuously between the guitars and the drums, he said he wants it to sound like an instrument, and that is definitely the case in You Wear Wistful Well, from the 10" EP The Sorrow of Young Georgio (2011), with some lines of Tuxedomoon's Some Guys as a tribute, and in the subsequent song.
I Will not Betray You (Hommage à Chuck Berry) has got intelligible vocals, but it is much more a guitar song in which Georgio Valentino for more than 16 minutes proves that he is good with the strings and the song sounds a lot more searing than on the double album Mille Plateaux, for which he could count on the collaboration of the Tuxedomoon members Blaine L. Reininger and Luc van Lieshout. Georgio Valentino is a name to watch out for in rock music. In January, you can see him at work in Brussels and in April in Antwerp (see http://georgiothedovevalentino.com).
If you have experiencing a concert three times during the same tour, then you have a pretty good idea about how a performance has evolved. In March 2014 Tuxedomoon joined De Biekorf in Bruges with the current program, but that concert looked more like a try-out (after the premiere in the West German Lahr, Baden Württemberg, a few days earlier), because the men were not entirely sure how they wanted to make it all sound, the electronics did not always sound straightforward and especially the visuals were weak. In Eeklo (September) things were a lot better, but the N9 is too small for a perfect sound reproduction. In Arts centre België, Tuxedomoon was just in high spirits. There was no hesitation. The songs ( some 15, incl. Encores) followed each other seamlessly. The voices knew exactly where they were and how to melt together, Steven Brown (clarinet) and Luc van Lieshout (trumpet) were perfectly attuned. The violin of Blaine L. Reininger sounded at times heartbreaking and then ominous and threatening, but always stunning with at his side an imperturbable Peter Principle as the supplier of deep bass sounds.
The set contained three songs of the recent album Pink Narcissus (hence the visuals of the film), two songs of Cabin in the Sky ( eg. A Home Away) and of course the popular tunes that form the cornerstone of their repertoire: Time to loose, Everything You Want, Italian Western and KM/Seeding the Clouds, songs they have played so often and have not lost their luster, while they sound every time again fresh and original. Muchos Colores is definitely our favorite of this show. During the encores, we heard The Waltz, Litebulb Overkill and Some Guys, previously covered by Georgio Valentino.
Tuxedomoon was in top form in art centre België and this concert definitely belongs to their best in our country in the past year. In terms of content the program was similar to what the band did on earlier occasions during this tour, but the execution of the material was no less than perfect and the visuals were better than ever before. The music lovers in Hasselt were excited but not happy with only one encore and spontaneously they demanded a second. However, they had to enforce it with a long applause.
William LIÉNARD
22/12/2014
---
Het is al voorbij 21.15 uur als Georgio Valentino in kunstencentrum België (Hasselt) het podium betreedt. Daarmee is België veruit de enige plek in Vlaanderen waar concerten nog uitlopen tot kort voor middernacht en men er dus nauwelijks rekening mee houdt dat mensen vaak van ver komen en op dat late uur nog nauwelijks van het openbaar vervoer gebruik kunnen maken. Als het de bijkomende consequentie is dat de gasten in het voorprogramma nauwelijks een halfuur hun ding kunnen doen, dan is dat extra jammer. Niet dat Georgio Valentino en z'n tweekoppige band het aan hun hart laten komen, want die gaan er meteen flink tegen aan met een combinatie van leadgitaar, bas en drums.
Drie songs, meer heeft het trio niet nodig om een staalkaart van z'n kunnen te presenteren. De leadgitaar neemt meestal het voortouw (lijkt soms op Swans), stevig gesteund door de basgitaar en een spervuur van drums (lijkt soms op drumwerk van Charles Hayward van This Heat). Als ik Georgio Valentino na afloop vraag waarom hij de stem zo onopvallend tussen de gitaren en de drums mengt, dan zegt hij dat hij ze wil laten klinken als een instrument en dat is ook het geval in You Wear Wistful Well, uit de 10" ep The Sorrow of Young Georgio (2011), met een paar lijntjes uit Some Guys van Tuxedomoon als eerbetoon, en in het daaropvolgende nummer.
I Won't Betray You (Hommage à Chuck Berry) krijgt wel verstaanbare vocals, maar het is vooral een gitaarnummer waarin Georgio Valentino gedurende meer dan 16 minuten bewijst dat hij aardig uit de voeten kan met de snaren en de song klinkt een stuk hitsiger dan op het dubbelalbum Mille Plateaux, waaraan de Tuxedomoon-leden Blaine L. Reininger en Luc van Lieshout overigens hun medewerking hebben verleend. Georgio Valentino is een naam om te onthouden in de wereld van de rockmuziek. In januari kan u hem nog aan het werk zien in Brussel en in april in Antwerpen (zie http://georgiothedovevalentino.com).
Als je een concert drie keer meemaakt tijdens dezelfde tournee, dan krijg je een aardig idee over hoe een optreden evolueert. In maart 2014 trad Tuxedomoon in de Biekorf in Brugge aan met het huidige programma, maar dat leek toen op een try-out (na de première in het West-Duitse Lahr, Baden Würtenberg), want de heren waren nog niet helemaal zeker van hoe ze het allemaal wilden laten klinken, de elektronica wilde niet altijd even vlot mee en vooral de visuals lieten te wensen over. In Eeklo ging het in september een stuk beter, maar de N9 is te klein om het geluid op een perfecte manier weer te geven. In kunstencentrum België was Tuxedomoon gewoon in topvorm. Er was geen sprake van enige aarzeling. De songs (15-tal, incl. de encores) volgende elkaar naadloos op. De stemmen wisten precies wanneer ze aan de beurt waren en hoe ze tot een mooie samenzang behoorden uit te groeien, Steven Brown (klarinet) en Luc van Lieshout (trompet) waren perfect op elkaar ingespeeld. De viool van Blaine L. Reininger klonk bij momenten hartverscheurend en vervolgens onheilspellend en dreigend, maar altijd bloedmooi met naast hem een onverstoorbare Peter Principle als leverancier van diepe bastonen.
De set bevatte drie songs uit het recente album Pink Narcissus (vandaar de visuals uit de film), twee songs uit Cabine in the Sky (o.a. A Home Away) en uiteraard de publiekslievelingen die de hoeksteen vormen van hun repertoire: Time to Loose, Everything You Want, Italian Western en KM/Seeding the Clouds, songs die ze al zo vaak hebben gespeeld, maar die niks van hun glans hebben verloren en die telkens opnieuw fris en origineel klinken. Muchos Colores is zonder meer onze favoriet uit deze show. Bij de encores noteerden we The Waltz, Litebulb Overkill en het eerder door Georgio Valentino gecoverde Some Guys.
Tuxedomoon was in topvorm in kunstencentrum België en gezien de omstandigheden behoort dit concert beslist tot de beste die ze in ons land in het afgelopen jaar hebben gegeven. Inhoudelijk was het programma een doordruk van wat ze eerder ook al brachten, maar de uitvoering van het materiaal was dit keer zonder meer perfect en ook de visuals hebben een hele (positieve) evolutie doorgemaakt. Daarmee waren de muziekliefhebbers in Hasselt het eens en dus waren ze niet tevreden met 1 encore, maar eisten ze spontaan nog een tweede, die ze evenwel met een lang applaus af moesten dwingen.
William LIÉNARD
22/12/2014
---
---