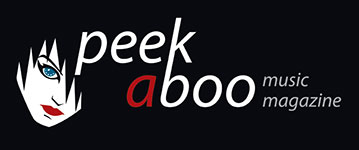 like this movie classics review
---
BERNARDO BERTOLUCCI
Last Tango In Paris
Movie
•
Movie classics
Drama
[82/100]

MGM
01/11/2014, Didier BECU
---
Many words have been written since Last Tango In Paris was released. The movie was four decades ago quite controversial. Everyone talked about the famous butter scene, while forgetting that Bertolucci also created a visual spectacle.
Today everybody thinks Last Tango In Paris is a masterpiece, but at the day of its release opinions were quite different. Brando was nominated for an Oscar, but for him the movie was a nightmare. The explicit sexual scenes were a reason to ban the movie in various countries and the relation between Brando and Bertolucci was not good at all. Everybody knows that Brando is one of the most difficult persons to work with. The star refused to learn his dialogues, and most of them were improvisations. Some rumours say that Brando put the lyrics on Maria Schneider's naked body. The actress didn't have any good words left. Schneider, who was still a virgin when shooting the picture, thought that she was explored. She did nonetheless a great job, but apart from some excellent roles (The Passenger by Antoniono and La Dérobade with Miou-Miou), she disappeared. Maria Schneider couldn't cope with the scandal from Last Tango In Paris and ended in an asylum. In one of her last interviews, Maria said that Bertolucci was a selfish bastard. She died at the age of 58 from cancer without any fame.
Lots of tragic of course, but apart from that, Last Tango In Paris is a magic piece. You don't have to watch the movie for the shocking scenes as you've seen that before, in Belgium the film is even rated for 12 years and older, so that says enough! Maria Schneider's body might look gorgeous, the reason why these days this movie is still indestructible is because of the cinematographic beauty and amazing performances. Paul (Marlon Brando) just lost his wife. The scream at the beginning of the movie indicates that Paul has a disturbed mind. He notices the much younger Jeanne (Maria Schneider). They have nothing in common, but they decide to let themselves go in a strange relation that is dominated by pervert sex games, there's only one condition: they can explore each other's body, but nothing about their private life may be revealed, not even their name. Jeanne wants to marry her friend Tom (Jean-Pierre Léaud, the star from many Truffaut-movies), but she realises that he has nothing to offer.
Despite Schneider's words, Bertolucci remains a very unique artist. The filmmaker doesn't explore the beauty of Paris, as apart from the famous Pont de Bir-Hakeim, the whole movie is set in an empty apartment. Bertolucci uses monotone colours, mostly yellow, and according to some that's because that's the one from urine. In daily life Brando might have been a douchebag, he's nonetheless born to star on the silver screen. You even forgive him his terrible French. And then there's Maria Schneider. You feel sorry for her as you see that Bertolucci almost used her as a body, but her innocent smile will be forever remember in cinematic eyes.
Specifications:
Cast: Marlon Brando, Maria Schneider, Jean-Pierre Léaud, Maria Michi, Gitt Magrini
Director: Bernardo Bertolucci
Language: English/French
Image: 16:9 - 1.85:1
Studio: 20th Century Fox Home Entertainment (MGM)
Length: 124 minutes
Didier BECU
01/11/2014
---
Over Last Tango In Paris is er de afgelopen vier decennia heel wat geschreven. Er is zo veel inkt over het controversiële karakter (en dan nog het meest over de befaamde boterscène) van deze arthouseklassieker gevloeid dat je soms vergeet dat Bertolucci van zijn film ook een onvergetelijk visueel spektakel heeft gemaakt. Omdat Bertolucci met Il Conformista er de wereld van had overtuigd dat hij achter de camera een genie was, kon hij zonder enige moeite een grote naam als Marlon Brando strikken. De wat vergeten filmster uit de jaren 50 had een jaartje eerder furore gemaakt met The Godfather en dus was hij zo goed als een extra garantie voor succes. Iedereen is er nu wel van overtuigd dat Last Tango In Paris een onverwoestbaar filmmonument is, maar daar dachten de meeste mensen in de jaren 70 anders over. Brando kreeg wel opnieuw een Oscarnominatie voor zijn rol, doch heeft hij zelf weinig of geen aangename herinneringen aan de prent overgehouden. Niet alleen werd dit extravagante liefdesdrama in heel wat landen verboden, ook liep de samenwerking tussen Brando en Bertolucci uiterst stroef. Marlon Brando is wellicht met verve de grootste windbuil uit de filmgeschiedenis en ook tijdens de opnames van deze schandaalprent deed hij zijn naam alle eer aan. De filmster weigerde zijn dialogen uit het hoofd te leren en improviseerde daarom de meeste van zijn teksten. Er doen zelfs geruchten de ronde dat dat Brando gewoon zijn teksten op het naakte lijf van Maria Schneider plakte. De actrice zelf heeft maar weinig goede woorden voor zowel de film als de cineast over. Net als haar naamgenoot Romy werd het leven van de vrouw één grote aaneenschakeling van trieste gebeurtenissen. Maria Schneider (die tijdens de opnames van Last Tango In Paris nog maagd was!) werd nadien door jan en alleman bespuugd. Ze speelde nog wel in knappe films als The Passenger van Antoniono (een prent die pas jaren na het draaien werd uitgebracht) en La Dérobade met Miou-Miou, maar echte grote rollen kon de brunette niet meer krijgen. Maria Schneider kon de roem (en de schande) van Last Tango In Paris niet aan en verhuisde van de ene psychiatrische inrichting naar de andere. In één van haar laatste interviews noemde ze Bertolucci een egoïstische klootzak die haar misbruikte. Maria stierf roemloos op 58-jarige leeftijd aan de gevolgen van kanker.
Als je al deze ellende niet meerekent dan is Last Tango In Paris een magisch filmmonument. Je moet de film niet bekijken voor zijn expliciete scènes, want daarvoor is de prent anno 2013 niet meer "choquerend" genoeg, net als Turks Fruit van Paul Verhoeven dat tegenwoordig niet meer is. Dat blijkt ook uit het feit dat men tegenwoordig meent dat het moet kunnen dat kinderen vanaf twaalf jaar de seksuele belevenissen van de Amerikaanse weduwnaar Paul (Marlon Brando) en de jonge Française Jeanne (Maria Schneider) gadeslaan. Paul heeft net door zelfmoord zijn vrouw verloren. De oerschreeuw aan het begin van de film maakt de kijker duidelijk dat het leven ook voor hem geen zin meer heeft. Hij laat zich leiden door het toeval en papt aan met een jong meisje dat hij toevallig tegenkomt. Jeanne heeft wel toekomstplannen om met haar vriendje Tom (Jean-Pierre Léaud die we natuurlijk uit de vele Truffaut-films kennen) in het huwelijksbootje te stappen, doch is het duidelijk dat haar jonge leven genoeg ellende heeft gekend om de wereld met cynische ogen te bekijken. Gedreven door lust betrekken de twee een leegstaand appartement en laten zich meevoeren in allerlei seksuele spelletjes met een pervers kantje. Jeanne probeert het geheimzinnige karakter van hun relatie wel te doorbreken, doch weigert Paul om ook maar iets (behalve zijn kont dan) bloot te geven. Ze mag niet weten wie hij is of wat hij doet.
Het is duidelijk dat Bertolucci een zeer aparte filmmaker is. De Italiaan buit zelfs de schoonheid van Parijs niet uit, maar beperkt zich tot de bizarre constructie van de befaamde Pont de Bir-Hakeim, voor de rest wordt bijna alles in een meubelloos appartement gefilmd. Bertolucci maakt gebruik van een monotoon kleurenpalet dat hoofdzakelijk uit lelijke gele tinten bestaat, volgens sommige kenners gewoon omdat dat de kleur van urine is. Brando is in het dagelijkse leven misschien wel een arrogante zak, op het witte doek maakt hij (meestal toch) indruk, ofschoon zijn Franse dialogen net niet potsierlijk klinken. Maria Schneider schittert eveneens, alhoewel het jonge meisje door Bertolucci schaamteloos in volle glorie wordt geëtaleerd. Helaas voor haar heeft het grote publiek alleen maar het filmmoment onthouden waarin boter als glijmiddel wordt gebruikt, een scène die trouwens pure improvisatie was.
Mocht Last Tango In Paris vandaag worden uitgebracht dan zou hij wellicht niet het minste stof op laten waaien, want anno 2013 oogt deze prent zelfs braaf. Tja, de tijden (en nog meer de moraal) veranderen vliegensvlug, maar de magie van Bertolucci, Brando en Schneider zal wellicht eeuwig blijven bestaan.
Specificaties:
Cast: Marlon Brando, Maria Schneider, Jean-Pierre Léaud, Maria Michi, Gitt Magrini
Regisseur: Bernardo Bertolucci
Taal: Engels/Frans
Beeld: 16:9 - 1.85:1
Studio: 20th Century Fox Home Entertainment (MGM)
Lengte: 124 minuten
Didier BECU
01/11/2014
---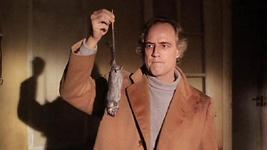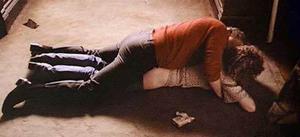 ---