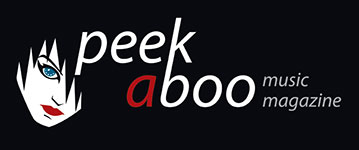 like this documentary review
---
TOM BERNINGER
Mistaken for Strangers
Movie
•
Documentary
Documentary
•
Rock
[80/100]

Filmfreaks
30/10/2014, William LIÉNARD
---
After quite some success with their album The Boxer (2007) in America, England and Scandinavia, the Brooklyn-based independent rock band The National acquires international recognition with successor High Violet in 2010: the album reaches number 3 in the American Billboard Top 200, 5 in England, 3 in Flanders and 23 in Holland. Their very first European and American tour starts soon after and singer Matt Berninger invites his younger brother Tom to take part in the adventure and he suggests to make a documentary about the event and claims to have some experience. A few weeks later Tom Beringer flies with The National to Paris, where tour manager Brendon Raid informs him about his duties: to organize the catering, to ensure that backstage bathrooms and toilets are in order, that the crew members are in good time near the stage at the beginning of the concert and to act as technical assistance during the performance. No partying during the concert, says Raid, you are a member of the technical crew now.
But Tom Berninger only seems to be interested in his camera work and already on the first day he has problems with members of the technical team which he bothers during their work. Later he will be called to account because the catering was badly organised and we see him running through the passages of the concert hall to get towels and tissues for the toilets and bathrooms. His older brother Matt is not amused and even less when at a party later that night he continues to use his camera while being requested not to do so. Soon after Tom Beringer is sent home. Disappointed and with the backpack over his shoulder he walks slowly in the direction of the bus station (in the meantime The National has arrived in Los Angeles). End of adventure. End of documentary?
It is not easy to be the younger brother of a rock 'n roll star, says Tom Berninger a little discouraged after his unfortunate adventure, and it is clear that Mistaken for Strangers is not only going to be the report about The National's World Tour, but for at least half the time the story about the frustrations of the younger brother of the singer of the band, a man in his 40s who often acts as if he is still 16 and with whom working together is a tricky matter. The extent to which the scenes in Mistaken for Strangers are fictitious is not clear and it is hard to imagine that Tom Berninger is really that naive as shown in this documentary, but as a results this production, in which the two brothers combine their creativity, is much more than the classic concert film with its standard backstage interviews of cast and crew and a live registration of the concert tour. The concept of Mistaken for Strangers is not only very original, but also very funny with the maker (Tom Berninger) as the ultimate underdog and winner. Sure, he makes a lousy impression, but he proves with this documentary – edited in cooperation with Matt Berninger's wife Carin Besser – that he can tell a story that makes sense, one that can fascinate and amuse the spectator/viewer from start to finish.
The secret lies in the perfect dosage of the material, because after 75 minutes the fan has a pretty good impression of a concert by The National and the bizarre relationship between Tom and Matt Berninger on the one hand, and Tom Berninger and the phenomenon The National on the other. It is immediately clear that Tom is not at all the best choice, because most of the time he is only interested in himself. The interviews are never brought to a successful conclusion and when he chases the other band members he only puts questions about his brother and never about their contribution to the band. Finally he is sent home and that is no surprise, but it does ensure a wonderful dramatic and comic effect.
However, the story is not complete, because after the tour Matt Berninger invites his little brother to New York to assemble his film, but their again its all nervousness and tension, because the premiere of the documentary for family and friends is a failure due to a faltering projector, yet another reason for Matt Berninger to be upset and blame his brother Tom because he didn't check the device in advance as a professional would do, did he? But Tom Berninger's revenge is sweet: Mistaken for Strangers was not only successfully screened on several major film festivals in America, the production also won the Grand Prize on the East End Film Festival in England (2014) and was nominated at the Warsaw International film Festival (2013).
Very often concert films are boring, but Mistaken for Strangers is one of the exceptions. Tom Berninger's approach in this documentary film about the World Tour of The National is no less than a very funny, surreal and sometimes a bit of a painful experience (at the expense of the director himself). On the other hand, it is a perfectly orchestrated piece of theatre.
William LIÉNARD
30/10/2014
---
Na redelijk wat succes met hun album The Boxer (2007) in Amerika, Engeland en Scandinavië, breekt de Brooklynse independent rockband The National in 2010 internationaal door met de opvolger High Violet. In Amerika staat het album op drie in de Billboard Top 200, in Engeland moet de band genoegen nemen met een 5de, in de Vlaamse Ultratop 200 Albums met een 3de en in de Nederlandse Album Top 100 met een 23ste plaats. Hun allereerste grote tournee door Europa en Amerika gaat kort nadien van start en zanger Matt Berninger nodigt z'n jongere broer Tom uit om als roadie aan het avontuur deel te nemen. Die oppert het idee om van de gelegenheid gebruik te maken om een documentaire over The National te maken, want daarmee heeft hij al wat ervaring. Een tijdje later pakt Tom Berninger z'n koffers en vliegt met The National naar Parijs, waar tourmanager Brendon Raid hem vertelt wat van hem wordt verwacht: de catering bestellen, erop toezien dat backstage badkamers en toiletten in orde zijn, ervoor zorgen dat de crewleden tijdig in de buurt van het podium zijn bij het begin van het concert en tijdens het concert technische assistentie verlenen (o.a. met de microfoonkabel manoeuvreren als broertje Matt het weer een keer in z'n hoofd haalt om tussen het publiek te lopen). Tijdens het concert bouwen we geen feestje, drukt Raid hem op het hart, je bent nu lid van de technische crew.
Maar Tom Berninger is vooral met z'n camera bezig en al op de eerste dag leidt dat tot moeilijkheden met leden van de technische ploeg die hij stoort tijdens hun werkzaamheden. Later zal hij ook op het matje geroepen worden omdat de catering niet helemaal in orde is en als hij op een keer ja knikt als hem wordt gevraagd of er genoeg handdoeken en tissues voorzien zijn, zien we hem achteraf door de gangen van een concertgebouw hollen om wat hij vergeten was snel in orde te brengen. Hij wordt de oren gewassen door z'n oudere broer Matt en later opnieuw als hij te opdringerig met z'n camera bezig is terwijl hem is verzocht het apparaat niet te gebruiken. De spanning neemt toe en uiteindelijk wordt hij na 8 maanden naar huis gestuurd. Teleurgesteld hangt hij z'n rugzak over de schouder en slentert in de richting van het busstation (ondertussen zit The National in Los Angeles). Einde avontuur. Einde documentaire?
Het is niet gemakkelijk om het jongere broertje van een rockster te zijn, zegt Tom Berninger achteraf een beetje ontmoedigd tegen z'n camera, waarmee het duidelijk wordt dat Mistaken for Strangers niet uitsluitend het verslag is over de grote wereldtournee van The National is, maar voor minstens de helft van de tijd het verhaal over de frustraties van het jongere broertje van de zanger van The National, een veertiger die zich vaak gedraagt alsof hij nog 16 is en met wie samenwerken dus onder alle omstandigheden een heikele aangelegenheid is. In hoeverre de scènes in Mistaken for Strangers gefingeerd zijn is niet duidelijk, maar je kan je moeilijk voorstellen dat Tom Berninger echt zo naïef is als hij zich voordoet in deze documentaire, terwijl je je heel goed voor kan stellen dat de beide broertjes hun creativiteit gecombineerd hebben om met een product voor de dag te komen dat anders is dan de klassieke concertregistratie met de bekende backstagekiekjes en de nauwelijks verrassende interviewtjes van cast en crew. Daarin zijn ze perfect geslaagd en het concept van Mistaken for Strangers is zonder meer origineel én bovendien heel erg grappig met een maker (Tom Berninger) die tegelijk underdog en winnaar is, want als hij in de documentaire (schijnbaar) een belabberde indruk maakt, dan bewijst hij met het eindproduct – waarvoor voor alle zekerheid een beroep is gedaan op Matt Berningers echtgenote Carin Besser als co-monteur – dat hij een verhaal kan vertellen dat steek houdt en dat de toeschouwer/kijker van begin tot einde kan boeien, amuseren en emotioneren.
Het geheim zit in de perfecte dosering van het materiaal, want na 75 minuten heeft de fan een vrij goede indruk van hoe het er tijdens een concert van The National aan toe gaat – wat uiteindelijk de bedoeling is van een concertfilm – én is hem ook een beeld geschetst over de bizarre relatie tussen Tom en Matt Berninger enerzijds en tussen Tom Berninger en het fenomeen The National anderzijds. Het wordt gauw duidelijk dat Tom helemaal niet geschikt is om een dergelijke film te maken, want hij is bijna de hele tijd met z'n eigen weinig succesvolle leventje bezig, stelt de foute vragen tijdens interviews die nooit tot een goed einde worden gebracht en hij jaagt de andere bandleden op de kast door nooit over hun eigen inbreng, maar altijd over die van z'n broer te praten. Aan de afspraken die hem door de stage manager zijn opgedragen en waarvoor hij zoals de rest van de crew wordt betaald, houdt hij zich alleen maar voor zover ze zijn werkzaamheden als regisseur niet hinderen, en dat leidt tot spanningen, want in zijn profielbeschrijving is daarover niets terug te vinden en voor zijn argument dat hij de jongere broer is van Matt Berninger is er bij de administratieve crew nauwelijks begrip, want die heeft maar een doel: een vlekkeloze tournee. Dat hij wordt weggestuurd is dan ook geen echte verrassing, maar het zorgt wel voor een dramatisch en tegelijk komisch effect dat hijzelf niet aan heeft zien komen en dat je als kijker een klein beetje overrompelt.
Daarmee is het verhaal evenwel niet af, want na de tournee nodigt Matt Berninger zijn broertje alsnog uit om z'n film in New York te monteren en ook daar is er sprake van nervositeit en spanningen, want als monteur is Tom een eindeloze twijfelaar. En als weken later de previsie van de film voor familie en vrienden al na een paar minuten fout gaat wegens een haperende projector, is dat voor Matt Berninger de zoveelste aanleiding om z'n broer de huid vol te schelden, want die heeft de installatie vooraf niet gecontroleerd zoals een professional zou doen en dus voor de zoveelste keer gezichtsverlies geleden. Maar Tom Berningers wraak is zoet, want Mistaken for Strangers werd niet alleen met succes op verschillende grote filmfestivals in Amerika vertoond, de productie won ook de grote prijs op het East End Film Festival in Engeland (2014) en was genomineerd op het Warsaw International film Festival (2013).
Concertfilms zijn soms saai en weinig verrassend, maar Mistaken for Strangers tapt uit een heel andere vaatje, want via de aanpak van Tom Berninger wordt de documentaire film over de wereldtournee van de rockband The National niet minder dan een zeer grappige, surrealistische en soms een beetje een pijnlijke ervaring, zij het dat dat laatste uitsluitend de regisseur zelf betreft. Anderzijds kan je je als kijker niet van de indruk ontdoen dat hier een perfect georkestreerd stukje theater wordt opgevoerd waaraan de broertjes Berninger heel veel pret hebben beleefd. Fans zullen zich de aanschaf van deze dvd niet beklagen.
Mistaken for Strangers
Tom Berninger
Documentaire/Documentary
USA, 2013
75 min. – 1.85:1 PAL – English/German DD 2.0 & 5.1
Ondertitels/Subtitles: Nederlands, Français
Extra:
- A Naked performance of Vanderlyle Crybaby Geeks (4 min.)
- Finding Love on Tour with The National (8 min.)
- Singing in the Mirror (4 min.)
- Korte/short film Wages of Sin (11 min.)
William LIÉNARD
30/10/2014
---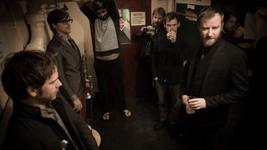 ---