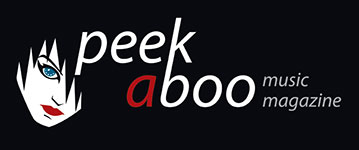 like this movie review
---
DAVID FINCHER
Gone Girl
Movie
Thriller
20th Century Fox
15/10/2014, Didier BECU
---
In a recent interview the controversial author Bret Easton Ellis told that he's convinced that one day film will disappear and that there will be no directors around. A frightening statement that might be true, but as long as there are cinematographers around like David Fincher I guess we're in a safe zone. The maker from Se7en, Fight Club, Zodiac, The Social Network, The Girl With The Dragon Tattoo and House Of Cards has come up with another blast: Gone Girl. Some critics already claimed this old fashioned classy thriller is the best film of the year, some even think that this Gillian Flynn-adaption will be the Oscar-beast from 2015.
Great words, but is Gone Girl that good? Absolutely yes, even if Fincher made a genius copycat from 80's-classics like Basic Instinct or Fatal Attraction. The movie has some great performances. Ben Affleck is born to play the guy with the fake smile you don't trust and Rosamund Pike is definitely THE discovery.
The bar owner Nick Dunne (Ben Affleck) and writer Amy (Rosamund Pike) have a happy married life, but that's a false image as the two hate each other. One day Nicky comes home and finds out that his wife is kidnapped. He doesn't burst out in tears, he's even relieved. The media discover this too and in no time he's condemned as the guilty.
Gone Girl is a thriller full of suspense, but there's more. Fincher criticizes the media and its power. Just like in his other movies, Fincher is the master in fooling the audience: what you see is not what happens! Added with a genius soundtrack by Trent Reznor and you know that this is the Hollywood must see from 2014.
In the top 10? Might be!
Didier BECU
15/10/2014
---
In een recent interview merkte de controversiële auteur Bret Easton Ellis cynisch op dat er een weldra een tijd zal aanbreken waarin er van regisseurs of films geen sprake meer zal zijn. Wie zijn wij om de auteur van American Psycho tegen te spreken, maar toch zijn we er rotsvast van overtuigd dat dit niet zal gebeuren zolang er cineasten zoals David Fincher rondlopen. Se7en, Fight Club, Zodiac, The Social Network, The Girl With The Dragon Tattoo of in de seriewereld met House Of Cards: het zijn maar enkele voorbeelden uit de rijk gevulde filmografie van de man uit Denver. Je kan daar nu ook Gone Girl aan toevoegen: een ouderwetse thriller die volgens sommige recensenten het beste is van wat je dit jaar in het Hollywood-aanbod kan vinden, er wordt zelfs al volop gespeculeerd dat deze Gillian Flynn-verfilming garant zal staan voor een massa Oscar-beeldjes.
En is Gone Girl nu echt zo goed? Jawel, ofschoon Fincher niet meer doet dan de thriller uit de jaren 80 (Basic Instinct, Fatal Attraction) heropvissen, maar mede door de briljante vertolkingen (Ben Affleck als domoor is altijd een goede zet en Rosamund Pike is DE ontdekking!) alsook de onverwachte plots wordt Gone Girl een ijzingwekkende thriller die je twee en een half uur aan het puntje van je stoel kluistert.
De bareigenaar Nick Dunne (Ben Affleck) en schrijfster Amy (Rosamund Pike) leiden op het eerste gezicht een leventje waar ieder mens van droomt, maar dat is niet meer dan schijn. Op een dag komt Nick thuis en merkt dat zijn vrouw is ontvoerd. Het mag wel niet, maar eigenlijk is hij opgelucht dat hij van de bitch verlost is. Dat heeft ook de media gezien en in geen tijd wordt hij als de schuldige aan het kruis genageld.
Gone Girl is niet alleen een spannende thriller, Fincher hekelt ook de media die zelf maar al te graag rechtertje speelt. De cineast is een meester om de kijker steeds op het verkeerde been te zetten en het blijft verdomd moeilijk om partij te kiezen! Tel daar nog eens de verbluffende score van Trent Reznor bovenop en je weet dat de critici het bij het juiste eind hebben: verplichte Hollywoodkost!
Didier BECU
15/10/2014
---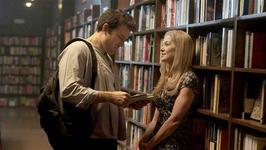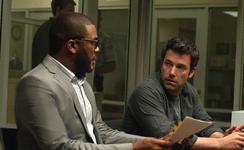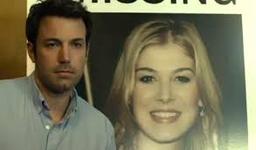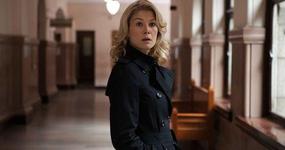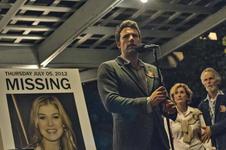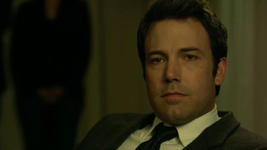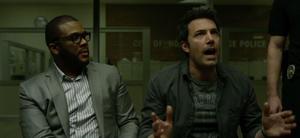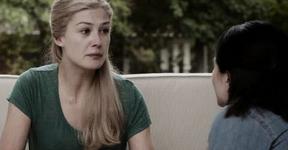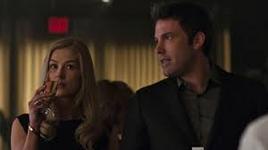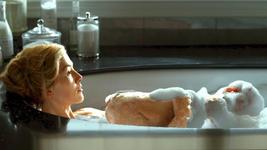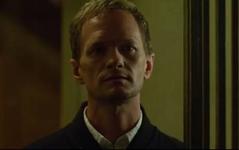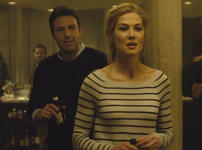 ---