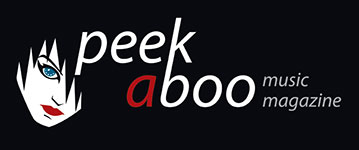 like this movie classics review
---
DON SIEGEL
The Killers
Movie
•
Movie classics
Crime
[80/100]

Arrow
13/02/2014, Didier BECU
---
There are many reasons why this post-noir film is considered as a real cultclassic. First of all there's the fact that The Killers is the first television movie ever. Or at least that's what the producers had in mind as the picture never made it to the box. The movie was so violent that NBC was afraid to show it. Due to the assassination of Kennedy, the American opinion wasn't ready to swallow such an act of violence.


Another reason might be the role of Ronald Reagan. It was the last time the forthcoming president starred on the silver screen, but it was his most violent role ever. It does sound a bit surreal, but you don't see an American president every day performing a role like the one from mob boss Jack Browning. Or maybe it was Lee Marvin who would become a real star after The Killers. His role as baddie seems indeed like a blueprint from his famous character as thief Walker from Point Blank that would make him later immortal. Or are it the sexy looks from Angie Dickinson?


Whatever the reason might be, you can't ignore the genius of Don Siegel either. Today his name is a bit forgotten, but he's the director who created one of the most brutal filmcharacters ever: Dirty Harry. He's the one who came up with that famous quote: "Make my day".... It was not the first time this story has been filmed as the script that is been based on the novel by Ernest Hemingway has already been adapted by Robert Siodmak in 1946.


So yes, this movie has all the elements from a real film noir. A great gem full of excellent shots that will be forever remembered, a brilliant example from how great moviemaking can be if you have the right actors (so yes, Reagan can act, at least if he's a baddie) and the right spirit...and no money.


Arrow Video has now released this film noir on Blu-ray, and you can see the movie in two versions: the alternate widescreen framing (1.85:1) and the more commonly seen 1.33:1/4:3 version.


Also included are some nice extra's like an interview with director Don Siegel, a new and exclusive interview with Dwayne Epstein (author of 'Lee Marvin: Point Blank') and an exclusive collector's booklet.


A must have, and a superb example of great cinema!
Didier BECU
13/02/2014
---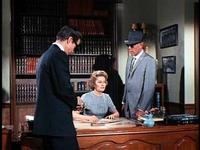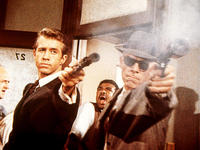 ---