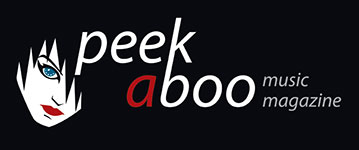 like this cd review
---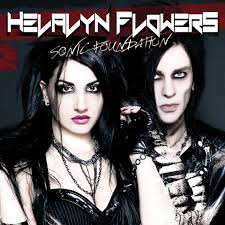 HELALYN FLOWERS
Sonic Foundations
Music
•
CD
Electro Rock
[87/100]

Alfa-Matrix
09/12/2016, Ruben SAEY
---
The Italian electro rock duo Helalyn Flowers returns with another strong album: Sonic Foundations. You can interpret the title quite literally as the music feels supersonic and the foundations are solid as a rock.
The mix of hard electro, the metal influenced guitars by MaXX and the female vocals by Noemi Aurora contrast beautifully with each other. This leads to acrimonious duels sometimes, followed by harmony. Don't be wrong however, this is a very solid electro metal album.

The CD opens with Synthetic Paranoia, powerful electro, but not too overwhelming. You better open this Pandora's box carefully, because if you don't, the result will be the same, but it will rush as a storm over you. The same goes for this album.

The pace increases with each song and more registers are opened. The first tracks sound good, firm and solid, although with poppy vocals. It's hard to notice, but little by little the dark side sneaks into the record. The music is becoming more aggressive, the vocals more intense and the beats go deeper.

The album can be divided into three chapters: an intro section with somewhat quieter tracks and a middle section in which everything is showed, on both the musical and vocal level. From Karmageddon on, the band shows another (angry) side as New Days Of Babylon, Shadowcomples and Match Of Chaos ( feat. Angelspit) roar like a hurricane through the speakers. Towards the end the storm calms down with the more guitar-oriented Eerie and the beautiful ballad I Saved An Angel, in which Noemi shows what she can as a singer.

The album ends with a reprise of Beware Of Light, this time with the collaboration of Chris Pohl by Blutengel. Sonic Foundations is a beautiful symbiosis between good and evil, between melodic synths, guitars and at times hard-hitting beats. All these extremes are held together by synth pop and sharp vocals.
Ruben SAEY
09/12/2016
---
Het Italiaanse elektrorockduo Helalyn Flowers pakt opnieuw uit met een heel sterk album: Sonic Foundations. Die titel mag je best letterlijk nemen. Het album is bij momenten supersonisch en de fundamenten zijn zoals men in het Engels zegt solid as a rock.

De mix van stevige elektro, de metalgetinte gitaren van MaXX en de vrouwelijke vocalen van Noemi Aurora contrasteren mooi met elkaar. Dit leidt de ene keer tot bitsige duels, terwijl het vervolgens harmonieus wordt. Vergis je echter niet, dit is een heel stevig elektrometalalbum.

De cd opent met Synthetic Paranoia, muzikaal stevige elektro zonder echt overweldigend uit de hoek te komen. Dit is echter heel voorzichtig de doos van Pandora openen. Als je die met geweld opent, blijft het resultaat hetzelfde, ze sluiten kan niet meer en de inhoud komt als een storm over je heen. Hetzelfde geldt voor dit album.

Song per song neemt het tempo toe en worden meer registers opengetrokken. De eerste tracks klinken goed en stevig met degelijke, doch vrij poppy vocalen. Bijna ongemerkt, maar heel berekend, sluipt de meer duistere kant van de band in de plaat. De muziek wordt agressiever, de vocalen intenser en de beats gaan dieper.

Het album kan je eigenlijk in 3 hoofdstukken indelen: een introgedeelte met de ietwat rustigere tracks en een middengedeelte waar alle registers zowel op muzikaal als op vocaal vlak worden opengetrokken. Vanaf Karmageddon is het gedaan met braaf zijn en New Days Of Babylon, Shadowcomples en Match Of Chaos (feat. Angelspit) razen als een orkaan door de boxen. Tegen het einde sterft de storm weer uit via het meer gitaargerichte Eerie en de mooie ballade I Saved An Angel, waarin Noemi met een minimale begeleiding haar zangkwaliteiten nog eens dik in de verf zet.

Het album wordt afgesloten met een herneming van Beware Of Light, deze keer in samenwerking met Chris Pohl van Blutengel. Sonic Foundations is een heel mooie symbiose tussen goed en kwaad, tussen melodieuze synths, meedogenloze gitaren en bij momenten keiharde beats. Al deze uitersten worden samengehouden door synthpop en bijtende vocalen.
Ruben SAEY
09/12/2016
---