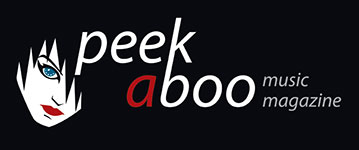 like this cd review
---
HEXHEART
Midnight on a Moonless Night
Music
•
CD
EBM
•
Industrial
•
Synthpop
[90/100]

Metropolis Records
04/09/2017, Charles "Chuck" MOORHOUSE
---
I listened to Midnight on a Moonless Night several times, front-to-back and then reversed the order back-to-front, the latter being preferred because it builds on it's progeny and leads up to a modern, incarnation of emotional electronic music definitely influenced by new wave and post-punk ancestors.
Thusly, Faces becomes the first song. So, with the opening bass line, drop beat and minor cord changes, you might find yourself thinking, "is this a remix of a Cure song that I don't remember?" Then the vocals hit and you might think, "Wait, this sounds a lot like God Module." And, well, it just kind of is God Module. On this side-project, Jasyn Bangert is indeed heard electronically channeling The Cure, Echo and the Bunnymen and perhaps Joy Division, as he melodically shape-shifts between contemplative synths and strumming guitar riffs. The next track in this back to front journey, Never Understand, continues the symphonic melancholia undulating behind the artificial instrumentation. It is very reminiscent of a new wave, droning kind of sound. You almost expect to hear Ronny Moorings (Clan Of Xymox) come in on vocals after the 20 seconds or so of the intro to Hollywood. But, no, it's Bangert slightly less harshly distorted than you would hear on God Module's aggro style. Then "Lunatix" answers the question, "What if post punk had evolved to become completely electronic."
There are some nice guitar sounds here that, again, sound as if Mr. Bangert layered The Church over his digital creations. Problems and Bigger Ones sounds rather one-dimensional but here the heartfelt lyrics, present throughout the album, are able to carry the tune and hold your interest. Second Sight comes in as if we're Jumping Someone Else's Train on the Trans-Europe Express. Multiple layers or symphonic synths and analogue sounds make this very appealing. The album does pick up the pace in the final three cuts leading to the stand-out single, A Thousand Times. It's the culmination of sound and lyrics that had been building all along.
The musical musings of Hexheart bring more sway and less stomp to the dance floor. The emotional prominence of the lyrics is evidenced in lines such as "Catch me I'm falling fast … inside out outside in the past" from A Thousand Times. Listening to the tracks as originally ordered, therefore, the album stays solid but seems to peter out causing a listener to perhaps loose interested and, unfortunately, miss out on some creative modern impressions of sounds and styles pioneered in the 80s. Listen to it in reverse order for the full effect.
Charles "Chuck" MOORHOUSE
04/09/2017
---
Ik luisterde een paar keer naar deze Midnight on a Moonless Night, eerst van voor naar achter en dan andersom. Dat laatste genoot meer mijn voorkeur omdat de nummers dan eerder te lijken evolueren van New-Wave en Post-Punk geïnspireerde song naar een meer moderne emotionele elektronische muziek.
Dus in dit geval is Faces het eerste nummer. Openend met een baslijn, drop-beat en daarna minimale toonveranderingen, zou je kunnen denken: "is dit een remix van een Cure-nummer dat ik me niet herinner?". Daarna hoor je de vocalen en denk je misschien: "Wacht, dit klinkt eerder als God Module." En ja hoor, eigenlijk is dit gewoon een beetje als God Module. Op dit nevenproject van Jasyn Bangert hoor je inderdaad een elektronische versie van The Cure, Echo & The Bunnymen en misschien ook wel ergens Joy Division, door de melodische overgangen tussen hedendaagse synths en tokkelende gitaarriffs. Bij het volgende nummer in deze achterwaartse reis, Never Understand, zet de symfonische melancholie zich golvend verder, verscholen achter de artificiële instrumenten. Het heeft een sterke New-Wave-achtige klank. Je verwacht bijna Ronny Moorings's (Clan Of Xymox) stem na de ongeveer 20 seconden durende intro van Hollywood. Maar nee, het is nog steeds Jasyn Bangert, met een iets minder hard vervormde stem dan je zou verwachten en dus niet zoals God Module's 'Aggro'-stijl. Vervolgens beantwoordt Lunatix de vraag: "Wat als Post-Punk volledig elektronisch zou worden?"
Er zijn een aantal mooie gitaargeluiden op dit album die, nogmaals, klinken alsof Mr. Bangert bijvoorbeeld The Church met zijn digitale creaties heeft verweven. Problems and Bigger Ones klinken eerder eendimensionaal, maar hier zijn de oprechte teksten, die in het hele album aanwezig zijn, in staat om de melodie te dragen en de interesse vast te houden. Second Sight komt binnen als "Jumping Someone Else's Train" op de Trans-Europe Express. Meerdere lagen symfonisch klinkende synths en analoge klanken maken dit nummer erg aantrekkelijk. Het album verhoogt het tempo met de laatste drie songs die leiden tot de opvallende single, A Thousand Times. Het hoogtepunt waarnaar alle klanken en teksten op deze cd al die tijd toe werkten.
De muzikale mijmeringen op deze Hexheart zorgen voor meer geschuifel en minder gebonk op de dansvloer. Het belang van het emotionele komt duidelijk tot uiting in zinnen zoals "Catch me, I'm falling fast... Inside outside in the past" " uit A Thousand Times. Bij het luisteren naar de nummers in de eigenlijke volgorde, blijft het album degelijk, maar sommige luisteraars zouden op die manier misschien iets sneller hun aandacht kunnen verliezen en helaas, zodoende, enkele knappe creatieve en moderne impressies van jaren '80 klanken en sferen missen. Ons advies: luister dit album in omgekeerde volgorde voor het beste resultaat!
Charles "Chuck" MOORHOUSE
04/09/2017
---