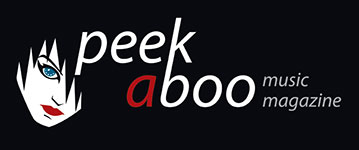 ---
HEXHEART
Midnight on a Moonless Night
Music
•
CD
EBM
•
Industrial
•
Synthpop
[90/100]

Metropolis Records
04/09/2017, Charles "Chuck" MOORHOUSE
---
I listened to Midnight on a Moonless Night several times, front-to-back and then reversed the order back-to-front, the latter being preferred because it builds on it's progeny and leads up to a modern, incarnation of emotional electronic music definitely influenced by new wave and post-punk ancestors.
Thusly, Faces becomes the first song. So, with the opening bass line, drop beat and minor cord changes, you might find yourself thinking, "is this a remix of a Cure song that I don't remember?" Then the vocals hit and you might think, "Wait, this sounds a lot like God Module." And, well, it just kind of is God Module. On this side-project, Jasyn Bangert is indeed heard electronically channeling The Cure, Echo and the Bunnymen and perhaps Joy Division, as he melodically shape-shifts between contemplative synths and strumming guitar riffs. The next track in this back to front journey, Never Understand, continues the symphonic melancholia undulating behind the artificial instrumentation. It is very reminiscent of a new wave, droning kind of sound. You almost expect to hear Ronny Moorings come in on vocals after the 20 seconds or so of the intro to Hollywood. But, no, it's Bangert slightly less harshly distorted than you would hear on God Module's aggro style. Then "Lunatix" answers the question, "What if post punk had evolved to become completely electronic."
There are some nice guitar sounds here that, again, sound as if Mr. Bangert layered The Church over his digital creations. Problems and Bigger Ones sounds rather one-dimensional but here the heartfelt lyrics, present throughout the album, are able to carry the tune and hold your interest. Second Sight comes in as if we're Jumping Someone Else's Train on the Trans-Europe Express. Multiple layers or symphonic synths and analogue sounds make this very appealing. The album does pick up the pace in the final three cuts leading to the stand-out single, A Thousand Times. It's the culmination of sound and lyrics that had been building all along.
The musical musings of Hexheart bring more sway and less stomp to the dance floor. The emotional prominence of the lyrics is evidenced in lines such as "Catch me I'm falling fast … inside out outside in the past" from A Thousand Times. Listening to the tracks as originally ordered, therefore, the album stays solid but seems to peter out causing a listener to perhaps loose interested and, unfortunately, miss out on some creative modern impressions of sounds and styles pioneered in the 80s. Listen to it in reverse order for the full effect.
Charles "Chuck" MOORHOUSE
04/09/2017
---