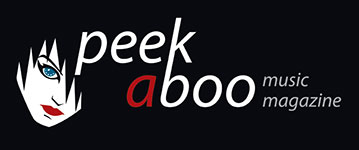 like this movie classics review
---
LEOS CARAX
Mauvais Sang
Movie
•
Movie classics
Arthouse
[87/100]

Cinťart
16/09/2014, Didier BECU
---
Two years ago French director Leos Carax caused with Holy Motors a whole commotion among film lovers. Some (the jury from Cannes for instance) thought it was the best picture of the year, while others considered it as the most pretentious crap you can think of.
Who's going to say he's on the right track? The fact remains that Carax is the ultimate cinematographer to leave his audience with a WTF!-feel. Surely as good as Holy Motors is Mauvais Sang from 1986 with a back then very young Juliette Binoche in one of her first roles.
Anyone who kicks on 80's-images will embrace this weird science fiction film (that isn't one!). The story is set in an unknown future. A deadly virus has conquered the world. The meds are kept in a safe locker in Paris. Criminal Marc (Michel Piccoli) remembers that the son of one of his deceased gang members has the right fingers to open such a safe: Alex (Denis Lavant).
Sometimes the movie has been categorized as action, but that's really not the case. At contrary! Those who hate experimental cinema probably will give up after ten minutes! Shame though as Mauvais Sang is pure genius! The movie is a visual feast that flirts with nouvelle vague (some scenes are very Godard-like!) and insane (sublime) surrealism in Lynch-style. The dialogues deal about nothing, but dig deeper than most other movies. The cherish on the cake comes with the excellent Binoche who building her throne in the arthouse circuit, just like Julie Delpy. And Piccoli? As always magnificent!
Mauvais Sang is only released as Blu-ray in the US, but on DVD everywhere available. In the Benelux you can find the title in the Cinéart-catalogue. A tip? You already should been watching it!
Didier BECU
16/09/2014
---
Twee jaar geleden veroorzaakte de Franse cineast Leos Carax met Holy Motors een waar schisma in de filmwereld. Sommige filmkenners (waaronder die van Cannes) bekroonden de film als de beste van het jaar, terwijl anderen het dan weer niet meer dan een overschat product van een pretentieuze windbuil vonden.
Wie zal zeggen wie gelijk heeft? Feit is dat Carax de cineast bij uitstek is om de kijker met een WTF-gevoel achter te laten. Minstens even meesterlijk als Holy Motors is Mauvais Sang uit 1986 met een toen nog piepjonge Juliette Binoche in één van haar eerste rollen.
Wie kickt op 80's-beelden komt in deze vreemde sciencefictionfilm (die er eigenlijk geen is) ruimschoots aan zijn trekken. Het verhaal speelt zich ergens in de toekomst af. De hele wereld is ten prooi gevallen aan een virus. Het medicijn daarvoor ligt ergens in een zwaar bewaakte kluis in Parijs. Crimineel Marc (Michel Piccoli) herinnert zich dat één van zijn overleden kompanen een zoon heeft met de geschikte vingers voor zo'n klus: Alex (Denis Lavant).
De film wordt wel gemakshalve als actie gecategoriseerd, maar wie een broertje dood heeft aan experimentele cinema zal de film zonder twijfel na een tiental minuten uit de lader schoppen. Doodzonde, want Mauvais Sang is misschien bij momenten wel een onmogelijke film, hij is wel een toonbeeld van visuele pracht die flirt met de nouvelle vague (sommige scènes hebben een zeer hoog Godard-gehalte!) en waanzinnig surrealisme. De dialogen gaan over niets, maar graven dieper dan de meeste films. Als kers op de taart wordt de kijker ook nog getrakteerd op een verbluffende Binoche die op dat moment haar troon in de arthousewereld aan het bouwen was en ook (de eveneens toen zeer jonge) Julie Delpy is ronduit verbluffend. En Piccoli? Die is altijd schitterend, mijnheer!
Mauvais Sang is enkel in de VS op Blu-ray uit, maar als dvd eenvoudig in de Benelux bij Cinéart te vinden. Een tip? U moest al aan de kassa staan!
Didier BECU
16/09/2014
---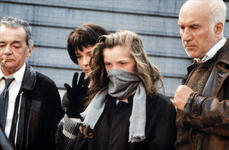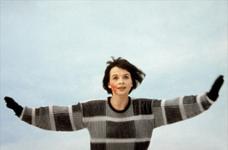 ---