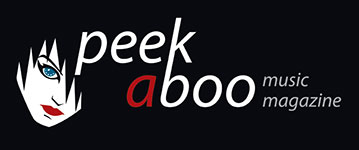 like this cinema review
---
DANIEL ESPINOSA
Child 44
Movie
•
Cinema
Drama
[61/100]

Belga Films
17/04/2015, Didier BECU
---
Child 44 is unfortunately another example of a talented European filmmaker who throws away all his promises once he starts his American adventure. You might know Daniel Espinosa as the creator of the enjoyable Snabba Cash movies, but in this fictitious historical crime drama some things go wrong. The Swedish filmmaker relied on the famous book by Tom Rob about the Ukranian serial killer Andrei Chikatilo. The Rostov Ripper, as he was called by the media, killed more than fifty people. Most of them were children. This story was already filmed twenty years earlier for the TV movie Citizen X with Donald Sutherland, but now there is a cinema version. The makers however decided to situate the story in the 50's (Chikatilo was operative during the 70's) when Stalin was still in control.
Stalin did not condone murder in his communist paradise and so all crimes were swept under the carpet. During the Second World War, Leo Demidov (Tom Hardy), was a a true hero as he was the one who planted the Russian flag on the Reichstag. As a reward, he became an officer at the secret service. Demidov was always different. He did not believe in the brutal misdeeds of his colleagues, not even in the communist dream during Stalin's regime. One day he finds the corpse of a child in Moscow. The government quickly decides that the boy has fallen under a train, but this assertion seems untrue when other children are found from whom an organ is removed. Demidov soon gets a new case: examining if his very own wife (Noomi Rapace) is a spy or not. Demidov however sticks to the case of child murders and got banished to a deserted industrial city.

A brilliant story that unfortunately is destroyed by an excessively wordy script of about 137 minutes. Even stranger when you find what an impressive star cast takes part in this film. Well, they are all well-known names, but never deliver a starring role. Tom Hardy works with his Russian accent on the nerves after a while and the talent of Gary Oldman is almost unused. Noomi Rapace is convincing, but unfortunately there is hardly any depth given to her character. The biggest letdown, however, is the killer. Child 44 is promoted as a crime mystery, but when the viewer sees the psychopath suddenly coming up out of the blue, he starts to wonder what is the ultimate purpose of this film, except that both the viewer and the cast are caught in a web of unnecessary intrigues.
Didier BECU
17/04/2015
---
Child 44 is jammer genoeg alweer zo'n voorbeeld van een talentvolle Europese cineast die al zijn beloftes te grabbel gooit eens hij aan zijn Amerikaans avontuur begint. Daniel Espinosa ken je misschien als de maker van de genietbare Snabba Cash-films, maar in dit fictief historisch misdaaddrama loopt er toch het een en ander mis. De Zweedse cineast baseerde zich op het wereldberoemde boek van Tom Rob over de Oekraïense seriemoordenaar Andrei Chikatilo. The Rostov Ripper, zoals hij door de media werd genoemd, vermoordde meer dan vijftig mensen waarvan de meeste kinderen waren. Het verhaald van deze onmens werd al eens twintig jaar eerder in de televisiefilm Citizen X met Donald Sutherland verteld, maar nu is er een bioscoopversie waarin noch moeite noch kosten werden gespaard. Wel besloten de makers om het verhaal in de jaren 50 te situeren (Chikatilo was operatief tijdens de jaren 70) toen Stalin de touwtjes nog stevig in handen had.
Vadertje Stalin duldde niet dat er gemoord wordt in zijn communistisch paradijs en dus werden alle misdaden netjes onder de mat geveegd. Tijdens de Tweede Wereldoorlog was Leo Demidov (Tom Hardy) een ware held, hij was immers degene die de Russische vlag op de Reichstag liet wapperen. Als beloning werd hij een voorname officier van de geheime dienst. Demidov was wel altijd een vreemd eend in de bijt. Hij geloofde niet in de wandaden van zijn collega's, wel in de communistische droom waarvan maar weinig overbleef tijdens Stalins regime. Op een dag wordt in Moskou het lijkje van een kind aangetroffen. De overheid beslist al snel dat het jongetje onder een trein is terechtgekomen, maar deze bewering houdt geen steek wanneer andere kinderen worden gevonden waarvan een orgaan is weggenomen. Demidov krijgt gauw een nieuwe zaak in de handen gestopt: onderzoeken of zijn bloedeigen vrouw (Noomi Rapace) een spione is of niet. Demidov bijt echter door in de zaak van de kindermoorden en wordt als dank naar een verlaten industriestad verbannen.
Een schitterend verhaal dat jammer genoeg om zeep wordt geholpen door een veel te langdradig scenario van zo'n 137 minuten. Nog vreemder wordt het wanneer je merkt wat voor een indrukwekkende sterrencast er aan deze film heeft meegewerkt. Nu ja, het zijn wel allemaal bekende namen, toch zet geen van hun hier een glansrol neer. Tom Hardy werkt met zijn Russisch accent zelfs na een tijdje flink op de zenuwen en ook het talent van Gary Oldman wordt bijna niet benut. Noomi Rapace overtuigt wel, maar helaas wordt er nauwelijks diepgang aan haar karakter gegeven. De grootste afknapper is evenwel de moordenaar. Men schildert Child 44 wel graag af als een misdaadmysterie, maar de kijker krijgt de psychopaat gewoon te plots in beeld, waardoor je niet goed meer weet wat de uiteindelijke bedoeling is van deze film, behalve dat zowel de kijker als de cast zich in een web van onnodige intriges verslikken.
Didier BECU
17/04/2015
---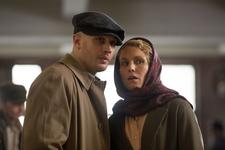 ---