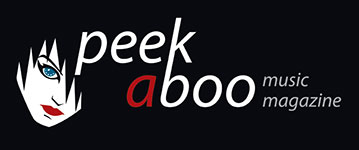 like this movie review
---
EVAN GOLDBERG & SETH ROGEN
This is the end
Movie
Comedy
[77/100]

SONY SPHE
08/01/2014, Didier BECU
---
Everything depends of course on your own taste, but in a way we think that Evan Goldberg and Seth Rogen are probably one of the funniest guys you can find in Hollywood. These two youngsters were not exactly the fave screenwriters from the critics, but their smashing comedies Superbad or Pineapple Express were simply hilarious. They might be a bit brutal, but they're taken from daily life, so who can blame them for that? After that, everything went a bit quieter. The Green Hornet was an OK-watch, but certainly not as good as their former writings. But now the two have finally strike back. Not only have they directed themselves their newest baby, they also have found a starcrew from actors who are playing themselves, or at least playing the actors they are!
The movie starts when Jay Baruchel meets his good friend Seth Rogen at the Los Angeles-airport. The two have been inseparable buddies, but Baruchel was never keen on those Hollywoodstars. For him they're all pretentious twats, he especially can't stand Jonah Hill. Rogen can convince his friend to attend a party at James Franco's house (and no, Franco plays himself, but this is not where he's living!) All the famous stars are there: Danny McBride, Emma Watson, Rihanna, Michael Cera,... And then fate strikes as the apocalypse is coming down to Hollywood. It doesn't matter if you're rich, if the devil sees you then you're going straight to hell! The only thing there's left to do is hiding themselves in Franco's house, but what can you do is there only food left for a couple of days?
This Is The End is of course not art. But having said that, there's only word to describe this parody (as that's what is!): hilarious! These stars are not taking themselves seriously for one minute and that graces them! Every scene is almost a winner: who's going to rape Emma Watson or who is going to eat the last Milky Way? No, it's not us making this up! Believe us, you'll never have the same vision about Michael Cera after watching this and no we won't mention again anything about Watson's beauty!
The last scene in where Jonah Hill got raped by the devil (yes!) is probably a sene too many and also the idea that The Backstreet Boys are the stars in heaven make us terrify. But besides all that, This Is The End is the funniest movie of the moment!
This Is The End out on Sony on both DVD and Blu-ray.
Didier BECU
08/01/2014
---
Alles hangt natuurlijk af van hoe je het bekijkt, toch zou het duo Evan Goldberg en Seth Rogen wel eens het leukste schrijversduo uit Hollywood kunnen zijn. Jaren geleden joegen deze twee snotneuzen de critici in de gordijnen met platvloerse (maar oh zo hilarische) komedies als Superbad of Pineapple Express. Geen afgelikte grapjes, maar wel boertige dialogen...of gewoon (jammer genoeg of niet) uit het leven gegrepen. Nadien werd het wat stiller. The Green Hornet was best genietbaar, desalniettemin van een minder allooi. Maar nu is er gelukkig This Is The End. De twee sterscenaristen namen meteen ook plaats in de regisseursstoel en vooral: ze slaagden erin om een heuse sterrencast bijeen te krijgen die zichzelf speelde. Nou ja, op zijn minst vertolken ze de rol van de acteur die ze zijn!

De film begint wanneer Jay Baruchel op het vliegveld van Los Angeles zijn goede vriend Seth Rogen begroet. De twee zijn altijd onafscheidelijke makkers geweest, toch loopt Baruchel niet hoog op met de Hollywoodsterren. De jonge knul vindt de steracteurs niet meer dan verwaande kwasten, vooral Jonah Hill kan hij niet uitstaan. Rogen slaagt er toch in om zijn vriend mee te halen naar een privéfeestje in James Franco's huis (en neen hoor, Franco speelt zichzelf, maar het is zijn woning niet!) Alle beroemdheden van de huidige generatie Hollywoodsterren zijn aanwezig: Danny McBride, Emma Watson, Rihanna, Michael Cera,... En dan breekt het noodlot toe. De apocalyps daalt neer over Hollywood. Het haalt geen moer uit of iemand een beroemde ster is of niet, wie in het vizier loopt van de duivel wordt zonder medelijden naar de hel gezogen. Het enige wat de Hollywoodsterren kunnen doen is zich verschansen in hun riante woning. Maar wat doe je als je slechts voor een paar dagen voedsel in huis hebt?

This Is The End is dus inderdaad geen grote filmkunst. En toch, bestaat er maar één woord om deze parodie (want dat is het!) te omschrijven en dat is: hilarisch! De sterren nemen zichzelf voor geen seconde serieus en dat siert hun. Zowat iedere scène is een schot in de roos. Want tja, wie gaat er nu Emma Watson verkrachten en wie gaat die laatste overgebleven Milky Way nu opeten? Wij houden helemaal niet van spoilers, toch kunnen we je nu al verklappen dat je voor altijd een ander beeld van nerd Michael Cera zult hebben. Misschien zijn de laatste twintig minuten waarin Jonah Hill door de duivel wordt verkracht (tja) er wat te veel aan en ook het toekomstbeeld dat stelt dat de Backstreet Boys voor de muziek in de hemel zorgen doet ons kokhalzen, maar toch moet je deze komedie absoluut zien om te geloven. Wie beweert dat This Is The End de beste prent is van het jaar heeft van film geen kaas gegeten, maar wie zegt dat hij de leukste is van het jaar heeft alleen maar een zeer goede smaak. En neen, we gaan het weer niet hebben over Emma Watson!

This Is The End is nu door Sony op zowel dvd als Blu-ray uitgebracht.
Didier BECU
08/01/2014
---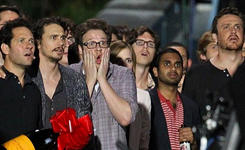 ---