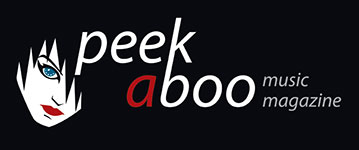 like this cd review
---
GIOUMOURTZINA
Blakk Metall
Music
•
CD
Minimal
[78/100]

Inner Ear
10/12/2016, Jurgen BRAECKEVELT
---
Minimal music is alive in Greece! The Greek band Gioumourtzina was founded in May 2014, in Thessaloniki: Anestis Neiros (synth, vocals) and John Tselikas (electric bass). Rather coincidentally they worked together on music that can be situated between electronics and shoegaze. But the sound was not what they wanted it to be andso they started looking for the right musicians to work with. At the end of the day, they decided to continue as a duo and do something more minimalist. Blakk Metall is released on Inner Ear Records, it is a primarily electronic DIY project with different styles. The title Blakk Metall is intended to be humorous and is at the same time a reaction against the global music industry, the social establishment and the refusal to be categorized in one genre.
You recognize the eighties sound immediately. Leviathan puts you 30 years back in time: synth sounds with a nod to shoegaze and drawn-out soundscapes. Russian Market contains a bass line that could have been of The Cure. The melodic arsenal of synths and fairy-like sounds with a simple rhythm section and a dreamy and very minimal voice, gives the sound a special touch.
Chinese Batlleship has some elements of the previous song, but it doesn't really impress. A feeling that we had throughout the entire album.
A little more rhythm and a nice drumbeat is given to The Rundown. Unfortunately, this track that is no more than a repetitive melody. Halfway we hear a transition and the arrangement gets more interesting. Lobby Raver is eighties at its best: a solid bass line starts the song, again with some shoegaze elements. The vocals are just a tad too limited.
When seeing the title of the sixth song, I started to sweat: Palaces In The Night Terror. Indeed, it sounds a bit creepy. Chrysostomou Smyrnis is one of the better songs. A totally different song that sounds like EBM sometimes, due to the more contemporary electronic elements. Something happens in this song. There should be more of these onn this album. Glasgow is again mediocre.
Two things are certain: it is minimal and indeed impossible to be categorized in one genre only. Whether this is fascinating enough, is something that you should decide yourself.
Jurgen BRAECKEVELT
10/12/2016
---
Dat minimal lééft in Griekenland, is duidelijk. Het Griekse duo Gioumourtzina is ontstaan in mei 2014, in Thessaloniki: Anestis Neiros (synth, zang) en John Tselikas (elektrische bas). Eerder toevallig gingen ze samen aan de slag om muziek te maken tussen elektronica en shoegaze. Maar de klank was niet wat ze wilden en hun zoektocht naar de juiste muzikanten om mee samen te werken leverde niet meteen op. Ze besloten als duo door te gaan en iets meer minimalistisch te doen. Blakk Metall, uitgebracht via Inner Ear Records, is een hoofdzakelijk elektronisch DIY-project waarin verschillende stijlen, als gevolg van diverse muziekinvloeden, elkaar vinden. De titel Blakk Metall is humoristisch bedoeld en tegelijk een reactie tegen de globale muziekindustrie, het sociale establishment én de weigering om onder één muziekgenre te worden gecategoriseerd.
Wat meteen opvalt is de duidelijke eightiessound. Leviathan kan je zo 30 jaar terug in de tijd slingeren zonder dat het zou opvallen: synthklanken, voorzichtige knipogen naar shoegaze en uitgesponnen soundscapes. Russian Market krijgt een baslijn die van The Cure kon zijn. Het melodieuze arsenaal van synths en feërieke klanken met een doodsimpele ritmesectie en een dromerige en héél minimale stem, geeft het geluid een speciale toets.
Chinese Batlleship kabbelt voort op de elementen uit de vorige song, zonder echt indruk te maken. Een gevoel dat doorheen het gehele album blijft hangen: het barst niet echt los.
Iets meer ritme en een leuke drumbeat trekken The Rundown op gang. Maar ook dit is een track die jammer genoeg niet meer is dan een zich herhalende melodie die zichzelf door de song lijkt te slepen. Halfweg is er een overgang en wordt het arrangement wat boeiender. Lobby Raver is eighties ten top: een stevige baslijn trekt de song op gang, ook hier wat shoegaze-klanken. De zang is heel beperkt en eerder zeurderig en biedt de song weinig toegevoegde waarde.
Bij het aanschouwen van de titel van song 6 breekt het angstzweet me uit: Palaces In The Night Terror. Inderdaad, het klinkt wat creepy en met veel fantasie hoor je wat 'night terror', maar ook hier blijft het steken. Chrysostomou Smyrnis is één van de betere songs. Een totaal andere sound dan in de vorige songs, soms heeft het iets van voorzichtige EBM als gevolg van de meer hedendaagse elektronische sounds. De track bouwt op en er gebeurt iets. Het knalt nog niet, maar het blijft wél boeiend. Er mocht meer van dat op dit album staan. Glasgow voert ons terug naar de middelmaat.
Twee dingen zijn een zekerheid: het is minimalistisch en inderdaad niét onder één noemer te vatten, wat de verdienste is van het duo. Of het ook boeiend is, dat moet je zelf uitmaken.
Jurgen BRAECKEVELT
10/12/2016
---