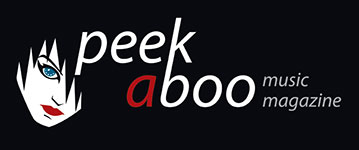 like this cd review
---
HELLHUMM
Random Damage Industry
Music
•
CD
Dark Pop
•
EBM
•
Electro
[82/100]

Self-released
15/12/2015, Jurgen BRAECKEVELT
---
Everyone knows the feeling: you put an album in the CD player and it just stays there. Every time your finger moves towards the stop button on the remote control, you change your mind. Well, I had this "problem" with Helllhumm, a trio from Madrid that consists of Ignacio Ysasi (vocals, guitar), Sergio Torroba Herranz (synths, electronic drums) and Javier Calvo (synths). For years they are professionally involved with numerous musical projects and with Hellhumm they have created a perfect electro band. To put them in one category would be disrespectful. You notice influences from Covenant, NIN, Front 242 and Nitzer Ebb.
The album contains 11 songs. Opener Scramble could have been written by Diary Of dreams, especially when you hear the intro, as you'll recognize the same epic synth sounds with drums. No Dawn is based on monotonous and nasal vocals, and unfortunately it is one of the lesser songs on this album.
Hounds is more dance-oriented, while Flesh On The Table is dominated by guitars. Modesty is EBM with its typical features, and it's perfectly danceable. It's just three minutes of pure pleasure.
Too Late sounds a bit like Covenant: EBM, but at the same time it's more than that! The same can be said about Bitter Bliss: a song with contemporary electronic instruments, and quite melodious!
Gravity (restraint) is pure EBM with robotic vocals from the 80s. Hate To Hate is again a song in which the guitars rule.
The final song Scum is a real gem, as it seems like Front 242 is behind the machines. Angular electro, bleeps in the background, some distorted voices, and even some dance influences.
Random Damage Industry is a great album. It's obvious that Hellhumm listened to the big names in the genre, but fortunately it is not a copy, as it has a personalo and diverse sound. And the dance goes on!
Jurgen BRAECKEVELT
15/12/2015
---
Iedereen heeft het wel eens voor: een release die je in de cd-speler stopt en er gewoon in blijft zitten. Elke keer als je vinger in de richting van de stoptoets van de afstandbediening gaat, verander je van gedacht. Ken je dat gevoel? Wel, ik had het bij Helllhumm. Dit drietal uit Madrid bestaat uit Ignacio Ysasi (vocals, guitar), Sergio Torroba Herranz (synths, elektronische drums) en Javier Calvo (synths). Ze zijn al jarenlang professioneel met tal van muzikale projecten bezig en met Hellhumm hebben ze een goedklinkende elektroband. Deze groep in één categorie onderbrengen zou onrespectvol zijn. Je merkt invloeden van Covenant, NIN, Front 242 en Nitzer Ebb.
Het album bevat 11 nummers. Opener Scramble zou (vooral als je de intro hoort) van Diary Of Dreams kunnen zijn: uitgesponnen synthklanken met een heerlijke drum. No Dawn kabbelt op vrij monotone en nasale zangklanken, en het is één van de mindere songs op dit album.
Hounds gaat meer in de dansrichting, terwijl Flesh On The Table een tragere weg inslaat waarop de gitaren een plaatsje krijgen. Modesty tapt uit het EBM-vaatje met zijn typische kenmerken, het is op en top dansbaar. Drie minuten puur genot.
Too Late klinkt wat als Covenant: EBM en toch méér dan dat. Dat geldt ook voor Bitter Bliss. Er wordt stevig aan de knoppen van de hedendaagse elektronica-instrumenten gedraaid, toch blijft het een melodieuze song.
Gravity (restraint) is pure EBM met robotachtige 80s-vocalen. Hate To Hate is dan weer een song waarin de gitaren klinken.
De afsluiter Scum is er echt wel eentje om fier op te zijn. Het lijkt wel alsof Front 242 achter de machines staat. Hoekige elektro, bliepjes op de achtergrond, vervormde stemmen, een drumgeluid dat uit de prehistorie lijkt te komen, en zelfs wat dance-invloeden.
Random Damage Industry is een heel mooi werkstuk en Hellhumm heeft heel goed naar de grote namen in het genre geluisterd. Gelukkig is deze band geen kopie, want hij beschikt over een eigen en divers geluid. And the dance goes on !
Jurgen BRAECKEVELT
15/12/2015
---