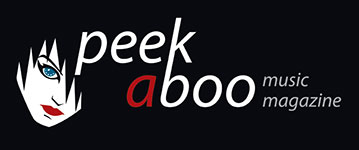 like this vinyl review
---
HOT GUTS
Wilds
Music
•
Vinyl
Dark Electro
•
Dark Wave
•
Industrial
•
Post Punk
[90/100]

Avant! Records
14/11/2014, Pascal VERLOOVE
---
Whether you're an actor, a singer or a band, at some point in time when you are becoming famous, people will inevitably start Googling your name to know more about you, or to find out what you look like. But it's not sure that, back in 2007, when Wes Russell and Greg Frantz created Hot Guts in Philadelphia, they were thinking of what a Google Images result page would show to people Googling their band name in 2014. Try it if you're not afraid of feeling queasy, because you get a strange mix of rock and roll and let us say kind of … sausages! Nothing is wrong with Google, results on Bing are even weirder… Still hungry?
But you are not reading a cooking magazine, are you? So let's focus on the recipe to make a first-class wild and dark album, oscillating between electro industrial and post-punk instead.
Actually, the band line-up has since then changed, and Hot Guts is now a mixed duo and couple because Wes, the frontman, has teamed up with his partner Shari Wallin. Shari (aka Shari Vari – this name may ring a bell to you), is also the lady behind Void Vision, who is just releasing a fabulous debut album at the same time. So, this duo/couple combination seems to be a winning one, as we have seen some other electronic bands functioning in the same way (ADULT., Soft Metals,…).
Wilds is Hot Guts' second album, which comes up two years after their debut album Edges,released on Blind Prophet Records. It features eight intriguing tracks, fusions of electronic waves and post-punk atmospheres, with a good pinch of industrial sounds.
Wilds debuts with All Suns, a long, cold, quiet synth intro, until a drum machine starts pulsing a beat and then, shortly after, Wes starts singing, or rather declaiming a tenebrous and scary incantation to the sun. You could easily picture him in an abandoned factory building, or in a deserted cathedral, looking at a dark cloudy sky though the crumbling roof. And, as the track evolves, more sounds, mostly industrial, are added to the recipe and Wes' singing turns from darkness to anger, and while he is repeating "All suns set" over and over again, you are left wondering if ours will ever rise again!
Even though none of the eight tracks on Wilds sounds the same, all the key elements of Hot Guts' unique style are present on this first song: repetitive drum patterns, cold synths lines, distorted guitars and industrial sounds. But the most important element of all that is Wes' chant, dark, chilling, sometimes gothic and frequently repeating the same key words over again, which is adding to the dread.
Several songs (such as the excellent Kite and Shadows – one of the highlights of the album) are constructed by adding different layers of sounds, in a crescendo, until a climax is reached and then quickly dropping one layer after the other creating a silence that is oppressing.
Wes does not share the mike with Shari much, except on A Kindness that closes the album, where their voices are echoing each other, playing a game that will unsettle you. Thrilling!
If you are ever wondering what Hot Guts may sound like, some tracks could remind you of Clan of Xymox (Name of the World), Nine Inch Nails or, mainly for our Belgian readers who may remember them, Poésie Noire (Fires). But such comparisons are just intended to hook the readers and urge you to listen to Wilds, not to underscore real similarities.
Call it post-punk, post-electro or post-industrial, Wilds is post-apocalyptic. It is dark, cold and eerie, but above all it is a delight for all those who think music should not be as bright as the sun. Actually Wes himself summarizes all this very well in Drift chanting ad libitum "There is no light to follow (when we drift)". Classy!
Pascal VERLOOVE
14/11/2014
---

---