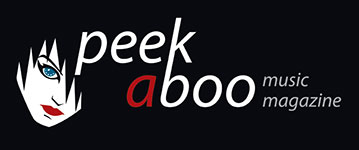 like this movie review
---
BABAK NAJAFI
Snabba Cash II
Movie
Crime
[66/100]

Lumičre
04/11/2013, Didier BECU
---
We suppose we don't have to repeat it any longer, but if you're looking for decent crime movies (or even more for series), you can find plenty of them in Northern Europe. Having said that, Snabba Cash is something totally different, even if it has the same quality. Snabba Cash II is the second part of a trilogy which is based on the books by Jens Lapidus. In Sweden these adaptions are quite popular and even Hollywood is looking around the corner as main actor Joel Kinnaman is the man for the new Robocop.
Snabba Cash can be best compared with those crime movies Guy Ritchie used to make before he discovered the adventures by Sherlock Holmes. So yes, we're talking about great masterpieces like Layer Cake, or even more Snatch. You know, those type of movies which features different crimes but that are all leading to one surprising plot.
With such a style you're having a very interesting movie, but for the reviewer it's rather hard to come up with a decent description, but we're going to give it a try. Johan Westlund (Joel Kinnaman) is sent to jail, but in a way you can't categorize him as a typical criminal (even if he's not really a pussy to deal with). Everything was meant to be that he would become an important person in the financial world as he was a brilliant student in economics, but due to some unexpected things he turned into a crook. Because of his good behavior, he's released from prison under strict terms, but once again he chooses the bad path by listening to the advice of his former cellmate Mrado (Dragomir Mrsic). Mrado found out that the weak link in Radovan's chain (Dejan Cukic) is his bookkeeper who's addicted to gambling. A brilliant plan on paper, but from the very first second Johan got involved in an endless spiral of extreme violence acts.
Snabba Cash II remembered me of the excellent Pusher-trilogy by Nicolas Winding Refn and that's only a good thing. The violence is extremely brutal and even if it's hard to have feelings for the protagonists, you'll be sitting at the edge of your chair. The many unexpected plots lead the viewer from one surprise to another. Decent acting, a quite brilliant directing job and a genius script make Snabba Cash II an unmissable crime movie. It wouldn't surprise me if in the city of angels they're not already talking about some remake!
Snabba Cash II is from now availble on dvd and in the Benelux it's distributed by Lumière.
Didier BECU
04/11/2013
---
We veronderstellen dat we het niet meer moeten herhalen, maar wie op zoek is naar degelijke misdaadfilms (en natuurlijk ook series) vindt tegenwoordig meer dan genoeg zijn gading in het hoge Noorden. Toch tapt Snabba Cash uit een heel ander vaatje, alhoewel het gelukkig om dezelfde kwaliteit gaat. Snabba Cash II is het tweede luik uit een trilogie die is gebaseerd op de boeken van Jens Lapidus. In thuisland Zweden is deze filmreeks enorm populair en ook Hollywood lonkt, want hoofdrolspeler Joel Kinnamanwordt is ondertussen klaargestoomd om de nieuwe Robocop te gaan spelen. Snabba Cash kun je in feite het best vergelijken met de misdaadfilms waarop Guy Ritchie ooit een patent had. Dus ja, we hebben het over ingenieuze werkjes als Layer Cake of (nog meer) Snatch waarin verschillende boeven één of ander misdrijf plegen, om dan op het einde te zien dat het eigenlijk om één geheel gaat.
Met zo'n aanpak heb je wel een heel interessante film, maar dat maakt het er voor de recensent niet bepaald gemakkelijker op. Johan Westlund (Joel Kinnaman) is niet echt het prototype van een echte boef. Ooit zag het er naar uit dat deze student bedrijfskunde het ver zou schoppen in de financiële wereld, maar door een samenloop van allerlei omstandigheden zit hij vast in de cel. Wegens zijn goed gedrag mag hij vervroegd uit de gevangenis, toch laat hij zich overhalen door celmaat Mrado (Dragomir Mrsic) om opnieuw het slechte pad te kiezen. De-kop-van-jut is maffiabaas Radovan (Dejan Cukic). Mrado weet dat zijn gokverslaafde boekhouder de zwakke schakel van de ketting is. Op papier lijkt dat een zeer mooi plan, maar al vanaf de eerste seconde raakt Johan verwikkelt in een spiraal van extreem geweld.
Snabba Cash II herinnerde mij vooral aan de Pusher-films van Nicolas Winding Refn en zoiets is natuurlijk alleen maar een voordeel! Het geweld is hondsbrutaal en alhoewel het moeilijk is om echt medelijden te voelen voor deze boefjes zit je toch anderhalf uur op het puntje van je zetel. De vele (onverwachte) plotwendingen zorgen ervoor dat je van de ene verbazing in de andere valt. Degelijke acteerprestatie, een strakke regie en een ingenieus scenario zorgen er dan ook voor dat Snabba Cash II een niet te missen misdaadfilm is. Als daar maar geen remake van komt!
Snabba Cash II is vanaf nu op dvd verkrijgbaar en wordt in de Benelux door Lumière uitgegeven.
Didier BECU
04/11/2013
---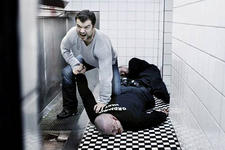 ---