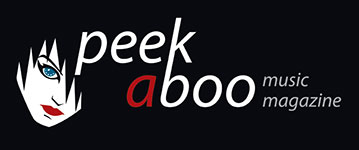 like this cult movies review
---
WES CRAVEN
The people under the stairs
Movie
•
Cult movies
Horror
[74/100]

Arrow
04/11/2013, Didier BECU
---
With an amount that almost equals 30 horrormovies you can definitely state that Wes Craven is the king of this genre. Perhaps it's true that after the immense success of Scream his career went backwards, but at least there are tons of excellent movies to be found in his archive. One of the most interesting films that Craven has made were done during the period he worked for Alive Pictures: Shocker and of course The People Under The Stairs. Financialwise this gem might have been a disappointment in the movie theatres, but the picture got its well deserved recognition through the videomarket and today it's even seen as one of the greatest cultclassics of the 80's. Some people go as far by saying that this movie evoked a whole revolution in the genre. This may sound perhaps a bit exaggerated, but it's still the first time that a director criticized social disasters and racism in a horror movie!
The young kid Fool (Brandon Quintin Adams) is out of his mind when he finds out that his beloved mum can't afford the expensive medicine costs. To top it all, changes are high that she and her family got evicted out of their house as she can't pay the rent. Fool decides to visit the landlord and beg him for mercy. A stupid plan it seems. As once they're in the house, they can't get out as the two owners (Wendy Robie and Everett McGill) whose name we never know have the nasty habit to lock up people in their cellar as prisoners who'll never again see daylight.
It's clear that Craven is having the time of his life with directing this picture. He comes up with the most crazy creatures (for example a sadistic lunatic in a latex S&M-suit!). The story itself is by times a bit silly, but at the same time The People Under The Stairs is one of the scariest horrorflicks ever, at least if we're excluding bloody slashermovies! The film is both exciting and funny. It's hilarious to see how Fool chases a dog away by screaming the immortal words "Your mother sleeps with cats!". Nah, it's kind of ridiculous but it works oh so well! Almost the whole cast disappeared soon after this movie, except Ving Rhames and Everett McGill (Big Ed Hurley from Twin Peaks) who actually made it. Having said that, all actors play like it's the role of their life. Well, in a sense it even was, but you'll get my point!
Today is the day to rediscover this excellent film as the UK-based Arrow Film released The People Under The Stairs on an excellent Blu-ray with some nice extras as well. We agree if someone says that this type of movies could only have been made in the 80's, but still the picture doesn't seem dated at all. At the contrary, it makes us ache for those glorious times in where horror wasn't just a synonym for useless remakes.
The bonus material consists mainly of interviews. The best one is of course the one with Wes Craven himself.
In Fear, Freud And Class Warfare the director explains how he found his inspiration for this weird story. He was reading an article in a local paper about the police finding two kids in some building who never saw the daylight. Craven also talks about his parents. His mum was a fundamentalist who rejected drinking and smoking, and relying on that image of her, Craven created his personages. In Behind Closed Doors it's A.J. Langer (the little Alice) who looks back on how it was to be a part of this bizarre bloodfeast. Sean Whalen (the deaf kid Roach) tells in Silent But Deadly how it was to work with Craven. Finally there is the documentary Underneath the Floorboards in where Jeffrey Riddick (the creator from Final Destination) reports about the impact The People Under The Stairs had on the horrorgenre.
We can only conclude that The People Under The Stairs is a splendid horrorpicture which is today as good as it's used to be. A Craven-classic you simply have to (re)discover, especially on this Blu-ray.
The disc is now available in all UK shops and can be ordered through all the usual mailordercompanies (many of them who deliver to overseas customers as well).
Didier BECU
04/11/2013
---
Met zo'n dertig horrorfilms mag Wes Craven zich met trots de koning van dit genre noemen. Na het immense succes van Scream ging het wel serieus de verkeerde kant op, maar gelukkig zijn er nog een heleboel pareltjes uit de oude doos. Een van zijn twee interessantste films maakte Craven voor Alive Pictures: Shocker en natuurlijk The People Under The Stairs. Deze horrorprent was niet meteen een daverend succes aan de kassa, maar gelukkig kreeg hij later dankzij de videomarkt een welverdiende herwaardering. Tegenwoordig gaat men zelfs zo ver door te beweren dat The People Under The Stairs een revolutie in het genre was. Zo'n stelling is misschien wel van het goede te veel, toch is het zonder twijfel de allereerste keer dat er in een horrorfilm plaats vrij komt voor onderwerpen als racisme of sociale ongelijkheid.

De jonge Fool (Brandon Quintin Adams) is er het hart van in dat zijn zieke moeder haar dokterskosten niet kan betalen. Alsof dat alles niet genoeg is dreigt de vrouw samen met haar gezin uit haar huis te worden gezet. Fool trekt samen met zijn maatje Spenser (Jeremy Roberts) naar de eigenaar, maar eens ze binnen het huis zijn raken ze wel niet meer buiten. De twee eigenaars (Wendy Robie en Everett McGill) van wie we de naam niet kennen hebben immers de gewoonte om in hun kelder hun bezoekers levenslang op te sluiten.

Craven is duidelijk in zijn nopjes in deze film. Hij pakt uit met de vreemdste creaturen (een losgeslagen gek in SM-pak) die er tevens de meest bizarre gewoontes op na houden (tot incest toe!). Het verhaal is misschien bij momenten wel net iets te onnozel, toch blijft The People Under The Stairs bangelijk goed. De film is spannend, maar vooral ontzettend komisch. Zo jaagt Fool een agressieve hond weg door hem de woorden "Your mother sleeps with cats!" toe te roepen. Het houdt inderdaad geen steek, maar het is wel ontzettend plezant. De volledige cast ging later de mist in, op Ving Rhames en Everett McGill (Big Ed Hurley uit Twin Peaks) na.
De extra's hebben allemaal wel mooie klinkende namen, in werkelijkheid gaat het evenwel om gewone (weliswaar vrij interessante) interviews. Het beste is natuurlijk dat met Wes Craven zelf. In Fear, Freud And Class Warfare vertelt de horrormeester hoe hij aan het bizarre verhaal kwam. Eigenlijk is alles geïnspireerd op een krantenartikel dat hij las. Daarin stond een schrijnende ontdekking van de politie te lezen, na een routineonderzoek vonden agenten bij een oud koppel twee kinderen die nog nooit het levenslicht hadden gezien. Craven heeft het ook over zijn eigen ouders. Zijn moeder was streng gelovig en uit haar conservatieve levensstijl creëerde Craven een paar van zijn rare snuiters. In Behind Closed Doors vertelt A.J. Langer (de kleine Alice) hoe het was om als kind aan zo'n bizarre bibberprent mee te werken. Ook Sean Whalen (de doofstomme Roach) blikt in Silent But Deadly terug op de film. Ten slotte is er nog Underneath the Floorboards waarin Jeffrey Riddick (de bedenker van de Final Destination-franchise) het heeft over de impact van The People Under The Stairs op het horrorgenre.

Wie zin heeft om deze film te (her)ontdekken kan bij het Britse Arrow Film-terecht omdat deze maatschappij onlangs deze extravagante nagelbijter op Blu-ray heeft uitgebracht. Waarschijnlijk was dit soort films alleen maar in de jaren 80 mogelijk, toch oogt hij nog even fris (en vooral even hilarisch!) als toen. Een aanrader voor iedereen en een prachtvoorbeeld dat de horrorwereld ook zonder nutteloze remakes kan.
Didier BECU
04/11/2013
---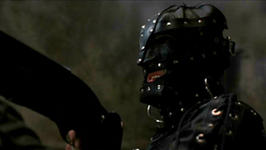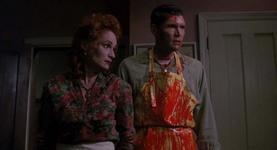 ---