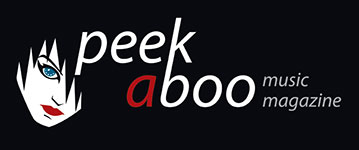 like this cult movies review
---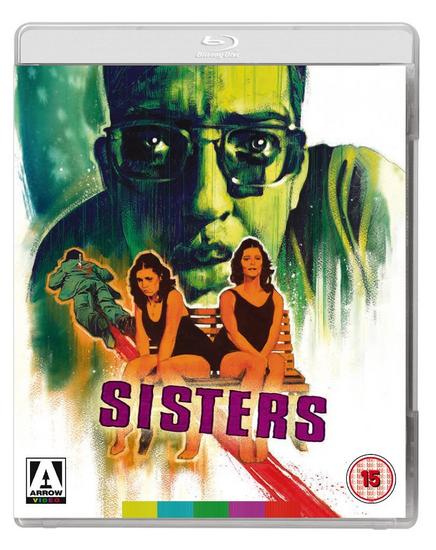 BRIAN DE PALMA
Sisters
Movie
•
Cult movies
Thriller
[85/100]

Arrow
17/04/2014, Didier BECU
---
Why does someone have heroes? There are lots of explanations, but the main one is that the idol makes the life of his admirer more beautiful. For some it's a footballer, others prefer a president who wants a better world, but for me it's (apart from some musicians) mainly directors who made my life. One of them is Brian De Palma. Why? I won't myself compare to the man, but I'm sure if I would make a movie that it will look like a Brian De Palma-one. Or at least trying to… De Palma had probably the same thought in mind. His idol was Alfred Hitchcock. Without thinking too much, he started imitating the master of suspense. As De Palma possesses a lot of talent himself, the blend is an unique directing style that would dominate the American cinema during the 70's. It was till Carrie before Hollywood would discover the new wonder child. Sisters is one of his first movies that some film buffs see as an "exercise". If Sisters was one then it's definitely a good one, an exercise that would put its stamp on temporary independent American cinema.


De Palma had lots of luck. After reading a scientific article about some Russian Siamese twins, he was so intrigued that he wanted to make a film about this phenomenon. The movie company American International, that was one of the most famous studios of B-movies (lots of Roger Corman-productions), agreed. To his great surprise, the soundtrack was composed by Bernard Herrmann: the man who wrote the most famous scores from Hitchcock!


It's difficult to tell the story from Sisters without giving away spoilers. Mind you, we won't! Philip Woode (Lisle Wilson) is a participant from a television show named Peeping Toms, that is of course a reference to the classic from Michael Powell in 1960. The public has to guess if he will peek or not to a blind woman who's getting undressed. The blind woman isn't blind at all, but a Canadian model Danielle Breton (Margot Kidder). Philip is fascinated by her and ask her for an evening out. Something he better did not, as some days later he got murdered by her. A brutal act that's been witnessed by neighbour wife Grace Collier (Jennifer Salt) who calls the police, but as the detectives can't find a thing, they decide she made it all up. Grace wants to investigate the crime herself!


The script may sound a bit weak, but never forget that the man behind the camera was full of passion. There are some minor faults like the reflection of a lens you can see in a phone booth, but that's not a problem at all! After his political statements that Greetings and Hi Mom! were, De Palma started to experiment with splitscreens that later would become his well known trademark.


The cast is splendid as well, even if it was a cosy thing. Margot Kidder who later would become world famous as Lois Lane in the Superman-films was back then De Palma's girlfriend and Salt her room mate. Also watch the remarkable appearance from jealous husband William Finley who looks like a mixture of Heinrich Himmler and John Waters.


One of the reasons why Arrow-releases are so popular are those very interesting extra's. that's no different on Sisters. In The De Palma Digest you get a complete overview from what De Palma did: from his debut Murder A La Mod till his very underrated Passion.


"If you steal, you better steal from the best" says De Palma when they were accusing him of copying both Rear Window and Psycho. In What the Devil Hath Joined Together: Brian De Palma's Sisters the makers show you the similarities, but also De Palma's own touch.
In short, Sisters needs to be in your collection. Now in restored version on both Blu-ray and DVD on Arrow.
Didier BECU
17/04/2014
---
Waarom heeft een mens helden? Er zijn zo veel verklaringen, maar de hoofdreden zal wellicht zijn dat een idool het leven van zijn bewonderaar een zekere meerwaarde geeft. Voor Jan zal dat een voetballer zijn, voor Marie één of andere president die de wereld wilde verbeteren en er zullen wellicht ook wel mensen rondlopen die Justin Bieber als God beschouwen. Voor mij zijn dat, naast een handjevol muzikanten, vooral regisseurs. Brian De Palma is daar één van. Waarom? Ik schakel mijzelf helemaal niet op dezelfde hoogte als mijn idool, maar mocht ik een film draaien dan zou die er beslist als een Brian De Palma-prent uitzien, of ten minste toch een probeersel daarvan. Waarschijnlijk had De Palma ook diezelfde gedachte toen hij met filmen begon. Zijn idool was Alfred Hitchcock. Zonder veel na te denken begon hij the master of suspense te imiteren en omdat De Palma zelf over een flinke dosis talent beschikt werd deze mengeling een aparte filmstijl die de Amerikaanse cinema van de jaren 70 zou domineren. Het duurde weliswaar tot Carrie vooraleer Hollywood dit talent in haar armen nam. Sisters is één van zijn eerste films die door sommige "filmkenners" als een vingeroefening wordt beschreven. Het waren misschien De Palma's eerste filmstappen in de grote filmwereld, de voetafdrukken ervan blijven eeuwig bestaan.
De Palma had eigenlijk ongelooflijk veel geluk. Na het lezen van een wetenschappelijk artikel over een Russische Siamese tweeling was de filmmaker zo gefascineerd door dit fenomeen dat hij er een film wilde over maken. Hij klopte bij American International aan: de filmmaatschappij die voor de betere B-film zorgde, waaronder heel wat Roger Corman-producties. De filmmaatschappij ging akkoord en tot zijn grootste verbazing zou Bernard Herrmann (de huiscomponist van Hitchcock!) voor de soundtrack zorgen. Op papier lijkt zoiets eenvoudig, maar stel het je maar eens voor: een onbekende regisseur die kon samenwerken met de allergrootste filmcomponist.
Het is moeilijk om het verhaal van Sisters te schetsen zonder het plezier van de kijker te vergallen, want één van de kenmerken van een De Palma-werk is dat hij steeds de kijker op het verkeerde been wil brengen. Philip Woode (Lisle Wilson) doet mee aan de televisieshow Peeping Toms, wat uiteraard een verwijzing is naar de klassieker van Michael Powell uit 1960. Het publiek moet raden of hij een blinde vrouw die uit de kleren gaat zal begluren of niet. Het is allemaal in scène gezet, want de blinde vrouw is gewoon de ingehuurde actrice Danielle Breton (Margot Kidder). Philip is wel gefascineerd door het Canadese fotomodel en vraagt haar na de opnames mee voor een avondje uit. Dat had hij maar beter niet gedaan, want een paar dagen later wordt de pineut door zijn nieuwe geliefde vermoord. Aan de overkant is buurvrouw Grace Collier (Jennifer Salt) getuige van de misdaad en belt de politie. De rechercheurs vinden niks en besluiten dat Grace alles heeft verzonnen. De nieuwsgierige buurvrouw wil dan de moordzaak zelf oplossen....
Meer vertellen we niet, wat dat zou alleen maar zonde zijn! Het scenario mag misschien wel slapjes klinken, desalniettemin mag je nooit vergeten dat er achter de camera een man met passie stond. Er worden wel wat fouten gemaakt (zo zie je bijv. duidelijk de weerspiegeling van de cameralens in een telefoonhokje of zijn er wat ongerijmdheden in het scenario), maar dat is helemaal niet erg. Na de politieke pamfletten die Greetings en Hi Mom! waren, begon De Palma voor het eerst met splitscreens te experimenteren: zijn latere handelsmerk. Ook de cast speelt voortreffelijk, ook al was het niet meer dan een familiaal onderonsje. Margot Kidder die later als Lois Lane in de Superman-films wereldberoemd zou worden was destijs het liefje van De Palma en Salt haar kamergenote. Het gerucht doet de ronde dat de aanbieding van De Palma om in de film te spelen onder de kerstboom lag. Ook opmerkelijk is de rol van Emil Breton als de jaloerse echtgenoot William Finley: een rare kwast die zowel op Heinrich Himmler als op cultcineast John Waters lijkt.

Een van de reden waarom de Arrow-releases zo populair zijn ligt in het feit dat de uitgaven steeds zijn voorzien van razend interessante extra's, zeg maar bonusmateriaal waar de filmliefhebber iets aan heeft. Niet één of andere dwaze blooper waarin een acteur in de lach schiet of één of andere blondine tegen de deur loopt. Neen, bonusmateriaal op een Arrow-disk staat synoniem voor diepgravende filmdocumentaires en dat is bij Sisters niet anders. In The De Palma Digest krijg je in 30 minuten een ruim overzicht van alles wat de filmmaker heeft gepresteerd, van zijn langspeelfilmdebuut Murder A La Mod tot zijn laatste onderschatte Passion. Waarschijnlijk heeft de journalist gelijk als hij zegt dat het talent van De Palma stilaan aan het uitdoven is, maar tegelijkertijd wijst hij er ons ook op dat geen enkele regisseur zo veel risico's nam als hij. Je kan wel lachen om het feit dat hij het aandurfde om dingen als Mission To Mars of de komedie Wise Guys te proberen, hij deed het ten minste!
"Als je steelt, kun je maar beter van de beste jatten!" zei De Palma toen men hem verweet dat Sisters een kopie van Rear Window en Psycho was. In What the Devil Hath Joined Together: Brian De Palma's Sisters toont men je deze gelijkenissen, maar tevens de persoonlijke insteek van De Palma. Zo is de naam van het personage dat Jennifer Salt speelt (Grace Collier) gewoon afgeleid van Grace Kelly, de hoofdrolspeelster uit Rear Window. De Palma is geen dief, hij verwerkt alleen maar zijn passie voor zijn filmgoden in zijn eigen kunst. In deze documentaire wordt ook nog maar eens het belang van De Palma onderstreept, zo blijft hij per slot van rekening de man die de grootste acteur aller tijden ontdekte. Ondanks zijn huidige rommel blijft dat nog altijd Robert De Niro. Als afsluitertje zijn er nog vier interviews met Louisa Rose,Jennifer Salt, editor Paul Hirsch en unit manager Jeffrey Haye op het schijfje te vinden.
De Palma pleegt wel plagiaat, maar dankzij zijn passie voor film tovert hij zijn bewondering om tot een eigen stijl waarvan Sisters één van de eerste (vele) meesterwerken is. Vergeet die ondermaatse dvd-releases maar die je destijds in de rommelbakken vond, nu is er een hemelse Blu-ray op de markt met gerestaureerd beeld en boordevol bonussen.
Didier BECU
17/04/2014
---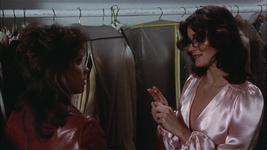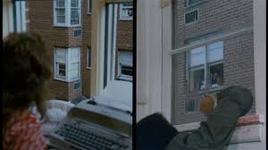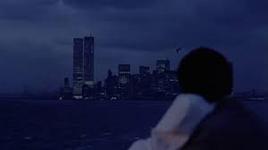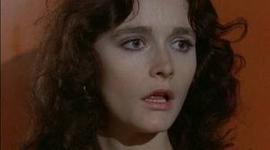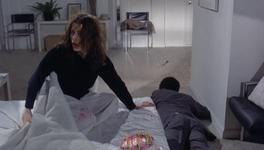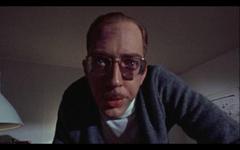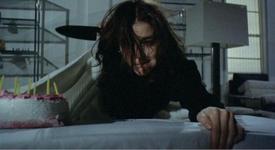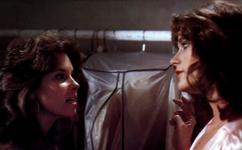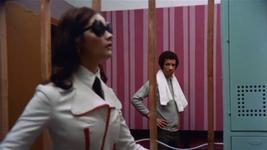 ---