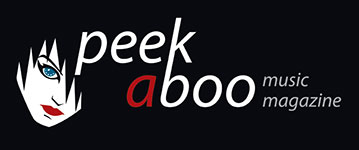 like this movie review
---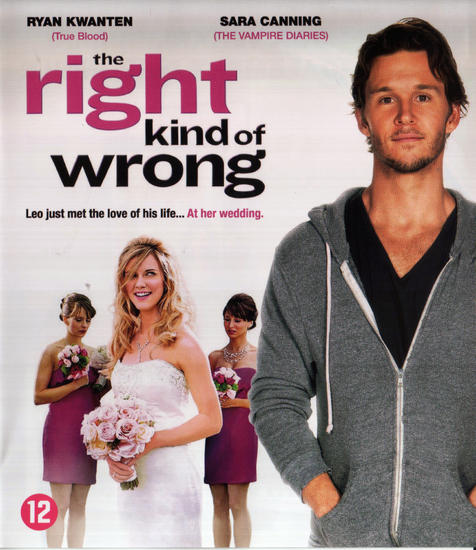 JEREMIAH C. CHECHIK
The Right Kind Of Wrong
Movie
Romantic
[37/100]

E1
11/08/2014, Didier BECU
---
Jeremiah S. Chechik might have a name that is impossible to pronounce, he's known though for all the wrong reasons. He's indeed the man who made the much hated (but in fact not so bad!) Diabolique (the remake from Henri-Georges Clouzot's classic) and of course one of the biggest flops ever: The Avengers (nah, we're not talking about the Marvel-collective, but the reboot from the legendary 60's series from Britain).
Years after having made television series around the clock (from Gossip Girl to Warehouse 13), Jeremiah S. Chechik strikes back with another movie. Not that it made the earth move! Of course they will use the excuse that there's too much competition around, but the real reason is probably that the movie is far too mellow to make an impact in 2014. Even if there always will be an audience for romantic crap like that!
Without really wanting to, Leo Palamino (Ryan Kwanten) can claim he's a bit of a star. Once he dreamt of becoming a writer himself, but he only made it as dishwasher. And yet, some people recognize him on the street as he's the subject of an immense popular book that's written by his former girlfriend in where is pointed out how he sucked as a boyfriend! Leo never gives up on ladies and this time he got his mind set to Colette (Sara Canning). The only problem is that she's already taken by toothpaste smile-boy Danny (Ryan McPartlin). After exactly 90 minutes you'll know if Leo can conquer Colette's heart or not!
The Right Kind of Wrong has its funny moments what gives a score that's above the much feared Sarah Jessica Parker-level, but apart from that, the acting sucks. Quite strange as if the leading role is performed by Ryan Kwanten whom you might know as Jason Stackhouse from vampire soap True Blood. Sara Canning who also used to be famous as a vampire in The Vampire Diaries doesn't impress either. And the story? Well, everyone can make up that!
But good, from the moment you saw the cover of The Right Kind of Wrong you knew that this was a romantic comedy you'll soon forget, so this time you can judge it by the cover!
Out now on DVD and Blu-ray on Entertainment One.
Didier BECU
11/08/2014
---
De man met de onmogelijke naam, Jeremiah S. Chechik is een vreemde snoeshaan in Hollywood die in zijn carrière heel wat producers de gordijnen heeft ingejaagd. Zo is hij niet alleen de bedenker van Diabolique (de verguisde, maar eigenlijk best te pruimen remake van Henri-Georges Clouzots klassieker) en natuurlijk ook van The Avengers die één van de allergrootste flops ooit is geworden (neen, we hebben het niet over het Marvel-collectief, wel over de verfilming van de legendarische Britse reeks).
Na zich nadien met allerlei televisieseries te hebben beziggehouden (van Gossip Girl tot Warehouse 13) slaat Jeremiah S. Chechik jaren later met een nieuwe film terug. Echt veel aarde heeft het niet aan de dijk gebracht, want The Right Kind Of Wrong verscheen in Europa bijna regelrecht op de dvd-markt. Natuurlijk kan je de torenhoge concurrentie als reden aanhalen, wellicht zal de echte oorzaak wel liggen aan het feit dat deze romantische komedie enigszins vermakelijk is, maar ook net iets te afgelikt om anno 2014 te beklijven (ook al zal er wellicht altijd een publiek voor dit soort onzin bestaan).
Leo Palamino (Ryan Kwanten) is tegen zijn eigen wil een kleine vedette. Het was zijn droom om ooit schrijver te worden, maar hij heeft het niet verder dan tot afwasser geschopt. Wel wordt hij her en der herkend omdat zijn gewezen vriendin Julie (Kristen Hager) een boek over hem heeft geschreven. Neen, het is geen ode, wel over hoe slecht hij als vriendje wel is. Maar Leo geeft niet op. Hij heeft zijn zinnen op Colette (Sara Canning) gezet, alleen is die pas getrouwd met gladjanus Danny (Ryan McPartlin). Na anderhalf uur kom je te weten of Leo Colette kan veroveren of niet!
The Right Kind of Wrong is noch mossel noch vis. Er zitten wel genoeg grappige momenten in de film verwerkt waardoor het gevreesde Sarah Jessica Parker-gehalte net wordt vermeden, anderzijds zijn de acteerprestaties niet bepaald om fier over te zijn. Het gaat nochtans om Ryan Kwanten die je wellicht kent als Jason Stackhouse uit de vampierensoap True Blood. Sara Canning die ook al vampier van dienst was in The Vampire Diaries doet het nauwelijks beter. En het verhaal, tja…eigenlijk kan iedereen dat verzinnen, niet?
Maar goed, je had het wellicht al lang door toen je het hoesje zag. The Right Kind of Wrong is een romantische komedie die je de volgende dag al lang vergeten bent. Een kans geven? Alleen als die partner blijft doordrammen!
Nu uit op dvd en Blu-ray via Entertainment One.
Didier BECU
11/08/2014
---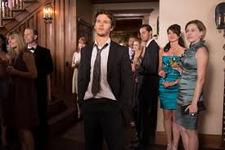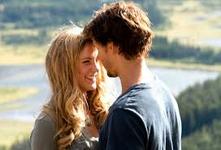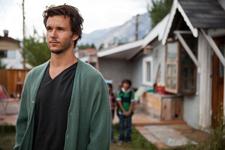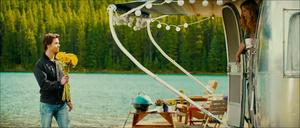 ---