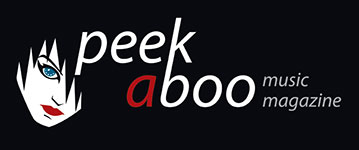 like this tv series review
---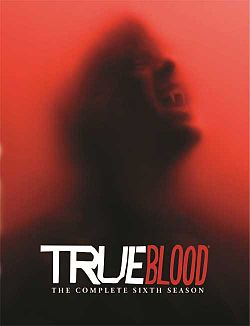 True Blood Season 6
Movie
•
TV series
Horror
•
TV Series
Warner Home Video
19/06/2014, Didier BECU
---
It is already six years ago since we last met the vampires from True Blood. Taste may differ, but many fans from series were convinced that with this franchise HBO has delivered the ultimate vampire series. As usual there has to be an end to all beautiful songs as the next season will also be the final one, but before all that, we have the sixth one to set our teeth in. This season only counts ten episodes instead of the usual ten, but there is a very good reason for that as leading lady Anna Paquin was pregnant. The daddy is her True Blood-colleague Stephen Moyer who is playing the role of Bill Compton!


Some say that the producers put an end to the show as everything's been said. The truth is that the 6th season misses the power from the first ones, but despite all that: True Blood is perfect television fodder to lick your fingers from! Just watch out for the blood!


For those who were absent during the last six years (or those who just don't care about True Blood, but why you are reading this anyway?) we kindly repeat that the title refers to the synthetic blood that's been invented. It tastes as good as real human blood and that's the reason why vampires can live with humans in perfect harmony. There's no need to be afraid that a bloodsucker bites you as they simply don't need it no longer. That all seems great on paper but in the previous seasons we witnessed that vampires and humans aren't always best friends!
Everything is set in Bon Temps, a fictional small town in Louisiana and of course of perfect location for dark things. The main character is waitress Sookie Stackhouse (Anna Paquin) who not only has some telekinetic gifts, but also has a relation with vampire Bill Compton (Stephen Moyer). During the many episodes there are lots of new characters that have entered the scene, and some who disappeared. We're not going to repeat them all, but if you remember the 5th season then you might know that Sookie and her brother Jason (Ryan Kwanten) have found out that their parents are killed by a vampire named Marlow. The search continues in this season and they get the help from the flamboyant Niall Brignant (an excellent Rutger Hauer) who says that he's the king of the fairies. He also wants to catch Marlow as he also murdered his family. Niall has some very important information for Sookie. According to him she's the princess of thefairies, what might explain her supernatural forces. Apart from vampires, you also find werewolves andtransformers (people who can turn themselves for example into a horse in a couple of seconds) in Bon Temps. To be short: it's a quite dangerous place to be. Governor Truman Burrell (Arliss Howard) thinks it's enough and wants to free humankind from the bloodsuckers, he even has built a special camp for that!


More than with film, I think it's important that you don't give away spoilers if you review series, because of the respect for the viewer and his pleasure. The force of a good series is the surprise effect and reveal them is a shame, not? As it always has been the case with True Blood, there are a lot of subplots going on. That certainly doesn't make it easier to follow and therefore we think it's better to watch it completely.
The 6th season is made quite well (I guess there's no place for amateurs in HBO) and the acting more than decent, even if it is this time Rutger Hauer who steals the show. That's no surprise as he has the perfect devil face!


True Blood, The Sixth Season is now out on both DVD and Blu-ray on Warner.
Didier BECU
19/06/2014
---
Ondertussen is het al zes jaar geleden sinds we voor het eerst kennis hebben gemaakt met de vampiers uit True Blood. Smaken verschillen, toch waren de meeste seriefanaten ervan overtuigd dat HBO hiermee de ultieme vampierreeks op de markt heeft gebracht. Aan alle liedjes (vooral de mooie) komt een einde en het zesde seizoen van True Blood is meteen ook het voorlaatste geworden. Ook is het jammer dat dit seizoen slechts tien afleveringen telt in plaats van de gebruikelijke twaalf. Voor één keer wijzen we niet naar gierige filmmaatschappijen, want hoofdrolspeelster Anna Paquin was zwanger (en dan nog wel van haar True Blood-collega Stephen Moyer die de rol van Bill Compton vertolkt!)


Kwatongen beweren wel eens dat de beslissing om ermee te stoppen komt omdat de serie al lang is uitgemolken, maar ook al mist dit seizoen een beetje de kracht van zijn beginjaren blijft True Blood desalniettemin een reeks om de vingers van bij af te likken. Alleen maar opletten van dat bloed natuurlijk!


Voor wie de vorige zes jaren niet op moeder aarde rondliep (of die gewoonweg niet naar True Blood heeft gekeken) herhalen we graag dat de titel slaat op kunstmatig bloed dat even lekker smaakt als het echte. Een schitterend goedje, want dankzij deze uitvinding heeft de mensheid vampiers aanvaard. Men moet niet langer bang zijn dat men in de nek wordt gebeten, want ze hebben geen mensenbloed meer nodig. Dat lijkt wel mooi, maar in de voorgaande seizoenen hebben we gezien dat de mens de vampier nog niet meteen als zijn naaste ziet.


Alles speelt zich af in Bon Temps, een fictief stadje in Louisiana en dus een ideale plek voor allerlei duistere taferelen. Centraal staat serveerster Sookie Stackhouse (Anna Paquin) die naast telepathische gaven ook nog een relatie met vampier Bill Compton (Stephen Moyer) heeft. Tijdens de talloze afleveringen zijn er al heel wat personages bijgekomen, alsook verdwenen. We gaan ze niet allemaal meer uit de doeken doen, maar indien je een over een goed geheugen beschikt weet je misschien nog wel dat in het vijfde seizoen Sookie en haar broer Jason (Ryan Kwanten) erachter zijn gekomen dat hun ouders door de vampier Marlow zijn vermoord. Deze zoektocht gaat in het zesde seizoen verder en zij krijgen daarbij de hulp van de flamboyante Niall Brignant (een excellente Rutger Hauer) die beweert dat hij de koning van de feeën is. Ook hij wil Marlow bij de lurven pakken, want ook zijn familie is door deze bloeddorstige vampier vermoord. Niall heeft tevens zeer interessante informatie voor Sookie in petto. Volgens hem is zij de prinses van de feeën, wat ook haar krachten verklaart. Naast vampiers lopen er in Bon Temps ook weerwolven en gedaantewisselaars (mensen die in een mum van een seconde bijv. een paard kunnen worden) rond. Kortom, het is daar een gevaarlijk zooitje. Truman Burrell (Arliss Howard), de gouverneur van Louisiana, heeft er ondertussen meer dan genoeg van en vindt dat er geen plaats is voor vampiers tussen de mensen. Hij heeft zelfs een interneringskamp bedacht, wat op bepaalde momenten heel wat op een concentratiekamp lijkt.


Nog meer dan bij een film moet je, althans dat denk ik, bij een serie het kijkgenot van de lezer respecteren. De kracht van een goede serie zit hem immers in de vele verrassingen. Die verklappen is dan ook zonde. Zoals steeds zijn er bij True Blood heel wat subplots te vinden waardoor het beter is dat je de reeks in één ruk uitkijkt, anders zou het wel eens voor verwarring kunnen zorgen. Misschien biedt een stamboom op de salontafel enig soelaas?


De reeks is zoals gewoonlijk meer dan degelijk geregisseerd (waarschijnlijk is er bij HBO geen plaats voor amateurs) en de vertolkingen zijn meer dan goed, alhoewel het niemand zal verwonderen dat Rutger Hauer zonder moeite de show steelt. Dat is niet verwonderlijk, de Nederlander heeft nu eenmaal een duivelstronie.


Het zesde seizoen van True Blood ligt vanaf nu in de winkels zowel op dvd als Blu-ray en dit via Warner. Tja, het zal wennen worden wanneer het doek definitief valt!
Didier BECU
19/06/2014
---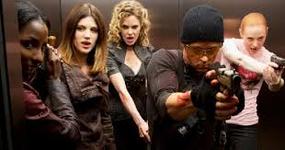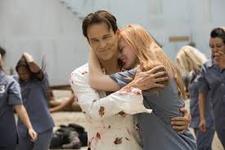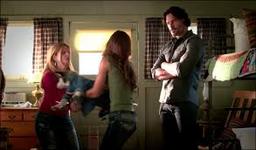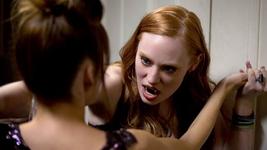 ---