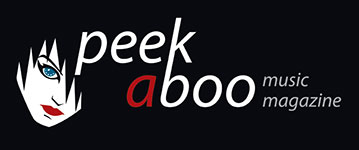 like this tv series review
---
DRACULA SEASON 1
Movie
•
TV series
Horror
•
TV Series
Universal Pictures
16/10/2014, Didier BECU
---
These days the competition has reached its highest peak in television world. In earlier times a series like Dracula would be on the screen for several seasons, but because the TV-watcher has become both spoiled and demanding, some are doomed to disappear after one season only. Dracula is an example as such, after 10 episodes television station NB declared that they weren't willing to put more money in it. It's a decision that surely was the talk of the day on many meetings. Because say it yourself: a series that's been poduced by the ones from Downtown Abbey starring Jonathan Rhys Meyers (The Tudors) as the bloodsucker should be able to evoke at least some fire works, not? It didn't, even if Dracula is not the disaster some have made from it.
The influence from the Downtown Abbey-producers is clearly visible in this free adaption from Bram Stoker's novel from 1897. There isn't that much of a gothic- or horrorambience going on, and that's probably why this vampire failed to set his teeth in the television fan. There's even more: this bloodsucker doesn't look scary at all. This time Dracula agreed on a plan with his enemy Van Helsing (Thomas Kretschmann). The family from this vampire hunter has been brutally murdered by The Order Of The Dragon. Because these men are also responsible for putting Dracula's beloved wife Ilona on the stake, the vampire agreed in working with Van Helsing. The perfect way to do this is making Dracula a business man who introduces wireless electricity to London. A good plan as the power from this order comes from their oil business.
Dracula as a business man, isn't that a bit silly? Well, it takes indeed a while before you're familiar with this strange version of Vlad The Impaler, but praise God (ha!) that there are some vampire hunters involved and that the female student Minna Murray (Jessica de Gouw) looks his his deceased wife, so we have some horror left here. Yes, in a manner of speaking you could say this is a Dracula with false teeth. The script isn't that interesting, the special effects cheap and ugly and it really looks like if Jonathan Rhys Meyers isn't one second interested in his character which makes him probably the most boring vampire ever!
Series fans who swallow everything can try, the rest can take their crucifix and garlic!
Dracula is out on Universal, on both DVD and Blu-ray.
Didier BECU
16/10/2014
---
Door de enorme hoge concurrentie in de televisiewereld hebben producenten tegenwoordig maar weinig geduld. Vroeger zou een serie als Dracula het zonder moeite een paar seizoenen hebben uitgezongen, maar omdat de televisiekijker vandaag zo verwend en kieskeurig is geworden heeft televisiestation NB al na één seizoen van dit vampierdrama het licht definitief op rood gezet. Een serieuze aderlating waarover beslist heel wat nagepraat zal worden. Want zeg nu zelf: een serie van de Downtown Abbey-producers met in de hoofdrol Jonathan Rhys Meyers (The Tudors) als bloedzuiger, zoiets zou normaal toch voor een klein beetje vuurwerk moeten zorgen, niet? Mooi niet dus, ofschoon Dracula nu ook weer niet de miskleun is die sommigen er van hebben gemaakt.
De invloed van de Downtown Abbey-producers is meer dan voelbaar in deze zeer (alweer) vrije bewerking van Bram Stokers verhaal uit 1897. Van een gothic- of horrorsfeer is er in deze tiendelige reeks weinig sprake en dat is waarschijnlijk de belangrijkste reden waarom deze Dracula zijn tanden niet in de televisiewereld kon zetten. Meer zelfs, deze vampier ziet er hemaal niet angstaanjagend uit, maar dat komt natuurlijk omdat dit in zijn plan past, of ten minste in dat van zijn oude vijand Van Helsing (Thomas Kretschmann). Deze keer probeert Van Helsing Dracula niet te klissen, maar sluit een verbond aan met hem. De vampierjager wil wraak nemen op de Orde van de Draak omdat deze heren zijn familie hebben uitgemoord. Ook Dracula zelf heeft nog een appeltje met hun te schillen, want zij zijn hebben destijds zijn vrouw Ilona op de brandstapel gegooid. De macht van deze orde ligt bij de olie en daarom wil Dracula hun op de knieën krijgen door als zakenman Alexander Grayson in het Victoriaanse Londen draadloze elektriciteit voor te stellen.
Dracula als zakenman gaat dat niet een beetje te ver? Het is inderdaad een beetje wennen aan deze eigenaardige versie van Vlad De Spietser , maar gelukkig zijn er ook vampierjagers in het spel en lijkt de mooie Minna Murray (Jessica de Gouw) als twee druppels water op zijn vrouw waardoor Dracula toch nog enigszins een (klein) horrortintje krijgt. Alhoewel het allemaal niet slecht is, blijft dit al bij al toch eerder een Dracula met valse tanden. De verhaaltjes zijn te lauw, de special effects spuuglelijk en vooral lijkt Jonathan Rhys Meyers geen seconde geïnteresseerd in zijn personage waardoor hij wellicht één van de saaiste vampiers ooit zal worden.
Seriefans die alles slikken zullen ook wel deze kelk tot zich nemen, maar zij die de lat hoog leggen mogen het kruisbeeld en de knoflook bovenhalen.
Dracula is nu uit op Universal, en dit zowel op dvd als Blu-ray.
Didier BECU
16/10/2014
---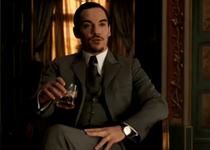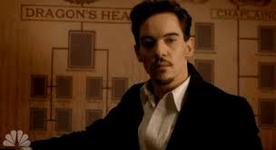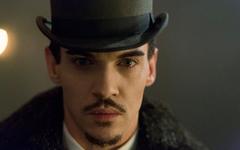 ---