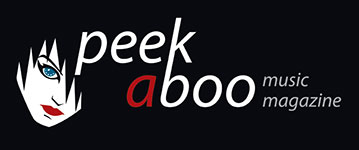 like this tv series review
---
THE WALKING DEAD SEASON 4
Movie
•
TV series
Horror
•
TV Series
[80/100]

E1
02/10/2014, Didier BECU
---
If you're a fan from The Walking Dead then you surely have faced this problem. People coming up to you, shaking their head as they just don't understand how someone can be hooked on a series featuring zombies. We totally agree, the zombie genre is the ideal category if you want to see crap. But, and you must have read this already a million times before, The Walking Dead is different. The series that is based upon the comics by Robert Kirkman, Tony Moore and Charlie Adlard is the best horror series you'll ever find. Even more: one of the best in all genres!
Of course it was a difficult job for the makers to keep on finding interesting ingredients for the story that is set in Atlanta (Georgia). Some people were quite hard on the third season as they thought it was getting boring. It surely seems that director Frank Darabont took those words for granted as the newest season has become a pure blast. It takes some episodes before the viewer got sucked into the zombie-apocalypse, but once everything starts you can only conclude that the 4th one is the best so far. Well, according to the makers the upcoming 5th season will even be better, but we guess they're forced to say such things, not?
The third part had indeed the force from characters like The Governor (David Morrissey who created one of the greatest villains ever), but the story was too much limited to the space of the prison. That completely changes now! The group survivors that are under the command of former policeman Rick Grimes (Andrew Lincoln) has succeeded in escape from the walking dead. Life is peaceful and for a while you tend to think that the new chapter from The Walking Dead-franchise is fodder for romantic souls. Of course not! In no time a deadly virus breaks out and the group is forced to go outside as they need to find a vaccine. On their way they meet all kind of creatures and characters they better should have avoid!
No, we won't go any further. We won't reveal any spoilers. The magic from this 4th season consists in every episode having a cliffhanger that makes you ache to see immediately the next one! The characters are well crafted and with this, you'll notice that The Walking Dead is more than just some explosive horror series. The survivors not only have to be careful for the zombies, within the community there's danger too. The world might be coming at its end, this doesn't stop people for wanting to have power over someone!
Anyway, what are you still doing on Peek-A-Boo? You should be in front of your television watching it, as along with House Of Cards and Gomorra this is the best you'll find in 2014!
The 4th season from The Walking Dead is now out on DVD and Blu-ray at E One.
Didier BECU
02/10/2014
---
Wanneer je een onvoorwaardelijke fan bent van The Walking Dead dan heb je het zeker en vast zelf al meegemaakt. Onwetenden die met hun handen in het haar maar niet kunnen begrijpen hoe iemand verslaafd kan zijn aan een serie over zombies. Toegegeven, zelfs de grootste horrorfan moet bekennen dat zombiefilms het subgenre bij uitstek is waar je aftandse rommel kan aantreffen. Maar, en dat heb je natuurlijk al verschillende keren gelezen, The Walking Dead is niet alleen de allerbeste horrorreeks aller tijden. de serie die op de stripverhalen van Robert Kirkman, Tony Moore en Charlie Adlard is gebaseerd behoort gewoon tout court tot het beste van wat televisie ooit te bieden heeft gehad.
Natuurlijk hebben de makers de bijna onmogelijke opdracht om het apocalyptische verhaal dat zich in Atlanta (Georgia) afspeelt voldoende interessant te houden. Er was al wat kritiek hoorbaar van mensen die vonden dat het derde seizoen net iets te langdradig was en daar heeft regisseur Frank Darabont blijkbaar oren naar gehad. Het vierde seizoen lost alle hoge verwachtingen in. Ook al duurt het een paar afleveringen vooraleer de zombiecarrousel volop begint te draaien, is het vierde luik de kers op de taart geworden. Ofschoon de makers beloven dat het vijfde seizoen nog beter zal worden! Natuurlijk doen ze dat...
Het derde deel had inderdaad wel de kracht van bijv. de Gouverneur (David Morrissey die daarmee één van de grootste slechteriken aller tijden neerzet), toch speelde de reeks zich net iets te veel in de verlaten gevangenis af. Daar komt grondige verandering in. De groep overlevenden die onder leiding staat van gewezen politieagent Rick Grimes (Andrew Lincoln) is erin geslaagd om het hoofd te bieden aan de levende doden. Hun schuilplaats is volledig afgesloten en geen zombie die er nog binnen kan! Eventjes zou je gaan denken dat The Walking Dead voer is geworden voor romantische zielen, maar dat kan natuurlijk niet! Er breekt een verschrikkelijke ziekte uit en men is verplicht om buitenshuis te gaan om een vaccin te zoeken. Op deze tocht komen ze heel wat personages tegen die ze beter niet hadden gezien!
Neen, daar laten we het bij. Als je denkt dat we hier spoilers gaan weggeven ben je bij ons aan het verkeerde adres. De magie van dit vierde seizoen bestaat er immers in dat iedere aflevering met een cliffhanger wordt afgesloten die je gewoonweg verplicht om onmiddellijk naar de volgende te kijken. De personages zijn enorm uitgediept en het klopt wel dat The Walking Dead tevens een dramaserie is. De overlevenden moeten niet alleen op de hoede zijn voor bloeddorstige walkers, ook binnenin de gemeenschap is er regelmatig gevaar. Iedereen wil met de scepter zwaaien, ook al is er voor de wereld zelf geen hoop meer.
Wat doe je eigenlijk nog op de pagina's van Peek-A-Boo? Je zou al voor het scherm moeten zitten! Samen met House Of Cards en Gomorra is dit het hoogtepunt van 2014 wat televisieseries betreft.
Het vierde seizoen van The Walking Dead is nu uit op dvd en Blu-ray op E One.
Didier BECU
02/10/2014
---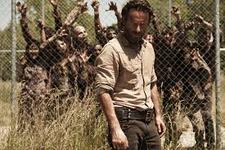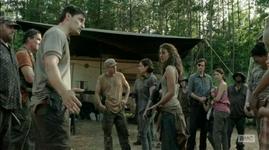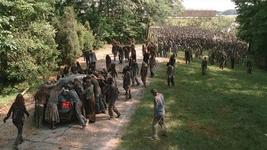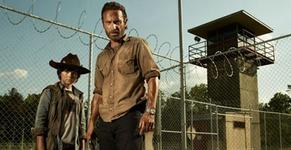 ---