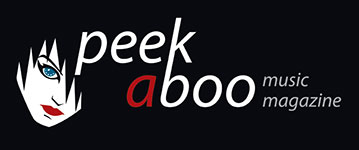 like this movie review
---
SETH MACFARLANE
A Million Ways To Die In The West
Movie
Comedy
•
Parody
•
Western
[63/100]

Universal Pictures
16/10/2014, Didier BECU
---
We better warn you before you start watching A Million Ways To Die In The West. The maker is Seth MacFarlane. Some hate him, some love him, but the man who created both Family Guy and American Dad doesn't care. If you want to reach the big audience then they're no borders. After having made his film debut that featured a brutal teddy bear (Ted), Universal gave him total freedom. His next move is a western parody! Wait a moment! Did Mel Brooks make something like that in 1974? Yes, but mind you, A Million Ways To Die In The West is not completely a Blazing Saddles-copy. And no, that's not a bad thing. Seth MacFarlane will never be remembered for his cinematographic skills, but he definitely knows how to make a movie funny!
When you watch all those westerns by John Ford you'd swear you only find gunfighters in the Wild West, but there were surely some pussies around. Shepherd Albert (Seth MacFarlane) is one of them. If he's challenged for a duel, you can bet your money on it that he runs away like a coward. His girlfriend Louise (Amanda Seyfried) is bored by this behaviour and wants a real man on her side. Albert's life as a bachelor is short as out of the blue comes the handsome Anna (Charlize Theron) who considers him as the man of her life. The poor sod doesn't realize that she's the wife from the feared outlaw Clinch (Liam Neeson).
No, you won't find any subtlety in A Million Ways To Die In The West, but this was of course never Seth MacFarlane's goal. You even will find people around who think that this type of humour should be banned, but the real truth is that this is fun! Okay, if you really force use to say something bad then we had to admit that this parody never equals Ted and of course that's the film is far too long (two hours for a comedy never works). The acting is decent and of course Charlize Theron is gorgeous as a cowgirl. But then again, she's always gorgeous! Something we can't say about Seth MacFarlane who really can't act, and that's quite a painful thing if you're having the main role!
A Million Ways To Die In The West is out on DVD and Blu-ray via Universal Pictures.
Didier BECU
16/10/2014
---
Vooraleer je aan A Million Ways To Die In The West weet je maar bedenker dat de man achter de camera Seth MacFarlane is. Inderdaad, de bedenker van Family Guy en American Dad die met zijn filmdebuut het geniale idee had om met een grofgebekte teddybeer (Ted) op de proppen te komen. Het gevolg was dat MacFarlane zijn vrije gang mocht gaan van de Universal-studio's. Hij koos dit keer voor een parodie op de western. Wacht eens, deed Mel Brooks dat niet in 1974? Jawel, maar A Million Ways To Die In The West is Blazing Saddles niet. En neen, dat is niet eens een sneer aan het adres van Seth MacFarlane. Zijn doel is overduidelijk: vulgaire grappen die net niet de grens van de goede smaak overschrijden (alhoewel!) naar het Wilde Westen transformeren. Op cinematografisch vlak valt er weinig moois te bespeuren, qua entertainment kan het tellen!
Als je de westerns van John Ford bekijkt zou je het niet meteen merken, maar niet iedereen was een held in het Wilde Westen. De schapenboer Albert (Seth MacFarlane) is zo'n mietje. Als hij wordt uitgedaagd voor een duel dan muist hij er zich op de meest lullige manier vandoor. Zijn liefje Louise (Amanda Seyfried) heeft er schoon genoeg van en wil eindelijk een echte vent aan haar zijde. Albert is echter niet voor lange tijd een vrijgezel. Geheel onverwachts maakt de knappe Anna (Charlize Theron) hem het hof. De herder vertoeft niet langt in de zevende hemel, want al gauw blijkt de blondine de echtgenote van de gevaarlijke outlaw Clinch (Liam Neeson) te zijn.
Subtiliteit moet je in A Million Ways To Die In The West niet gaan zoeken, maar iedereen weet dat dit nooit de bedoeling van Seth MacFarlane is geweest. Er zullen beslist mensen rondlopen die vinden dat zo'n humor zou moeten worden verbannen, maar het blijft een feit dat het onweerstaanbaar grappig is. In alle eerlijkheid is deze parodie niet zo grappig als Ted en is twee uur voor een komedie een te lange filmrit, toch is A Million Ways To Die In The West aan te raden als je van dit soort ongein houdt. De acteerprestaties zijn best aardig, vooral Charlize Theron is heerlijk als cowgirl (maar ja, wanneer is zij dat niet?). Seth MacFarlane daarentegen was beter achter de camera gebleven, want acteren kan hij niet en dat is pijnlijk als je de hoofdrol vertolkt!
A Million Ways To Die In The West is nu uit op dvd en Blu-ray via Universal Pictures.
Didier BECU
16/10/2014
---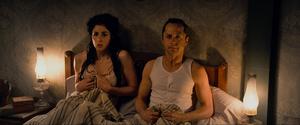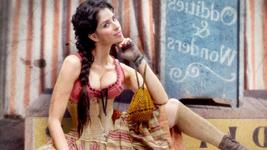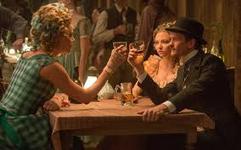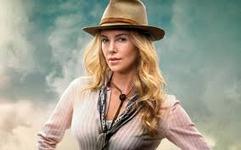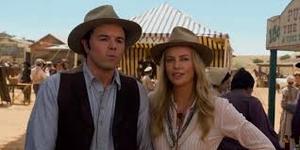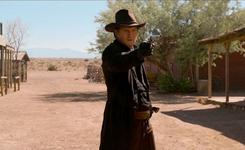 ---