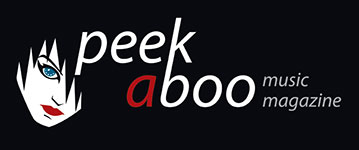 like this movie review
---
BOB GOLDTHWAIT
God Bless America
Movie
Action
•
Crime
•
Parody
[61/100]

Dutch FilmWorks
06/10/2014, Didier BECU
---
Are you also one of those people who get sick when noticing that nobodies become real stars, just because they are plain stupid? You know, we're talking about that dumb blonde from American Idol (or whatever that crap might be!) who can't boil egg and becomes famous for that! Frank (Joel Murray) hates them too. After being sacked at his company, his wife divorces him and his ten year-old daughter who wants no contact with a loser, Frank completely looses it. His first victim is the arrogant child star Chloë. While the teen star is choking in her own blood, the sixteen year-old Roxy (Tara Lynne Barr) looks amused. Without really wanting it, Frank has found a partner. As a contemporary cruel Bonnie & Clyde the two shoot everyone down who has helped to grown the bad taste.
God Bless America is a very difficult movie to categorize. Of course it is a parody, but at the same time you'll notice that director Bobcat Goldthwait is completely bored and dissapointed by the current media who idiolize being dumb. At times director Bobcat Goldthwait is loosing himself with making somes scenes a bit too over the top, but that's a minor thing. The movie itself is funny and interesting enough to give it a chance, and even to understand the protagonists (at least if you have some brains).
Who is Bobcat Goldthwait you think? Well, everyone knows this stand up comedian as he played Zed in Police Academy (the bungler with the weird voice). God Bless America is even not his directing debut, as he got some (little) fame with World's Greatest Dad starring the late Robin Williams.
God Bless America is easy to find on both DVD and Blu-ray onDutch FilmWorks.
Didier BECU
06/10/2014
---
Erger jij je ook aan die televisieprogramma's waarin nietsnutten tot sterren worden verheven? Je kent ze wel: het domme blondje dat niet kan koken en door haar debiel gedrag een grote ster wordt. Frank (Joel Murray) heeft het ook gehad met deze leeghoofden. Hij is net ontslagen, zijn vrouw is er vandoor en zijn tienjarige dochter heeft geen zin om haar tijd met een loser door te brengen. Kortom, de stoppen slaan compleet door bij Frank en zijn eerste slachtoffer is het arrogante kindsterretje Chloë. Terwijl de vedette wordt afgemaakt kijkt de zestienjarige Roxy (Tara Lynne Barr) vol plezier toe. Zonder dat hij het echt wil heeft Frank een bondgenoot te pakken gekregen. Als een meedogenloze hedendaagse Bonnie & Clyde knallen zij samen iedereen neer die ervoor heeft gezorgd dat de huidige maatschappij er zo inhoudsloos uitziet.
God Bless America is moeilijk te categoriseren. Het is natuurlijk wel een parodie, maar tegelijkertijd merk je dat regisseur Bobcat Goldthwait maar weinig respijt voor de media heeft. Want tja, misschien ligt het wel aan ondergetekende, maar wie heeft er af en toe geen zin om televisiesterren uit Komen Eten of (godbetert) Sterren Op De Dansvloer voorgoed uit de ether te halen? Soms verliest Bobcat Goldthwait wel serieus de pedalen waardoor de film niet alleen rommelig oogt, maar ook volledig van de pot is gerukt. Desalniettemin is de prent interessant genoeg om hem een kans te gunnen.
O ja, wie die Bobcat Goldthwait nu is? Iedereen kent deze stand-upcomedian, hij is immers Zed uit Police Academy (de klungel met het rare stemmetje). God Bless America is niet zijn debuut, zijn grootste wapenfeit tot dusver is World's Greatest Dad met de betreurde Robin Williams.
God Bless America is eenvoudig te vinden op dvd en Blu-ray via Dutch FilmWorks.
Didier BECU
06/10/2014
---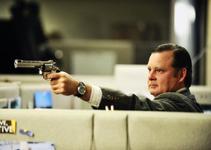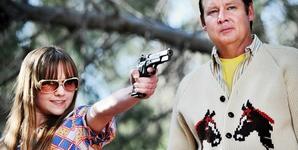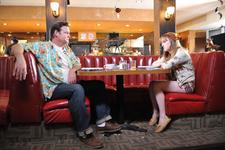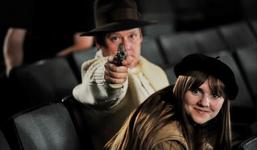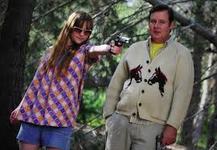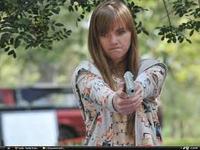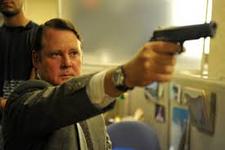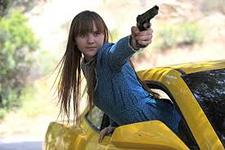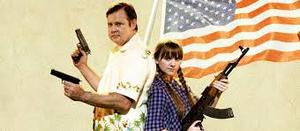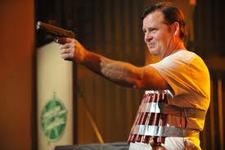 ---