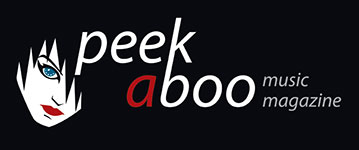 like this movie classics review
---
MARC WEBB
(500) Days Of Summer
Movie
•
Movie classics
Romantic
[77/100]

20th Century Fox
16/06/2014, Didier BECU
---
Are you also one of those who hate romantic comedies? Mind you, we're buddies then, but do you know a romcom that has a connection with The Smiths, Belle And Sebastian, Joy Division or The Jesus & Mary Chain? If you're aware of (500) Days Of Summer, then you know that such a film exists and that's exactly why (and for other reasons of course!) that we made it a classic.


So no, I'm not the kind of guy who'll start crying when he's seeing a romantic comedy. I am not made of stone, but just never understood the fake of it. You can call it fantasy, but it still makes me furious to see that non-talents like Hugh Grant or Sarah-Jessica Parker conquered the world with their crap. But then again I guess people like it to be fooled. In any way, (500) Days Of Summer by Marc Webb is a big exception that breaks all rules. The director who is making these days the new adventures from Spiderman made a love story about ordinary people like you and me. Well, in fact it's not a love story the director says, the film is just a collection of fragments that happens in every life. Things you'll never (or on a very rare occasion) see in Hollywood.


Tom (Joseph-Gordon Levitt) is a daydreamer who is far away from reality. From his early childhood on he was fascinated by small indiebands. The only kind of love he knows is what happens in lyrics by Morrissey. He knows everything about Joy Division, but nothing about girls. He's even convinced that he'll never meet a girl with whom he can fall in love with. Apart from listening to music, Tom fills his days at his desk by creating stupid slogans for wishing cards. And then it happens: Summer (Zooey Deschanel) enters his life. His new colleague looks gorgeous and even knows the lyrics from The Smiths. To be short: Summer is Toms dream girl.


So far the good news, as the love affair ends in a nightmare. No, we're not telling any spoilers as already from the first scene we see how Summer ends her relationship. Love is not only beautiful, also very brutal. Webb uses as style a non-chronological diary. We see moments of happiness and despair getting mixed in one. The result is according to Hollywood-norms strange, but works. This great comedy (cos in a way it is) features two young talents who now belong to the top. The movie meant the final breakthrough of Joseph-Gordon Levitt: the goodlooking guy who preferred porn over Scarlet Johannsson in Don Jon. There's of course the charming Zooey Deschanel who can make every movie buff melt with her eyes. Yeah, only Greta Garbo could do that! So no, don't expect nonsense like About A Boy. Throw away that crap. Watch something else instead, (500) Days Of Summer for instance. And yes, it's about love too, but only different!
Didier BECU
16/06/2014
---
Ook niet zo tuk op romantische komedies? Maar ken je er eentje die een connectie heeft met The Smiths, Belle And Sebastian, Joy Division of The Jesus & Mary Chain. Als je (500) Days Of Summer kent, dan weet je dat zo'n film bestaat en het is daarom (en om andere redenen natuurlijk!) dat we deze klassieker nog eens in de kijker zetten.


Ik ben het soort mens dat geen boodschap heeft aan romantische komedies. Niet omdat ik van steen ben (althans dat denk ik niet), maar gewoon omdat al die verhaaltjes zo nep zijn. Neen, ik heb nooit begrepen waarom de halve wereldbevolking geilt op liefdesfilms met non-talenten als Hugh Grant of Sarah-Jessica Parker. Misschien houden mensen nu eenmaal van gebakken lucht. Wie weet vinden ze het leuk om naar taferelen te kijken die alleen maar in een Hollywoodfilm mogelijk zijn. In ieder geval is bij mij (500) Days Of Summer van Marc Webb een grote uitzondering op de regel. Deze regisseur die tegenwoordig tonnen geld binnenrijft met het maken van de nieuwe Spiderman heeft namelijk een liefdesverhaal gemaakt dat over zeer gewone mensen gaat. Let op, zelf hamert Webb erop dat zijn film net geen liefdesverhaal is. Dat is hij wel, alleen is het liefde die je nooit (of in ieder geval veel te weinig) in Hollywoodfilms ziet.


Tom (Joseph-Gordon Levitt) is een normale jongen die ver van de realiteit staat. Van kindsbeen af was hij gefascineerd door de muziek van indiegroepjes. Het soort liefde dat hij kent komt alleen maar in teksten van Morrissey voor. Hij weet alles over Joy Division, maar niks over meisjes. Meer zelfs, hij is er compleet van overtuigd dat hij nooit in zijn leven een vrouw zal ontmoeten op wie hij verliefd kan worden. Naast het beluisteren van muziek, slijt hij zijn dagen op kantoor alwaar hij domme slogans voor wenskaarten moet bedenken. En dan gebeurt het grote wonder: de komst van Summer (Zooey Deschanel). Zijn nieuwe collega ziet er niet alleen stralend uit, ze blijkt ook nog alle teksten van The Smiths uit haar hoofd te kennen. Kortom, Summer is Toms droommeisje


.Tot zover het goede nieuws, want de liefdesaffaire eindigt in een nachtmerrie. Neen, we verklappen niets omdat de kijker al in één van de eerste scènes ziet dat Summer het uitmaakt met haar vriendje. Liefde is niet alleen mooi, ook brutaal. Webb gebruikt een niet-chronologisch dagboek waardoor de protagonist steeds tussen geluk en verdriet schippert. Kortom, het echte leven dus. (500) Days Of Summer is niet alleen een uiterst frisse komedie, ook bulken de acteurs van het talent. Deze film is een beetje de definitieve doorbraakfilm van Joseph-Gordon Levitt, de nieuwe filmgod die niet alleen de rode loper op het Filmfestival van Gent onveilig maakt, maar die er ook in slaagde om met zijn regiedebuut Don Jon de volledige IMDb-site in te palmen. Zooey Deschanel is zoals altijd charmant en slaagt erin om met haar ogen alleen iedere filmkijker te betoveren. Gooi dus ondingen als About A Boy maar bij het afval en bekijk iets als (500) Days Of Summer. Het gaat ook over liefde, alleen is het een tikkeltje anders…
Didier BECU
16/06/2014
---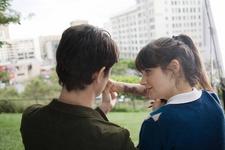 ---