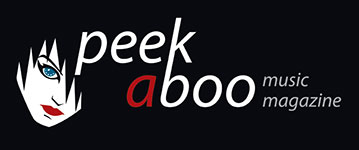 like this cinema review
---
PETER CHELSOM
Hector And The Search For Happiness
Movie
•
Cinema
Comedy
Imagine Films
10/11/2014, Didier BECU
---
We ourselves had never heard of it, but there are two million copies sold of Hector And The iFor Happiness. If the people who bought the book by the French psychiatrist François Lelord also go to the movies, then director Peter Chelsom has every reason to be happy. Who knows. Those who are looking for a feel-good film surely can buy a ticket for this one!
Hector ( Simon Pegg ) leads a good life. As a psychiatrist, he earns a lot of money and everything goes well with his wife Clara (Rosamund Pike). However, the shrink makes things difficult. Through numerous conversations with his patients, he asks himself what happiness really is. He hopes to find the answer in a world tour on which he meets the strangest characters.
Simon Pegg who we mainly know from British comedies such as Hot Fuzz or The World's End, does what he's supposed to do. It is difficult to identify with this boring man, luckily enough the other characters are much different, like Stellan Skarsgård who plays a crafty banker or Jean Reno as (how could it be otherwise?) a dangerous drug lord. It's a pity that director Peter Chelsom (who saddled us with Serendipity and Shall We Dance) plays it all too safe. If he was more daring, then Hector And The Search For Happiness would at least be as attractive as The Secret Life Of Walter Mitty, now it's just fun.
Didier BECU
10/11/2014
---
Zelf hadden we er nog nooit van gehoord, maar er zijn wereldwijd twee miljoen exemplaren van Hector And The Search For Happiness verkocht. Als je die mense, die het boek van de Franse psychiater François Lelord lazen, ook nog naar je filmzaal krijgt, heb je alle redenen tot juichen, moet regisseur Peter Chelsom hebben gedacht. Wellicht zal het niet zo'n vaart lopen. De film blinkt niet echt uit, is zelfs een tikkeltje slapjes, maar wie op zoek is naar een feelgoodfilm waarvoor hij zich niet moet schamen weet wel waar naartoe.
Hector (Simon Pegg) heeft een royaal leventje in hartje Londen. Als psychiater verdient hij goed zijn brood en met zijn echtgenote Clara (Rosamund Pike) loopt ook het familiale leven zoals het hoort. Toch maakt de zielenknijper het zichzelf moeilijk. Door de talrijke gespreken met zijn patiënten stelt hij zich luidop de vraag wat geluk nu eigenlijk is. Het antwoord daarop hoopt hij te vinden in een wereldreis die hem bij de meest vreemde personages brengt.
Simon Pegg die we vooral uit Britse komedies zoals Hot Fuzz of The World's End kennen, doet wat van hem wordt gevraagd. Het is dan ook moeilijk om je te vereenzelvigen met deze saaie droogstoppel. Gelukkig staan daar heel wat andere kleurrijke personages tegenover. Zo is er bijv. Stellan Skarsgård als gehaaide bankier of Jean Reno als (hoe kan het ook anders) gevaarlijke drugsbaron. Alleen jammer dat regisseur Peter Chelsom, die ons eerder met ondingen als Serendipity en Shall We Dance opzadelde, te veel op veilig speelt. Soms lijken de vele spreuken die de revue passeren net iets te veel op de boodschappen die je op de "liefde is"-cartoons kan lezen. Met wat durf zou Hector And The Search For Happiness minstens zo attractief als The Secret Life Of Walter Mitty kunnen zijn, nu is het niet meer dan leuk.
Didier BECU
10/11/2014
---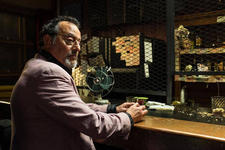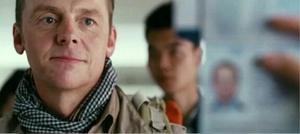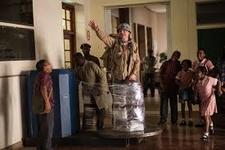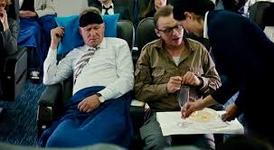 ---