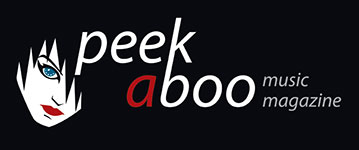 like this movie review
---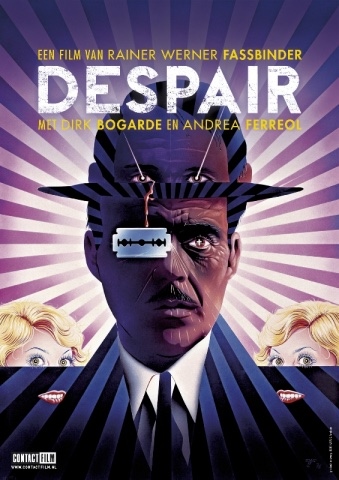 RAINER WERNER FASSBINDER
Despair, Eine Reise ins Licht/Despair, A Voyage into the Light
Movie
Drama
[70/100]

Filmfreaks
19/12/2014, William LIÉNARD
---
For German director Rainer Werner Fassbinder's 31th film a large budget was available with Hollywood airs. Despair was supposed to force his international breakthrough and he could therefore count on the logistic support of the prestigious Bavaria studios in Munich and an international cast led by Dirk Bogarde (The Damned, 1969; Death in Venice, 1971); A Bridge Too Far, 1977). The film was premiered at the Cannes Festival in 1978, but despite the great acclaim of press and public, the production did not win the Palme d'Or. In the same year, however, Despair was awarded the Golden Bear at the Biennale in Berlin, but nowhere the audience was really excited about the project. A year later the German director forced his international breakthrough with The Marriage of Maria Braun (1979), a 100 percent Fassbinder production with his own familiar group of actors and actresses.
Despair (Subtitle: A Voyage into the Light) is based on the novella Otchayanie of the Russian author Vladimir Nabokov (Lolita, 1962), that appeared in serial form in a literary magazine in 1934 and later in book form (1936). It is the story about the Russian businessman and owner of a chocolate factory Hermann Karlovich, who is devastated as he finds out that his wife Lydia is cheating on him, that his company is on the verge of bankruptcy as a result of the political situation (the Nazis are in power in Germany), with no prospect of rescue. One day in Prague he encounters the poor devil Felix, who looks just like him - at least that's Hermann's opinion – and an audacious plan takes shape in his mind to disappear, to pocket the money of the life insurance and start a new life with Lydia in Switzerland. But to do so, he will have to liquidate his look-a-like Felix and that presupposes a perfect murder.
Dirk Bogarde claimed later that Despair, A Voyage into the Light was not only an important step in his career, but that he never acted better again in later years. That's high praise of an American movie star for a 31-year-old German film director with a cult status in his own country, but hardly an international reputation. And it must be said that Bogarde delivers a perfect performance, although his character always stays at a certain distance from the viewer, making it difficult for the audience to identify or sympathise with the character. That is a strange approach of the director, because Fassbinder is known for his concern on the potential of the empathy of his audience. But perhaps Despair was not really his movie, and he could probably not identify with the project, because the screenplay was written by the unfamiliar Tom Stoppard - at that time a successful screenwriter of television films in England - and Dirk Bogarde was demanding and even refused to play a spicy leather scene with Andrea Ferreol, because he thought it contained too many similarities to a comparable scene in Night Porter (1974). It is a sign on the wall that Fassbinder was not present at the premiere of Despair in Cannes or at the subsequent press conference. It is good to know, however, that he was already filming The Marriage of Maria Braun, and probably already knew that Hanna Schygulla would astonish the world in the role of a cynical and calculated schemer with Hollywood airs.
If Despair, A Voyage into the Light does not really work, it is because the tone is too intellectual and because Tom Stoppard remained too close to the author's text. But Fassbinder is not without blame, for he does not attempt to reduce Hermann or Lydia to human proportions. The dialogues are swollen and often meaningless, and it is questionable whether the viewer recognizes the Doppelgangers that are hidden in the movie (not just Felix, but also the allusions to the bad marriage of Hermann and Lydia), because that is essential to understand the growing madness of Hermann. Of course, production design plays a very important role and was always one of the landmarks in a Fassbinder film. Given that enough money was available for this production, Rolf Zehetbauer (Cabaret, 1972; The Odessa File, 1974) was put in charge. He took a good look at Fassbinder's work and produced an unlikely impressive setting. He made such a strong impression on the director, that he was hired for all his subsequent films and was asked to add his personal touch: bright colour contrasts, mirrors, transparent walls, bizarre locations and asymmetrical patterns, which follow each other in quick succession. But that does not mean that Despair, A Voyage into the Light is a perfect film. Therefore the production lacks inspiration and enthusiasm.
William LIÉNARD
19/12/2014
---
Voor z'n 31ste film kon de Duitse regisseur Rainer Werner Fassbinder op een ruim budget met Hollywood-allures rekenen, want met Despair zou hij naar verluidt z'n internationale doorbraak forceren. Hij kon bijgevolg rekenen op de logistieke ondersteuning van de prestigieuze Bavaria-studio's in München en op een internationale cast, aangevoerd door Dirk Bogarde, bekend van The Damned (1969), Death In Venice (1971) en A Bridge Too Far (1977). De film ging in 1978 op het Festival van Cannes in première, maar ondanks de grote bijval bij pers en toeschouwers sleepte de productie geen bekroning uit de brand, wat achteraf wel het geval was op de Biënnale in Berlijn, maar nergens was het publiek echt enthousiast. Fassinder zou een jaar later z'n internationale doorbraak forceren met Die Ehe Der Maria Braun (1979), een productie die hij weer helemaal zelf in de hand had en die hij met z'n eigen vertrouwde troep draaide.
Despair, Eine Reise Ins Licht is gebaseerd op de novelle Otchayanie van de Russische auteur Vladimir Nabokov (Lolita, 1962), die in 1934 als feuilleton in een literair magazine verscheen en vervolgens in boekvorm (1936) op de markt kwam. Het is het verhaal over de Russische zakenman en eigenaar van een chocoladefabriek Hermann Karlovich, die ten einde raad is als hij merkt dat z'n vrouw Lydia hem bedriegt, z'n bedrijf op de rand van het faillissement staat en er als gevolg van de politieke situatie (in Duitsland zijn de nazi's aan de macht) geen uitzicht is op enige redding. Als hij in Praag de arme sloeber Felix tegen het lijf loopt die als twee druppels water op hem gelijkt - althans dat is de mening van Hermann – groeit het vermetele plan om te verdwijnen, het geld van de levensverzekering op te strijken en met Lydia een nieuw leven te beginnen in Zwitserland. Maar daartoe zal hij uiteraard de als Hermann uitziende Felix uit de weg moeten ruimen en dat veronderstelt een perfecte moord.
Dirk Bogarde beweerde achteraf dat Despair niet alleen een belangrijke stap in z'n carrière was, maar dat hij in die film ook z'n beste acteerprestatie ooit leverde. Dat is groot compliment van een Amerikaanse steracteur aan het adres van een jonge, 31-jarige Duitse filmregisseur met een cultstatus in het eigen milieu, maar nauwelijks internationale bekendheid. En het moet gezegd, Bogarde levert een dijk van een prestatie, zij het dat z'n personage altijd op een zekere afstand van de toeschouwer blijft waardoor er van vereenzelviging of medeleven nauwelijks sprake is. Dat is een vreemde aanpak vanwege de regisseur, want Fassbinder staat bekend om z'n bezorgdheid omtrent de inlevingsmogelijkheden van z'n publiek. Maar wellicht was Despair niet echt zijn film en was hij er niet helemaal met z'n hart bij, want het scenario was van de hand van de hem onbekende Tom Stoppard – op dat moment een succesvol scenarioschrijver van tv-films in Engeland – en Dirk Bogarde stelde uiteraard ook z'n eisen, zo weigerde die bijv. een pikante leerscène met Andréa Ferréol te spelen omdat hij meende dat ze te veel overeenkomsten vertoonde met een gelijksoortige scène uit The Night Porter (1974). Het is trouwens een teken aan de wand dat Fassbinder niet verscheen op de première van Despair in Cannes en dat hij ook de daaropvolgende persconferentie vermeed als de pest. Het speelt uiteraard mee dat hij ondertussen Die Ehe der Maria Braun had ingeblikt, waarvan hij wellicht met aan zekerheid grenzende waarschijnlijkheid besefte dat Hanna Schygulla de wereld met verbazing zou slaan in de rol van een cynische en berekende intrigante mét Hollywood-kapsones.
Als Despair, Eine Reise ins Licht niet echt werkt, dan komt dat omdat de toon veel te intellectualistisch is en Tom Stoppard zich dus niet voldoende los heeft gemaakt van de tekst van de auteur. Maar ook Fassbinder gaat niet vrijuit, want hij doet geen enkele poging om Hermann of Lydia tot menselijke proporties terug te brengen. De dialogen zijn gezwollen en vaak nietszeggend en het is maar de vraag of de kijker de zgn. dubbelgangers die in de film verstopt zijn (niet alleen Felix, maar bijv. ook de toespelingen op het slechte huwelijk van Hermann en Lydia) herkent, want dat is essentieel om de groeiende waanzin van Hermann te begrijpen. Uiteraard speelt het production design een zeer belangrijke rol, want dat is altijd al één van herkenningspunten geweest in een Fassbinder-film en gezien er voor deze productie geld genoeg voorhanden was, mocht Rolf Zehetbauer (Cabaret, 1972; The Odessa File, 1974) zich erover ontfermen en die had goed naar eerder Fassbinder-werk gekeken, want hij leverde niet alleen een onwaarschijnlijk indrukwekkend decor af, hij maakte een dusdanig sterke indruk op de regisseur dat hij in al diens latere films die opdracht voor z'n rekening mocht nemen: felle kleurcontrasten, spiegels, doorkijkwandjes, bizarre locaties en asymmetrisch patronen die een verrassende belichting toelaten, ze volgen elkaar in sneltempo op. Maar dat betekent dus niet dat Despair, Eine Reise ins Licht uiteindelijk ook een perfecte film is geworden, want daarvoor ontbreekt het de productie aan bezieling en begeestering.
Despair, A Journey into the Light
Rainer Werner Fassbinder
Deutschland, 1977
177 min. – format PAL – Duits/German Dolby Digital Mono
Ondertitels/Subtitles: Nederlands
William LIÉNARD
19/12/2014
---