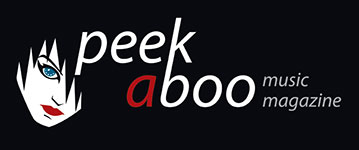 like this cult movies review
---
TED V. MIKELS
The Corpse Grinders
Movie
•
Cult movies
Horror
[55/100]

88 Films
31/03/2014, Didier BECU
---
Readers who think that every movie has to be a challenge to top Citizen Kane better skip this review as with The Corpse Grinders we descend to the dirtiest sewers of movie world. Once the movie even had the "honour" to be the second worst picture at the bottom list from IMDb. Nowadays the creator Ted V Mikels must be laughing with this as he got famous and rich with this release. The picture was shot with a minimum of costs, but already after one week it raised over 190.000 dollars. Due to this huge hit, Mikels became one of the legends in trash cinema. He later also directed The Astro Zombies, Blood Orgy Of The She Devils and The Doll Squad. Some say this last one was the inspiration for the popular Charlie's Angels-series. Anyway, The British 88 Films-label has now released some of his movies. The Corpse Grinders is the first one.


Everything, from story to directing, is wrong and that's of course one of the basic ingredients for pulp cinema as such. The movie is set in the Lotus Cat Foods-factory. The CEO has a brilliant idea to gain money with his cat food plant: digging up corpses from the graveyard and put them in the grinder. A good option to get cheap cat food, but they forgot one little detail. Once a cat tastes human meat, the animal gets addicted and so it happens that all the pussycats from Hollywood turn out to be killers.


Come on and admit it: you really have to be nuts to write such a story, not? It has no sense to seek any tension as there isn't one. The story has strange, illogic gaps and some plots are silly, but of course the movie has an irresistible charm. The same can be said about the directing and editing. The movie became a hit because of its title. You don't expect it, but in a movie that's called The Corpse Grinders you don't see that much blood. The scenes with the cats are just plain simple: they threw them to the authors. The most morbid scene is the one in where a stomach from a cat is ripped open. Before you alert PETA, you'll see that the cat is nothing but a toy.
Of course The Corpse Grinders is not a good film in a pure cinematographic sense, but the result is much more funnier as most of the "serious" contenders.


The Corpse Grinders is now out on DVD on 88 Films.
Didier BECU
31/03/2014
---
Lezers die vinden dat iedere film een poging moet zijn om Citizen Kane te evenaren laten deze bespreking maar beter links liggen. Want, zoals Jan Verheyen zou zeggen, dalen we met The Corpse Grinders af naar de riolen van de filmwereld alwaar de slechtste rommel zegeviert. Deze film heeft trouwens ooit de "eer" gehad om volgens IMDb de tweede slechtste prent aller tijden te zijn. De maker Ted V Mikels lacht zich waarschijnlijk te pletter met deze kritiek. De film werd voor een habbekrats gedraaid, maar bracht na één week meer dan 190.000 dollar op. Dankzij deze hit werd de man één van de grootste namen in de trash cinema en maakte nadien heerlijke ondingen als The Astro Zombies, Blood Orgy Of The She Devils en The Doll Squad. Deze laatste was enorm belangrijk, gewoonweg omdat het de inspiratiebron werd voor de populaire Charlie's Angels-reeks. Het Britse 88 Films heeft nu de meeste van deze Mikels-vehikels op dvd uitgebracht. The Corpse Grinders is de eerste in het rijtje.

Zoals dat moet bij dit soort cinema is het verhaal (ook de regie, maar daar komen we later op terug) lekker fout. Alles speelt zich af in Lotus Cat Foods. De directeur van deze kattenvoerfabriek heeft een excellent idee om kosten te besparen: lijken opgraven uit het kerkhof om ze nadien door de vleesmolen te draaien. Op deze manier produceert men wel goedkoop kattenvoer, maar wat de bedenkers niet weten is dat eens een kat mensenvlees heeft geproefd ze daar voorgoed verslaafd aan is. Plotseling beginnen alle poezen van Hollywood en omstreken de mensen naar de keel te vliegen.

Geef toe, je moet toch volslagen van lotje getikt zijn om zo'n ongein te kunnen verzinnen, niet? Spanning moet je in deze ongein niet zoeken, het verhaal hangt immers met haken en ogen aan elkaar. Je mag je zelfs aan onnozele en onlogische plotwendingen verwachtingen die geen steek houden. Ook wat de regie en de editing betreft is er maar weinig sprake van enige nazorg. Zo zie je personages in één scène met verschillende truien aan de revue passeren en wanneer een actrice het tijdens de opnames liet afweten, dan verving men haar gewoon door bijv. het meisje van de make-up.

De film werd vooral een succes wegen zijn titel, maar vreemd genoeg bezit The Corpse Grinders geen bloederige scènes. De scènes met de katten waren doodsimpel: men smeet de beesten gewoon naar de acteurs. Wie weet dat Jan Fabre op een avond ook naar deze film keek. De enige scène die menig kijker zal doen kokhalzen is deze waarin de maag van een kat wordt open gesneden. Het is evenwel niet nodig om de mensen van GAIA in te lichten, wie goed kijkt zal immers merken dat het om een pluchen beest gaat!

O ja, je wil nog weten of The Corpse Grinders een geslaagde film is? Natuurlijk niet, wel veel plezanter dan de meeste "serieuze" prenten, dat wel!


De enige extra die je op dit schijfje aantreft is The Making Of The Corpse Grinders dat zo'n vijftiental minuutjes duurt. In feite is het een interview met maker Ted V Mikels waarin hij heel wat weetjes vertelt die de fans zullen interesseren, zo is één van de locaties het huis van Cecil B. De Mille op de beroemde Santa Monica Boulevard. Qua lengte is het misschien niet veel, wel het bekijken waard.


Liefhebbers van pulpfilms verenig u, want 88 Films heeft het werk van Ted V Mikels heruitgebracht. Connaisseurs weten natuurlijk dat deze man een legende in zijn vak is. The Corpse Grinders is wellicht zijn meest bekende werk. Verlos u van het juk dat stelt dat films van goede smaak moeten getuigen en geniet mee van deze grindhouseklassieker.
Didier BECU
31/03/2014
---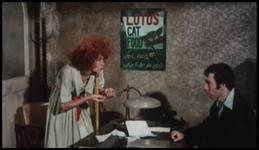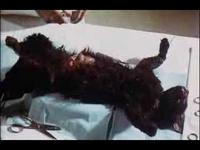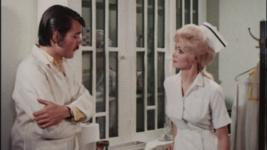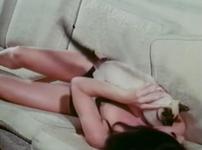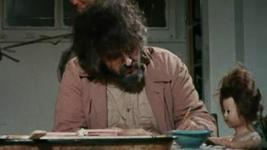 ---