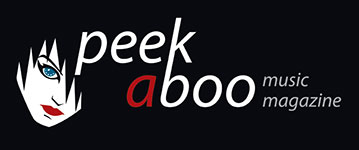 like this cd review
---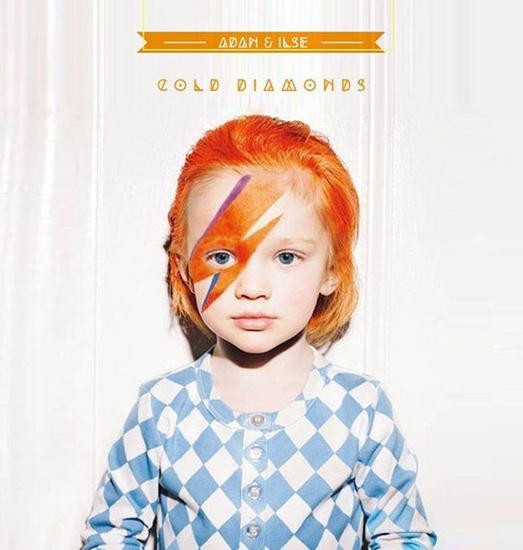 ADAN & ILSE
Cold Diamonds
Music
•
CD
Dark Wave
•
Synth Pop / Electro Pop
[90/100]

Unknown Pleasures Records
05/04/2015, Wim GUILLEMYN
---
The cover is an eyecatcher because their are some references to David Bowie. Look at the resemblance with the cover of Aladdin Sane and the title that refers to Diamond Dogs. This French-Spanish trio makes darkwave, electro and synthpop. A lot of the attention goes to melodic, atmospheric and interesting synth sounds. Something that IAMX does too.
Starter 'Failure' is a typical song that refers to bands on the Mute label, like Depeche Mode, Laibach or Yazoo. On 'Sun King' you hear The Cure 2.0. Sometimes a little surprising like on 'Lost Overdrive', that arouses a club scene with beautiful synths and dance beats without thinking that you are on Tomorrowland. No, this is a rather dark underground song.
How many times has 'Love Will Tear Us Apart' been covered? It must be done good to get away with it. And they do! It is a wonderful and dark version. 'Red Star' sounds dark and industrial. 'Stardust' is rather minimalistic and also dark. Twelve songs and the last four songs are remixes from their previous EP's and latest album. Remixed by Simi Nah vs KGB rmx (listen to their stunning version of 'Lost Overdrive'), Melanoboy…
An interesting release which sounds fresh, recognizable and with a dark cold atmosphere.
Wim GUILLEMYN
05/04/2015
---
Wat opvalt aan de hoes van hun nieuwste album zijn de knipogen naar het werk van David Bowie. Zie de gelijkenis met de hoes van Aladdin Sane en de titel die verwijst naar Diamond Dogs. Dit Frans-Spaanse trio maakt electro, darkwave en synthpop met weerhaakjes. Veel aandacht voor melodie, sfeer en interessante synth sounds. IAMX heeft daar ook een patent op.
Opener 'Failures' is een typische nummer dat wat refereert naar bands van het Mute label, zoals Depeche Mode, Laibach, Yazoo… In 'Sun King' bijv. krijg je een Cure 2.0-song te horen. Dit is zo' n beetje de leefwereld waarin hun songs vertoeven. En het mag worden gezegd dat het stuk voor stuk goede nummers zijn die weten te boeien en soms ook verrassen. Zoals 'Lost Overdrive', dat met enkele mooie synthgeluiden en dansbeats een clubsfeer opwekt zonder dat je je op Tomorrowland waant. Neen, dit is hier eerder een donkere underground clubsong.
Hoeveel keer zou 'Love Will Tear Us Apart' van Joy Division al niet zijn gecoverd ? Je moet al van goeden huize zijn om hiermee weg te komen. En ze komen er mee weg. Het is een heerlijke misantropische, trage versie geworden. Heel geslaagd. 'Red star' klinkt donker en industrieel. 'Stardust' is eerder minimalistisch en ook donker. Twaalf songs waarvan de laatste vier songs zijn uit hun voorgaande ep's en eentje uit hun nieuw album. Ze werden geremixt door o.a. Simi Nah vs KGB rmx (hun versie van 'Lost Overdrive' is mega!) , Melanoboy…
Een heel boeiende release die fris, herkenbaar en een donkere, koude sfeer uitstraalt.
Wim GUILLEMYN
05/04/2015
---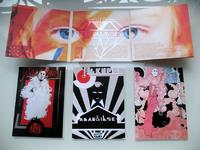 ---