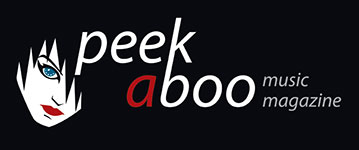 like this concert review
---
E-TROPOLIS FESTIVAL
Germany (2015)
Concert
Dark Electro
•
EBM
•
Electro
•
Electro Pop
•
Electro Rock
•
Power Electronics
•
Synth Wave
[90/100]

01/04/2015, Peter HESELMANS
---
Oberhausen, March 28th, already the 5th edition of the E-tropolis Festival. The first 3 years a Berlin based event, but now for practical reasons moved to the Turbinehalle, right in the heart of the German Ruhr area. This complex was used for the production of power and steam for the steel industry until 1980, so maybe the perfect location for a festival with EBM, Industrial, Electro and Synth pop, Rhythm & Noise, and even for some cyber beats.
Some changes have been made to this venue: the building was upgraded, and especially the second stage was rebuild from scratch. It was hardly recognizable, completely refurbished, and with a massive live stage at the front, new bars, a hughe balcony, seperated into multiple platforms. Also the indoor soccer fields behind the venue were completely removed and now integrated into this lavish hall.
Last year there were some small problems and complaints about the food and merchandising stalls and the small entrance to the second stage, at a certain moment this stage even had to be closed for security reasons. This year Iheard no complaints, so all in all a very big improvement and lots more space to relax and to meet up with friends.
The slogan of this festival is 'Darker - Harder - Louder' , and they offer always a great variety of all kinds of dark music. So this was the place to be for a full blast of top-class electronic acts.
First full concert I saw was AMBASSADOR 21, already founded in 2001 in Minsk by Natasha A Twentyone and Alexey Protasov, both on vocals and electronics. They brought us some rough digital hardcore with powerfull lyrics in both English and Russian. The hardest electronic act of the evening. Every time I see a gig of this duo, I think it is impossible to get more 'noise' out of a drum machine then this. You love it, or you leave after a few minutes (rating : 85/100).
Next was SPETSNAZ, the Swedish EBM duo was formed in 2001 by Stefan Nilsson and Pontus Stalberg. Spetsnaz is the Russian word for Special Forces and this gives you an idea about their sound. Have to say that this duo is not my favorite EBM act, it somtimes sounds all a bit simple and bombastic, but it stays Electronic Body Music in its purest form. There is no doubt that these guys are one of the best in this kind of 'old school' stuff. Right in front of the stage there was the typical EBM crowd dancing and jumping around. There is hardly another band with such a power and energy like Spetsnaz (rating : 80/100).
More beats with GRENDEL, the aggrotech band from the Netherlands, already founded in 1997, and since then very popular in the cyber goth scene. The band consists of three guys: JD (vocals) , Sasha (keyboard), Paul (guitar), and a women and eye catcher Mel (keyboard and vocals). Already saw this band a couple of times and have to say that they never really excited me. But lots of people were dancing, especially the cyber goths, with their stereotypical way of moving. Never understood those neon dressed boys and girls on a 'dark' festival, but maybe I am getting too old for this (rating : 70/100).
Time for the electro pop band TORUL from Slovenia, headed by Torul Torulson, brainchild and songwriter. The other band members are synth player Borut and singer Jan. I really liked this band, their mix of electro and synth pop sounded great, and the vocal qualities of Jan Jenko where the best I heard on the whole festival. For me this was the discovery of the evening (rating : 90/100).
One of the best concerts I saw last year was LAIBACH, and they did not disappoint me on this E-tropolis Festival. This Slovenian collective has been active for more then 30 tears now, and is more than just a rock band, they demonstrated again the uniqueness of their approach, which goes much further than just music. They bring us art, great songs, and most of all a sarcastic and very acute look on political issues. They also where the only band who used video projections, from slogans to old black and white films, this certainly lifted their gig to a higher level This was not a standard rock show, but a complete art performance, and for me the best act of this festival (rating : 95/100).
DE/VISION headlined the 2nd stage, and with a career of more than 25 years, they had no problem bringing us a kind of 'best of' setlist. These guys are still very popular in their homecountry Germany and so everyone was dancing and singing along. Their pleasing synth pop tunes where a big contrast to the bands I have seen before. For my taste there were to much mid-tempo songs, but Steffen and Thomas have some really wonderfull tunes and it is woth to see them live (rating : 85/100).
SOLITARY EXPERIMENTS then, very big in their home country, Germany. Personaly I am not a S.E. fan, although they already excist for more then 20 years. Most songs sound like they could have been written and played by VNV Nation, but at a lower level. Also, I am not convinced by the vocal qualities of singer Dennis, so I left the gig early to be sure I had a good place for the next band on the other stage (rating : 70/100).
I was realy looking forward to PROJECT PITCHFORK, never saw them live.The band was formed in the beginning of the 90' by Peter Spilles and Dirk Scheuber. When the band appeared, it immediately created a unique, peculiar and deep atmosphere. This band is one of the spearheads in the alternative electronic music.This was really an amazing gig, also the first time the light show was special, lots of smoke together with the gloomy lights, enriched with the use of lasers. Enjoyed it very much (rating : 95/100).
Already time for the headliner of this E-Tropolis Festival, VNV NATION. Founded in 1990 and maybe the best known band in the electronic music scene. The word 'future pop' is automatically connected to this band, and with their many dance floor killers, you can not miss putting these guys on top of your line up. As usual there were two additional keyboard players. Right from the start Ronan Harris was in a really good mood, talking in German and English, running from one place to another on stage. During the whole concert the audience was really enthusiastic, and was dancing and singing along. The perfect ending of a fantastic festival (rating : 90/100).
This was really the place to be for all dance and electronic lovers, so hope to see you all at the 2016 edition. Already some new names are announced.
Below you can find a compilation of almost all bands at the E-Tropolis Festival. More vids on my youtube channel (numanoid65).
Peter HESELMANS
01/04/2015
---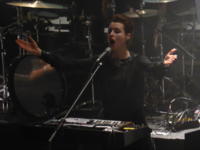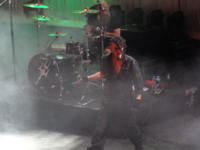 ---