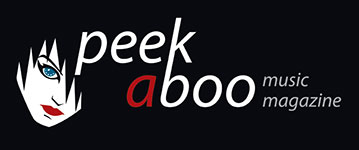 like this cd review
---
SHE SPREAD SORROW
Rumspringa
Music
•
CD
Electronics
•
Industrial
•
Power Electronics
•
Soundscape
[70/100]

Cold Spring
09/09/2015, William LIÉNARD
---
Cold Spring releases the debut Rumspringa by the Italian project She Spread Sorrow, an album that is described in the press release as a journey of distorted faith, suppressed desires, guilt, punishment, discipline and perversion, and which is compared to the work of Pharmakon, Puce Mary and Sewer Goddess. Behind She Spread Sorrow hides the Italian artist Alice Kundalini, member of Deviated Sister TV, a troupe specialized in power electronics and death industrial projects. The album contains six compositions in which distorted drones and voices are combined into soundscapes for an apocalyptic world.

In Spring of Regret we hear buzzing, roaring and whistling drones, crossed with short reverberating vocals and the noise-like sound of falling metal water drops. In the distance, the sound of exploding bombs, over flying war machines and the fearsome blows of prehistoric monsters. Sounds dangerously and noisy, but it all stays within acceptable limits and never becomes cacophonous. The similar Herself Denial floats on the sound of roaring engines, with whispering voices on top, synths like shooting stars and whistling noise, monotonous and menacing, the soundtrack for a nightmare and nasty hallucinations, with a Hail Mary as a bonus. Red Rumspringa is again a dark industrial track with growling and rumbling drones, whispered voices, snatches of humming electro, noise and noise: expectantly and grim as the mock fight before the big confrontation.

Inertia Malaise gets snatches of metallic percussion, monotonous and dark drones for the base track,
humming drones on top and whispering voices in between: dangerous and yet dreamy and mysterious, while Chastity sounds more emphatic, thanks to the vocal interventions, but with similar distorted drones and noise for auditory support. Finally, Seven Daughters begins with the distant sound of the alarm system of a nuclear power plant, nervous noise, reverberating drones in the background and voices, with fast electro sequences for the final, again followed by whispering voices and emphatic drone punches.
The soundscapes of She Spread Sorrow are dark and sinister as the soundtrack for a dehumanized future.
Track listing:
1. Spring Of Regret
2. Herself Denial
3. Red Rumspringa
4. Inertia Malaise
5. Chastity
6. Seven Daughters
https://www.facebook.com/shespreadsorrow
https://shespreadsorrow.wordpress.com/
https://soundcloud.com/she-spread-sorrow


William LIÉNARD
09/09/2015
---
Op Cold Spring is het debuut Rumspringa van het Italiaanse project She Spread Sorrow uitgebracht, een album dat in de perstekst wordt omschreven als een reis over vervormd geloof, onderdrukte verlangens, schuld, straf, discipline en perversie, en dat vergeleken wordt met het werk van Pharmakon, Puce Mary en Sewer Goddess. Achter She Spread Sorrow gaat de Italiaanse artieste Alice Kundalini schuil, lid van Deviated Sister TV, een gezelschap dat gespecialiseerd is in power electronics en deathindustrialprojecten. Het album bevat 6 composities waarin distorted drones en stemmen gecombineerd worden tot soundscapes voor een apocalyptische wereld.
In Spring of Regret hoort u zoemende, ronkende en fluitende drones, breed uitgesmeerd, doorkliefd met korte galmende vocale interventies en noise als van vallende metalen waterdruppels. In de verte weerklinkt het geluid van ontploffende bommen, voorbijvliegend oorlogstuig en vervaarlijke uithalen van voorhistorische monsters. Klinkt vervaarlijk en lawaaierig, maar het blijft allemaal binnen acceptabele grenzen en het wordt nooit kakofonisch. Het soortgelijke Herself Denial drijft op het geluid van ronkende motoren, met fluisterende stemmen bovenop, synths als vallende sterren en fluitende noise, monotoon en dreigend, de soundtrack voor een angstdroom en akelige hallucinaties, met een Weesgegroetje als toemaat. Red Rumspringa is opnieuw een donkere industrial compositie van grommende en ronkende drones, gefluisterde stemmen, zoemende elektroflarden, ruis en noise: afwachtend en grimmig als het schijngevecht vóór de grote confrontatie.
Inertia Malaise krijgt metaalachtige percussieflarden, monotone en donkere drones voor de basistrack, brommende drones bovenop en fluisterende stemmen tussendoor: vervaarlijk en toch dromerig en mysterieus, terwijl Chastity weer nadrukkelijker klinkt, met dank aan de vocale interventies, maar met gelijksoortige distorted drones en noise voor de auditieve ondersteuning. Seven Daughters ten slotte begint met het verre alarmgeluid in een kerncentrale, zenuwachtige noise, echoënde drones op de achtergrond en stemmen, met in de eindfase snelle elektrosequenties, opnieuw gevolgd door fluisterende stemmen en nadrukkelijke dronestoten.
De soundscapes van She Spread Sorrow klinken donker en sinister als soundtracks voor een ontmenselijkte toekomst.
William LIÉNARD
09/09/2015
---