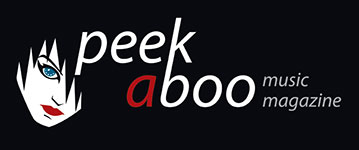 like this cd review
---
DEZ MONA
ORIGIN
Music
•
CD
Alternative Rock
•
Belpop
[95/100]

Universal Music
22/09/2015, Tom PLOVIE
---
The first single and opener of this new Dez Mona-album, 'Does it make you, Happy?', is a firm and catchy song with a video that the Antwerp band can fully associate with. Wayward, out of the box, theatrical, chique, fancies black (music) with a touch of colour(ing), intriguing, (literally) many faces and (figurative) jack of all trades. The groovy rhythm and the panting accordeon provide a framework in which the so typical voice of singer Gregory Frateur feels at home. This first video isn't the only eye-catcher. A pretty portrait of their muse, the androgynous Anouar Darkaoui, makes a prominent picture on the cover.
Dez Mona is more than the singer who's can be seen in the video clip. 'Origin' refers to their roots and the counterpart of their remarkable voice is the double bass player Nicolas Rombouts. But don't be mistaken: this new album doesn't sound as their avant-garde debut 'Pursued Sinners' at all. After more then ten years, this is their seventh full album and it can easily be used to pursuade a larger audience, as being persuasive is still necessary for a group that earned its place on the music scene long ago.
We hear a solid band of musicans that is very skilled and trained in a kind of tradition they built themselves. Terms like musical craftsmanship and love for the metier are appropriate here. The sound is superb, thanks to the meticulous studio work. Each song is worth to be released as a single. They are cast i a mold by Gregory and Nicolas, and refined by their familiar compagnons de route: Roel Van Camp (accordeon), Steven Cassiers (drums), Tijs Delbeke (guitar, violin and trombone), Sjoerd Bruil (guitar) and Bram Weijters (keyboard).
Back to the music and songs. In 'Dirty language' we hear a dark sound emerging, together with a critical note on the use of brutish language. 'You cannot stand the kind of state you're in, so you're working your way up with dirty language?' There must be more appropriate ways to get through that kind of mindset, but sincere cursing can feel fucking good. Language and the love for it are important elements in their music, e.g.: 'The Storm' in which the twenty verses start with the ending of the former verse, beginning with 'An empty paper'. As a kind of mantra the bass line, produced by Rombouts (and sounding familiar to the bass line of 'Trial' from their former album MoDeD), pushes the proverbial storm ahead. It's their most intimite song, which can be linked to their debut, although Frateur finishes with a well-meant 'We are changing' before the track ends with a theatrical outro full of string arrangements and a epic-filmish sound. I do believe him.
The body of this album contains a handful of excellent and hit potential songs. On the cradling song 'Handsome Boys, Pretty Girls' Frateur sings very sootinghly. Listen to the trombone which sounds perfectly at place. 'What Kills You' starts with a heavy drum rhythm, contrasting with the softer chorus line. Finally the voices thicken the sound and by doing this the listener notices the different (and beautiful) layers with which a track like this is built. Re-listening is a must and it won't feel like an order.
To finish there's 'Great Time': the outsider on this 'Origin'. A slow piano song which places you in a smokey pub where Frateur holds a glass of liquor and wishes everybody 'a fucking great time'. In the company of Dez Mona that cannot end in another way.
Tom PLOVIE
22/09/2015
---
De eerste single en opener van dit nieuwe Dez Mona-album, Does it make you, Happy? is meteen een stevige en catchy song die een clip kreeg waar de Antwerpse band zich ten volle mee kan associëren. Eigenzinnig, compromisloos, out of the box, theatraal, chique, zwak voor zwart, intrigerend, (letterlijk) vele gezichten en (figuurlijk) van vele markten thuis. Het groovy ritme en de amechtige accordeon voorzien het strakke kader waarin de zo typerende stem van zanger Gregory Frateur zich helemaal thuisvoelt. En niet alleen de eerste clip is een eye-catcher. Een knap portret van hun muse, de androgyne Anouar Darkaoui, zorgt tevens voor de opvallende blikvanger op de hoes.
Dez Mona is uiteraard meer dan een zanger, die in de clip als enige groepslid te zien is en centraal staat. Zo verwijst Origin naar de roots en daar hoort natuurlijk contrabassist Nicolas Rombouts bij. Maar vergis je niet: deze nieuweling klinkt helemaal niet zoals hun avant-garde debuut Pursued Sinners. Na ruim tien jaar is dit zevende album er één dat het ruimere publiek met gemak opnieuw kan overtuigen. Alsof overtuigen nog nodig is voor een band die z'n plaats en reputatie in de muziekscène al meer dan verdiend heeft.
Hier hoor je een hechte groep muzikanten aan het werk, gepokt en gemazeld in een stevige traditie die ze zelf opgebouwd hebben. Technisch vakmanschap en liefde voor het ambacht horen hier zonder meligheid op zijn plaats. De sound is subliem, te danken aan het minitieus studiowerk en de songs zijn één voor één het single-statuut waardig. Zij zijn door bovengenoemde kernleden in een mal gegoten en vakkundig verfijnd door hun vertrouwde compagnons de route: Roel Van Camp (accordeon), Steven Cassiers (drums), Tijs Delbeke (gitaren, viool en trombone), Sjoerd Bruil (gitaar) en Bram Weijters (toetsen).
Terug naar de songs. Met Dirty language komt de duistere sound opnieuw naar boven, samen met een kritische noot op grof taalgebruik. You cannot stand the kind of state you're in, so you're working your way up with dirty language? Er zijn wellicht elegantere manieren om door zo'n mindset te geraken, maar oprecht vloeken kan verdomd deugd doen. En dat taal belangrijk is bij Dez Mona, zie je ook in The Storm: twintig regels waarbij elk einde van een vers, het begin vormt van de volgende en opstart met an empty paper. Als een mantra stuwt de baslijn van Rombouts (die doet denken aan Trial uit hun eerder album MoDeD) de spreekwoordelijke storm vooruit. Het is de meest intieme song uit Origin en kan gerust de link genoemd worden met Pursued Sinners, hoewel Frateur welgemeend eindigt met We are changing vooraleer op te gaan in een theatrale outro met strijkerarrangementen en een episch-filmische sound. Ik geloof hem.
De body van Origin bestaat uit een handvol ijzersterke en met hitpotentieel gevulde nummers. Op het wiegende Handsome Boys, Pretty Girls zingt Frateur bijzonder zalvend en wat klinkt die trombone heerlijk op zijn plek. What Kills You start strak met een stevig drumritme om dan te contrasteren in een zachter refrein. Uiteindelijk dikken de stemmen aan en merk je hoe mooi gelaagd zo'n lied eigenlijk is. Opnieuw beluisteren is de boodschap en dat zal niet als een opdracht aanvoelen.
Als slot is er Great Time: het buitenbeentje op deze Origin. Een traag pianonummer dat qua sfeer een rokerige kroeg voor de ogen gooit en waarbij Frateur met een glas sterk spul iedereen nog een fucking great time toewenst. In het gezelschap van Dez Mona kan dat op weinig anders uitdraaien.
Tom PLOVIE
22/09/2015
---