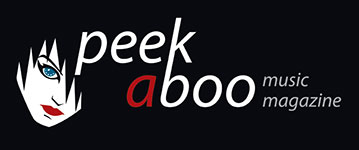 like this movie review
---
MIKE FLANAGAN
Oculus
Movie
Horror
[64/100]

A-Film
20/10/2014, Didier BECU
---
Life's not always what we wish for. Take for instance, the world of the lowbudget horrormovie! It is a very rare thing to see serious critics (whatever that might be!) coming up with a raving review and when it happens, like in the case of this one, the movie doesn't hit the theatres (at least not here). Something that makes you sick, not? Well, not really as there's always the home cinema and from now on you can find Oculus in the shops. After Absentia Mike Flanagan proves again that he wants to be a director who has a very own vision on the horror concept. There's more atmosphere than blood here, and it's kind of obvious that he's influenced by both 90's Japanese gore and the contemporary work from James Wan.
Don't take us wrong, we really love it when limbs are flying over the television screen, but sometimes a moving sheet can be creepy as well. It's not the first, and it definitely won't be the last time that a mirror is the main element from a horror movie. The mirror itself does nothing, but everyone who gets it comes to his or her end. Or they die in a car accident, kill themselves or in the case of brother and sister Tim (Tim Russell) en Kaylie (Karen Gillan) the father murders the mother. Years later Tim is free from the asylum. At the entrance sister Kaylie awaits him with a very nice surprise. She found the mirror at an auction and has moved the furniture back to the old house where the drama happened. Along with her brother she wants to investigate if the mirror is the source of all evil.
Flanagan uses clichés, but he succeeds in avoiding all the bad elements that are typical for this type of movies. The story isn't that original, but good enough to have the full attention of the viewer without getting bored. The performances are more than good. You see that Flanagan uses elements from the big examples, but in a way he transforms them to his own thing and that makes Oculus better than the rest. Recommended if you like this style, even if you're bored by it!
Oculus is out on DVD and Blu-ray via E One.
Didier BECU
20/10/2014
---
Het gebeurt niet vaak dat critici enthousiast zijn over een lowbudget horrorfilm en als er dan toch een positief schrijfsel wordt gepubliceerd dan haalt de prent met moeite de cinema. Balen toch? Nou ja, gelukkig is er de thuisbioscoop, want vanaf nu kun je Oculus in de winkelrekken aantreffen. Na Absentia is dit alweer een horrorfilm van Mike Flanagan die hiermee bewijst dat hij een regisseur is die zijn stempel op het genre wil drukken. Deze Amerikaan wil vooral imponeren met sfeer (een ideale combinatie van de Japanse gore uit de jaren 90 en het recente werk van James Wan).
Neen, we houden er best wel van als de ledematen over het scherm slingeren, maar soms kan een bewegend laken ook best griezelig zijn. Het is niet de eerste keer (en het zal ook niet de laatste keer zijn) dat een antieke, mysterieuze spiegel de hoofdrol vertolkt in een horrorfilm. Neen, de spiegel zelf doet niks, maar er gebeurt wel iets vreselijks met de eigenaars ervan. Of ze komen om in een auto-ongeluk, ze stappen uit het leven of zoals in het geval van broer en zus Tim (Tim Russell) en Kaylie (Karen Gillan) grijpt er een gezinsdrama plaats. Jaren later wordt Tim uit het psychiatrisch ziekenhuis ontslagen. Zus Kaylie wacht hem op en heeft een "leuke" verrassing voor hem. Ze heeft op een veiling de spiegel op de kop kunnen tikken en heeft het meubelstuk naar het huis verplaatst waar de moord heeft plaatsgevonden. Samen met haar broer wil ze onderzoeken of de spiegel de oorzaak is van de tragedie of niet.
Flanagan gebruikt wel clichés, maar hij weet wel op één of andere wijze de slechte elementen die meestal typisch voor deze genrefilms zijn eruit te halen. Zo is het verhaal wel niet bijster origineel, maar kan de kijker toch anderhalf uur boeien. Ook de acteerprestaties zijn van een meer dan behoorlijk niveau. Flanagan jat wel uit de grote voorbeelden, maar komt uiteindelijk toch met een individueel werk op de proppen. Een film als Oculus heb je zeker al eerder gezien, maar deze behoort wel tot het hoopje van de betere uit zijn soort.
Oculus is nu uit op dvd en Blu-ray via E One.
Didier BECU
20/10/2014
---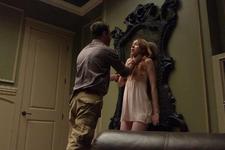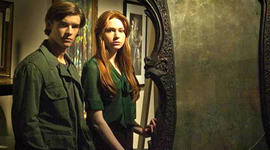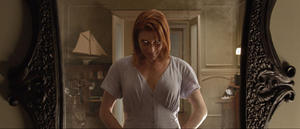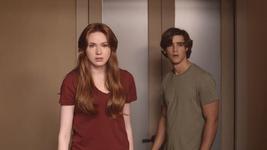 ---