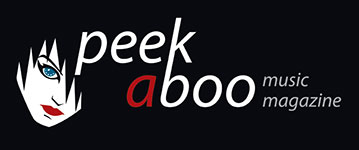 like this cd review
---
DECODED FEEDBACK
Dark Passenger
Music
•
CD
Dark Electro
•
EBM
•
Electro
[81/100]

Metropolis Records
10/12/2016, Jurgen BRAECKEVELT
---
Metropolis Records just released Dark Passenger, the brand new album of the Canadian duo Decoded Feedback which is formed by Marco Biagiotti and Yone Dudas. It is a de luxe version with 20 songs. Decoded Feedback is between electro and EBM, with harsh and heavy songs.
Dark Passenger opens with beautiful vocals and synths, the prelude to the more danceable and uptempo Waiting For The Storm. Behind My Smile sounds milder, although the message is clear: Behind my smile there is a hurting heart, behind my laughs I'm falling apart. Closely look at me (and) you'll see, the man I am, just in't me... Not exactly what you call happy lyrics! A Lonely Place has the same tormented vibe: dark lyrics about anger, despair, confidence, but finally... love.
Nowhere has the same musical style and content. Duality has the sound and arrangement of Blutengel: dark beats that are not hard, but danceable, with a nice melody. Kill The Hate is a plea for peace, although that is a myth...
When I Lose Myself is a subdued song with a very soft synth part that sounds almost classical. Falling Down is synth pop of a high standard. Damaged Goods sounds similar, but with lots of distorted vocals.
Now And Forever, Dead Inside, How To Destroy A Planet Pulse Code Attack, Terrible Instincts, and Strange Times are all danceable EBM songs. Warm Leatherette is of course a cover of the classic by The Normal and is recognizable from the first notes. The song is treated with respect. We Fade To Grey passes in a peaceful way, Electric Tsunami is a minimal/synth wave-like song, a nice change on a very quirky and diverse album.
Blood Field brings us back to peace after a lot of emotions, impressions and thoughts.
Dark Passenger has something for everyone, from quiet to pure EBM. Lyrically, it's all a bit heavier as it deals with pain, doubt, mental worries, anger and disappointment. A strong album on which Decoded Feedback shows its various faces in 20 tracks.
Jurgen BRAECKEVELT
10/12/2016
---
Het Metropolis Record-label brengt de nieuwe cd Dark Passenger uit van het Canadese duo Decoded Feedback (de Italiaan Marco Biagiotti en de Hongaarse Yone Dudas). Het gaat om een deluxe-versie met 20 songs. Decoded Feedback kunnen we situeren tussen electro, EBM, met hier en daar een vleugje harsh en stevige songs.
Dark Passenger opent deze kanjer van een plaat op een vrij zachte en innemende wijze met mooie zangpartijen en vrij licht synthwerk, het voorspel voor dansbaarder en dus meer uptempo geluid in Waiting For The Storm. Behind My Smile is milder, hoewel de boodschap in deze song dat niet meteen is: Behind my smile there is a hurting heart, behind my laughs I'm falling apart. Look at me closely (and) you'll see, the man I am, just isn't me... Niet meteen rozengeur en maneschijn. A Lonely Place bevat diezelfde getormenteerde vibe: donkere teksten over woede, radeloosheid, vertrouwen, maar finaal toch... liefde.
Nowhere sluit daarbij aan qua muzikale stijl en inhoud. Duality doet qua klank en arrangement denken aan Blutengel: darkbeats die niet snoeihard maar dansbaar zijn, met een leuke melodie. En het zal u niet verbazen dat een song met als titel Kill The Hate (een pleidooi voor vrede) beladen klinkt: Peace is a myth...
When I Lose Myself is een ingetogen song met een heel zachte muzikale synthpartij die nagenoeg klassiek klinkt. Falling Down is synthpop van hoog niveau. Ook Damaged Goods klinkt als synthpop, met flink wat vervormde vocalen.
Now And Forever, Dead Inside, How to Destroy A Planet, Pulse Code Attack, Terrible Instincts, en Strange Times zijn stuk voor stuk EBM-songs, dansbaar en steviger in het zadel dan de andere pareltjes die het duo aflevert. Warm Leatherette is een cover van de klassieker van The Normal en is herkenbaar vanaf de eerste noten. De song wordt bovendien met respect behandeld. We Fade To Grey kabbelt rustig voort, Electric Tsunami is een minimal/synthwave-achtige song, een leuke afwisseling op een heel eigenzinnige en diverse langspeler.
De afsluiter Bloodfield brengt ons terug tot rust na de vele emoties, indrukken en bedenkingen in het songmateriaal.
Als geheel bevat Dark Passenger voor elk wat wils, van rustig en ingetogen materiaal to pure EBM en afgeleiden. Tekstueel is het allemaal wat zwaarder, van vrolijkheid is er weinig sprake: pijn, twijfel, mentale beslommeringen, woede, ontgoocheling en toch rechtop blijven staan, het zijn allemaal thema's die in de songs aan bod komen. Een sterke plaat waarin Decoded Feedback in 20 tracks z'n diverse gezichten toont. Het is een band die al lang meedraait en die met deze schijf zijn plaats zeer nadrukkelijk opeist tussen de besten in het genre.
Jurgen BRAECKEVELT
10/12/2016
---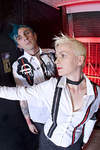 ---