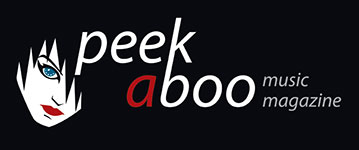 like this cd review
---
DEAD WHEN I FOUND HER
All The Way Down
Music
•
CD
Electro
•
Industrial
[91/100]

Artoffact
22/11/2015, Benny CALUWE
---
Even though we live in the digital age, I 'm the man who keeps reviews in maps and who writes everything down in notebooks. They're filled with titles of books and albums, names of songs and bands that I should check out one day. In one of these notebooks the name of Dead When I Found Her is writtendown, followed by several exclamation points. While All The Way Down is the third album, it is also my first introduction to the project of Arthur Holloway from Portland, Oregon. Checking out the many names in my notebook is a real hard job. Where do those exclamation points come from, I wonder ? Perhaps because their second CD Rag Doll Blues was mentioned in the top 10 of 2012 on I Die: You Die.com (named after the Gary Numan song, just as we are named after a song by Siouxsie And The Banshees).

All The Way Down is a concept album about death from an unusual point of view. Not the blood and gore of death metal, nor the romantic side of death. All The Way Down is about the hard reality of aging and illness, the fear, the despair, the physical and mental decay, the inevitable end of life. An album that invites you to think about it. All The Way Down proves that electro-industrial doesn't have to be written for the dance floor to be vivacious.

Dead When I Found Her is occasionally reminiscent of Skinny Puppy, both musically and vocally. Holloway makes dark, layered electro-industrial. Expiring Time starts with an ambient intro. It's an atmospheric, pin point composition with many details. The Unclean stands out because of its nervous percussion. Holloway frequently uses well chosen samples.

Processed vocals often bother me, but not here. Hollow uses the effect efficiently. During the mellow Threadbare and the menacing Gathering Fear, the vocals are processed with effects. The different voices seem to have an internal dialogue.

All The Way Down is mainly downbeat, but varied. Downpour sounds spherical with a hint of trip hop. Misericordia sounds cinematographic. Blood Lesson reminds me of the 80's electro-industrial. Seeing Red is up tempo with uplifting percussion and noise. The Noise Above Us contains ambient elements and female vocals. The album ends with the epic At Rest.

The 70 minutes long album All The Way Down requires some effort from the listener. Try it, you get a lot in return. Although the music is somewhat complex and dark, it is still freely accessible due to the recognizable melodies. This album is an absolute must for fans of Skinny Puppy, Front Line Assembly and Mentallo & The Fixer. Perhaps the electro -industrial album of the year.
Benny CALUWE
22/11/2015
---
Ook al leven we in het digitale tijdperk, ben ik de man van de knipselmappen vol recensies en de notitieboekjes. Schriftjes vol titels van boeken en albums, vol namen van nummers en bands die ik eens moet checken. In één van die schriftjes staat de naam van Dead When I Found Her, gevolgd door een aantal uitroeptekens. Hoewel All The Way Down het derde album is, is het tevens mijn eerste kennismaking met het project van Arthur Holloway uit Portland, Oregon. De talrijke namen in mijn schriftjes uitpluizen is dan ook een heuse opdracht. Danaïden-arbeid! Waar komen die uitroeptekens vandaan, vraag ik me af? Misschien omdat de tweede plaat Rag Doll Blues, een plaatsje kreeg in de top 10 van 2012 van I Die: You Die.com (genoemd naar de Gary Numan song, zoals wij dat zijn naar een song van Siouxsie And The Banshees).

All The Way Down is een conceptalbum over de dood, met een ongewone invalshoek. Geen bloederige deathmetaltaferelen. Holloway heeft het ook niet over de romantische zijde van de dood. All The Way Down gaat over de ijskoude realiteit van oud en ziek worden, de angst, de vertwijfeling, de fysieke en mentale aftakeling, het onafwendbare levenseinde. Een album dat uitnodigt tot reflectie. All The Way Down is het bewijs dat electro-industrial niet gericht moet zijn op de dansvloer om meeslepend te zijn.

Dead When I Found Her doet bij momenten aan Skinny Puppy denken, zowel qua muziek als qua vocalen. Holloway maakt donkere, gelaagde electro-industrial. Expiring Time start met een ambient intro. Het is een atmosferische, minutieuze compositie die rijk is aan details. The Unclean valt op vanwege de broeierige percussie. Er wordt veelvuldig gebruik gemaakt van uitgekiende samples.
Ik stoor me wel eens aan bewerkte vocalen, maar hier niet. Holloway gebruikt de vocoder op een efficiënte manier. Tijdens het zachtere Threadbare en het dreigende Gathering Fear klinken de stemmen met verschillende effecten alsof ze een inwendige dialoog voeren.
All The Way Down is overwegend downbeat, maar toch gevarieerd. Het sfeervolle Downpour bevat triphopelementen. Misericordia klinkt cinematografisch. Blood Lesson doet me aan electro-industrial uit de jaren 80 denken. Tijdens Seeing Red gaat het ritme omhoog. Opzwepende percussie met noise. The Noise Above Us bevat ambiente elementen en vrouwelijke vocalen. Het album eindigt met het filmische At Rest. Een episch nummer.
All The Way Down is met zijn ruim 70 minuten enr 10 tracks geen hapklare brok en vraagt enige inspanning van de luisteraar. Laat je daar niet door afschrikken, je krijgt er veel voor terug. Hoewel de muziek enigszins complex en donker is, is ze toch vrij toegankelijk wegens de herkenbare melodieën. Deze plaat is een absolute aanrader. Fans van Skinny Puppy, Front Line Assembly en Mentallo & The Fixer zullen ze zeker appreciëren. Misschien wel het electro-industrial album van het jaar.
Benny CALUWE
22/11/2015
---