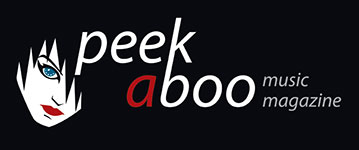 like this cd review
---
AMORPHOUS
Behaviourism
Music
•
CD
EBM
•
Electro
•
Industrial
[88/100]

Semantics Productions
19/11/2015, Jurgen BRAECKEVELT
---
Gil Os is the ex-frontman of the Brazilian industrial act Morgue Mechanism, and Amorphous is his new solo project. The label Semantics Productions releases Behavourism via the digital way and on red CD's (of course in a limited edition).
Behavourism contains some fascinating stuff, it is a collection of danceable songs that can be labelled as EBM with an industrial touch. The drum machines with tight beats and melodies that come from many synthesizers, are topped with a distorted voice.
The opening track Lucid Dreams has a superb old school EBM drumbeat. The electronic sounds and the many bleeps are just a foreplay, soon after you'll hear very danceable songs in the most diverse styles.
Less Is More is a feat of sounds and beats, you get the illusion that they are involved in a fight with each other. It is not the best song on the CD, but unique because of its structure.
Due to the EBM beat Wolf & Lamb sounds irresistible, with a melody that could fit the better dance hit, but again with a dark sound.
Four Paths is again another style. It sounds a bit mimimal because of the 80's synths.
Akasha is more drum 'n' bass inspired. It's trance and dreamy. In Immortality the tough dark beats return!
The remixes are done by befriended bands: 2nd Face, Homicidal Feelings, Cybernetic Faces of Aesthetic. Lucid Dreams and Less Is More are reworked in other electro styles, mostly with aggressive beats and aggrotech and industrial sounds. Nevertheless, the songs remain recognizable and they are also good.
Behaviourism is ideal for lovers of EBM, hard electro and industrial.
Jurgen BRAECKEVELT
19/11/2015
---
Vanuit de UK laat bezieler Gil Os (ex-frontman van de Braziliaanse industrial act Morgue Mechanism) ons genieten van zijn nieuw solo-project Amorphous. Het label Semantics Productions brengt het zowel uit via digitale weg, als op rode cd's (en natuurlijk in een beperkte oplage).
Behavourism bevat boeiend werk, een collectie dansbare songs die als EBM met een industrial tintje kan worden gecatalogiseerd. De drumcomputers met strakke beats en de melodieën, gemaakt met veel synthesizers, worden overgoten met een stemgeluid dat een karrevracht distortie bevat.
Het openingsnummer Lucid Dreams heeft een oldschool EBM-drumbeat om u tegen te zeggen. Het elektronische geluid en de vele bliepjes die je hoort zijn een voorbode van wat volgen zal: heel dansbare nummers in de meest diverse stijlen.
Less Is More is een huzarenstukje van klanken en beats, je hebt de illusie dat ze met elkaar in een gevecht zijn verwikkeld. Na een dikke minuut vloeit dit naadloos over in een alweer donker dansbaar nummer. Niet het beste nummer op de cd, maar wegens zijn opbouw heel uniek.
Wolf & Lamb is een nummer dat alweer aanstekelijk werkt door de EBM-beat, met hier en daar wat flarden melodie uit de betere danshit, maar ook hier klinkt het donker.
In het nummer Four Paths wordt weer uit een ander electrovat getapt. Het klinkt iets meer mimimal door de synthklanken die rechtstreeks uit de 80s komen.
Akasha draagt dan weer een drum 'n' bass-achtig jasje. Het is een iets meer trance, zweverig en dromerig. In Immortality worden dan weer de snoeiharde darkbeats door de boxen gejaagd.
De remixes die volgen zijn afkomstig van bevriende bands: 2nd Face, Homicidal Feelings, Cybernetic Faces of Aesthetische. De nummers Lucid Dreams en Less Is More worden door nog andere electromolens gehaald en zijn leuk om te horen. De meeste krijgen een agressiever tintje door de beats, alsook meer aggrotech- en industrialgeluiden. Desalniettemin blijven de songs herkenbaar en zijn ze bovendien nog goed ook.
Voor de liefhebbers van EBM, hardere electro en industrial is Behaviourism een absolute aanrader.
Jurgen BRAECKEVELT
19/11/2015
---