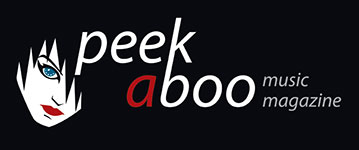 like this cd review
---
PRO-PAIN
The Truth Hurts
Music
•
CD
Crossover
•
Groove Metal
•
Hardcore
[76/100]

Steamhammer/SPV
11/12/2016, Benny CALUWE
---
1994 album The Truth Hurts is the second of Pro-Pain, the New York based hardcore band of vocalist/bassist Gary Meskil. It came 2 years after their debut Foul Taste Of Freedom. Just as the debut, The Truth Hurts is re-issued, re-mastered off course.
The sophomore album is the successful continuation of its predecessor. You can hear a bit more hardcore and rap influences than on Foul Taste Of Freedom. Stylish it comes a little closer to Biohazard, those other New York hardcore icons. Just as on Biohazard's State Of The World Address from the same year a rapper delivers guest vocals. While Biohazard was reinforced by Sin Dog of Cypress Hill on How It Is, Body Count's Ice-T collaborates on the Pro-Pain track Put The Lights Out.
The Truth Hurts is an energetic album. It's often considered to be Pro-Pain's finest output. Also the cover art and the booklet are a fine piece of work. The cover features a picture of a stitched-up young woman after an autopsy. In the booklet there are several pictures of crime scenes. After some controversy the original cover was changed (see pictures below). The cover art of the re-issue shows the same young women but her stitched-up y-incision is hidden behind a black square.
Highlights of the album are the Pro-Pain classic Make Ware (Not Love), Bad Blood with its great riffs, the chunky title track, the groovy One Man Army with its saxophone solo and the trashy Down In The Dumps.
Although hardcore isn't my preferred style, The Truth Hurts is diverse enough to keep me interested.
Benny CALUWE
11/12/2016
---
The Truth Hurts uit 1994 is de tweede plaat van Pro-Pain, de hardcore band uit New York rond zanger en bassist Gary Meskil. De plaat kwam er 2 jaar na hun debuut Foul Taste Of Freedom. Net als het debuut wordt The Truth Hurts heruitgebracht, geremastered natuurlijk.
The Truth Hurts is een succesvolle verderzetting van zijn voorganger. Je kunt wat meer hardcore en rapinvloeden dan op Foul Taste Of Freedom. Qua stijl benadert het Biohazard, die andere New York hardcore-iconen, Net als op State Of The World address van Biohazard levert een rapper gastvocalen. Terwijl Biohazard op How It Is versterkt wordt door Sin Dog van Cypress Hill, hoor je op de Pro-Pain song Put The Lights Out Body Count frontman Ice-T.
The Truth Hurts is een energiek album. Het wordt vaak beschouwd als Pro-Pains beste release. De originele cover liet ook indruk na. Op de hoes was namelijk een foto te zien van een jonge vrouw na een autopsie. In het boekje stonden er tevens foto's van plaatsen delict. Na enige controverse werd de hoes ingeruild (zie foto's onderaan). Op de heruitgave van The Truth Hurts prijkt de originele foto, maar de y-incisie gaat schuil achter een zwart vierkant.
Hoogtepunten van het album zijn de Pro-Painklassieker Make War (Not Love), Bad Blood met zijn coole riffs, de stevige titelsong, het groovy One Man Army met zijn saxofoonsolo en het trashy Down In The Dumps.
Hoewel hardcore niet mijn favoriete stijl is, is The Truth Hurts voldoende divers om me te blijven boeien.
Benny CALUWE
11/12/2016
---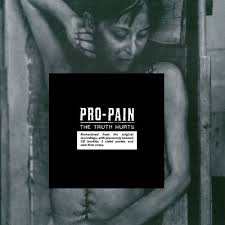 ---