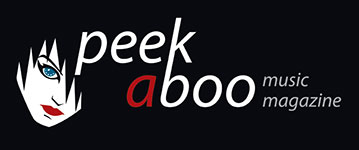 like this cd review
---
THE INSIGHT
White Noise
Music
•
CD
Cold Wave
•
Post Punk
[80/100]

Crysella records
14/05/2015, Wim GUILLEMYN
---
Fifteen years ago two brothers began with The Insight (Gaetan on vocals, guitars and keys, Aurélien on drums and electric pads). In 2013 Dulac joined the band as bass player. This French band from Rennes (Brittany) sounds like an English post punk band. After two self-released albums, they now release their third album via Crysella Records.
Musically they are positioned somewhere between post punk, cold wave and sometimes gothic rock. Bands I think of when I hear them: The Sound, She Wants Revenge, Magazine, Echo & The Bunymen… But I have to say: this is not a cat copy of a band from the 80s, because they have a personal style. Nice guitar parts, vocals that are rather 'cold wave' and a decent bass and drum. Here and there the keys sound atmospheric and give nice support to the songs. The songs are patiently build up. Starter 'One Eyed Jack' is a good one to start with: very atmospheric, nice vocals and slowly build up. I like also the guitar work on it. The dark 'Lost Souls' has guitar work that reminds me of Jesus & The Mary Chain. 'I Will', with the piano and the arrangement, is a sensitive track. Nice one! Also worth discovering: The Eyes, The Movement (nice build up) and War (very nice vocals). '6 Feet Under' is a good song, but obviously inspired by The Cure.
Interesting is that they have a lot of different types of songs in their repertoire: more sensitive stuff, some uptempo, slowly build up tracks. All easily (re)listenable. I'm curious to see them live on stage
Wim GUILLEMYN
14/05/2015
---
The Insight begon vijftien jaren geleden met twee broers ( Gaetan vocals, gitaren en keys, Aurélie, drums en electric pads). In 2013 kregen ze versterking van bassist Dulac. Deze Franse band klinkt eerder als een Engelse postpunkband, maar is afkomstig uit Rennes, Bretagne. Na twee in eigen beheer uitgebrachte albums, is nu het derde album uit via Crysella.
Muzikaal bevinden ze zich ergens tussen postpunk, cold wave en soms gothrock. Groepen die door mijn hoofd flitsen: The Sound, She Wants Revenge, Magazine, Echo & The Bunymen… Maar vrees niet, hun muziek heeft een eigen smoel en is geen kloon van bijvoorbeeld één of andere 80s-band. Fijn gitaarspel, een vocalist met wat 'cold wave'-feel in zijn zang en een degelijke bas en drum. Hier en daar zorgen keys voor de ondersteuning van de songs en de sfeer. De nummers zijn geduldig opgebouwd. Opener 'One Eyed Jack' is een prima song om mee te beginnen: heel atmosferisch, mooi gezongen en heel langzaam opgebouwd. Ook het gitaarwerk vind ik heel aangenaam. Het donkere 'Lost Souls' refereert wat aan het gitaarwerk van Jesus & The Mary Chain. 'I Will' doet door de piano en het arrangement heel gevoelig aan. Een mooi nummer! Ook het vermelden waard: The Eyes, The Movement (mooie opbouw) en War (heel mooi gezongen). '6 Feet Under' is een leuke son, maar wel erg schatplichtig aan The Cure.
Het fijne is dat ze een aantal verschillende songtypes in hun repertoire hebben: meer gevoelige dingen, wat uptempo, wat langzaam opgebouwde songs. Gaetan heeft een stem die goed bij de muziek past. Op enkele nummers hoor je hem wat zwoegen maar het is niet storend. Een aangenaam album met best wat sterke nummers. En vlot te (her)beluisteren. Erg benieuwd om ze een keer live aan het werk te zien.
Wim GUILLEMYN
14/05/2015
---