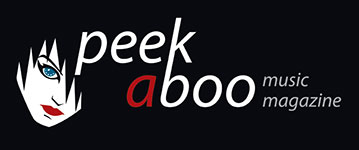 like this 7 inch review
---
BENE GESSERIT
The Record Store Day
Music
•
7 inch
Electro
•
Minimal
•
New wave
[80/100]

EE Tapes
25/06/2015, Wim GUILLEMYN
---
Here comes a short lesson in music: BeNe GeSSeRiT are a band from Wallony (the French speaking part of Belgium) that exists out of Alain Neffe and Nadine Bal who are also known under their stage name Benedict G. and B Ghola. Already from the mid 80's they released some electronic, minimal, new wave albums. First at tapes through their own Insane-abel. Today the band still exists. This EP was especially made for the record store day and released on the EE Tapes-label at where you can order several albums and EP's on vinyl from this band.
Here on this EP you'll find unreleased songs from the mid 80's. Only 'aN iNSaNe RaBBiT' has been released on a compilation called Un Lapin. Ideal for lovers of the electro from the eighties and a must have for the BeNe GeSSeRiT-fans. Out on vinyl and packed in a beautiful cover with inside some info and a photo.

Wim GUILLEMYN
25/06/2015
---
Voor wie hen niet zou kennen: BeNe GeSSeRiT is een Waalse band die uit het duo Alain Neffe en Nadine Bal alias Benedict G. en B Ghola bestaat. Reeds vanaf het midden van de jaren 80 brachten ze elektronische, minimalistische new wave uit. Eerst via cassettes op hun eigen Insane-label. Ze zijn nog steeds actief. Alain Neffe ken je waarschijnlijk ook van groepen als Pseudo Code, Human Dance of Human Flesh.
Deze EP werd speciaal voor de record store day gemaakt en op EE tapes uitgebracht: het Belgische label waarop je meerdere EP's en LP's van deze band kan verkrijgen.
Je krijgt hier geen nieuw werk te horen, maar een 7 tracks uit de jaren 80 die nog nooit werden uitgegeven. Enkel 'aN iNSaNe RaBBiT' is verscheen ooit op de compilatie Un Lapin. Twee tracks zijn amper songs te noemen, maar de andere vijf zijn dat wel. Een aanrader voor de liefhebbers van jaren 80 electro en zeker een must voor de fans van BeNe GeSSeRiT. Uitgebracht op vinyl met een mooie hoes en bijhorende foto.
Wim GUILLEMYN
25/06/2015
---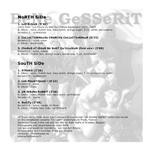 ---