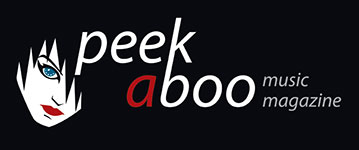 like this cult movies review
---
FRANCK KHALFOUN
Maniac
Movie
•
Cult movies
Horror
•
Slasher
[85/100]

Remain In Light
07/07/2014, Didier BECU
---
You can't really say that the career from Elijah Wood went upwards after The Lord Of The Rings. The actor who gave Frodo a film face can act, but was never able to choose the right roles. At contrary, most of the times we're talking about productions that are released straight on the video market. Apart from a viewing at the Filmfestival from Ghent, Maniac never saw a theatre in the Benelux. A real shame as this remake is by far the best movie Wood ever starred in.


You take a deep breath because you're reading the words "remake"? This arthouse-slasherfilm (you read that right!) is a new interpretation from the classic that's been made in 1980 by William Lustig, a movie that is often quoted as one of the basic stones from the genre. Director Franck Khalfoun teamed up with Alexandre Aja, the French horror director who became famous with his remake from The Hills Have Eyes. Nah good, if you think that this Maniac is just an ordinary slasherfilm you've seen a million times before then you're wrong. Don't panic as the movie contains more than enough shocking scenes. Lots of viewers will close their eyes when the camera shows in close-up how the skin is removed from the cradle or an ankle that is cut in two with a sharp knife. Despite all that, the power from Maniac is to be found in the atmosphere and the respect that Franck Khalfoun shows for his heroes.


Maniac is the sort of movie that gets people addicted to cinema. The movie tells the story from Frank (Elijah Wood), a nutcase who's been ignored by his mother and becomes a psychopath. Indeed, this sounds far from original, but we never said the story was, we're talking about the way Franck Khalfoun handles his movie. The 80's-soundtrack by Rob reminds us of Nicholas Winding Refn as the scenes in the car on the desolate Amercican boulevards could have come out of Drive.


But never mind. Khalfoun never hides his respect for the directors that inspired him and that graces him. When Frank goes with his girlfriend Anna (Nora Arnezeder) to the theatres to see Das Cabinet Des Dr. Caligari, then Franck Khalfoun shows you that he's inspired by Robert Wiene. Or by Refn or The Silence Of The Lambs. When you suddenly hear the 80's synthpop-classic Goodbye Horses by Q Lazarus then you know that he's referring to Jonathan Demme's classic. And we could go on and on. Just like Tarantino, Franck Khalfoun steals from classics but transform them into an own work. Just like in that other classic (Henry, Portait Of A Serial Killer) we follow the story through the eyes of the killer. It's not a very easy ride, simply because the protagonist is not an average person. He's sick, but intelligent (as always, of course). He wants to escape from his sick fantasy, but that's not easy. The lust for murder is just stronger. In a way you can say that Maniac is a horror movie that isn't a horror movie, at least not one that follows the usual rules. Let's say it's arthouse with a destructive undertone or simply how violence can be art. Sublime.
Didier BECU
07/07/2014
---
Na The Lord Of The Rings is het eigenlijk nooit meer goed gekomen met de carrière van Elijah Wood. De babyface die aan Frodo een filmgezicht gaf kan wel acteren, jammer genoeg slaagt hij er zelden in om er de juiste rollen uit te pikken. Vaak gaat het om releases die louter de videomarkt halen. Maniac heeft in de Benelux ook geen enkele bioscoop (op een vertoning op het Filmfestival van Gent na) gezien, toch is deze remake de beste prent waarin Wood ooit heeft gespeeld.



Je zucht omdat je het woord remake leest? Deze arthouse-slasherfilm (jawel!) is een nieuwe interpretatie van de in 1980 verschenen gelijknamige slasherfilm van William Lustig, een klassieker die door heel wat cultfans als één van de grondleggers van het genre wordt beschouwd. Franck Khalfoun werkte voor zijn versie samen met Alexandre Aja, de Franse horrorcineast die bij het grote publiek bekend raakte door zijn remake (tja, het gaat over horrorfilms!) van The Hills Have Eyes. Wie echter verwacht dat deze Maniac een doordeweeks griezelfilmpje is zal zich bekocht voelen. Niet dat er geen schrikeffecten inzetten hoor, integendeel! Menig kijker zal de ogen dichtdoen als de camera in close-up toont hoe de huid van een schedel wordt verwijderd of een enkel met een vlijmscherp mes wordt doorkliefd. Neen, de kracht van Maniac zit hem in de sfeer en vooral het respect dat Franck Khalfoun toont voor zijn filmgoden.



Maniac is het soort film dat er voor zorgt dat mensen verslaafd raken aan cinema. Het verhaal over Frank (Elijah Wood), een labiele gek die door zijn moeder is verwaarloosd en later psychopaat werd, is verre van origineel. Wel is het de manier waarop Franck Khalfoun dat doet. De eightiessoundtrack van Rob doet meteen aan Nicholas Winding Refn denken. De scènes in de auto of de desolate Amerikaanse boulevards zijn regelrecht uit Drive gepikt. Maar wat zou het? Khalfoun verbergt ook zijn inspiratiebronnen niet. Als Frank samen met zijn vriendinnetje Anna (Nora Arnezeder) naar de bioscoop trekt om naar Das Cabinet Des Dr. Caligari te kijken, dan wil Franck Khalfoun gewoon aantonen dat hij door Robert Wiene is beïnvloedt. Net als Refn. Als plots de 80's synthpopklassieker Goodbye Horses van Q Lazarus uit de speakers knalt, dan weet iedere cinefiel dat dit een verwijzing is naar The Silence Of The Lambs. En zo kunnen we een tijdje doorgaan. Net als Tarantino steelt ook Franck Khalfoun uit allerlei klassiekers en tovert na afloop een zeer individueel werk tevoorschijn. Net zoals in die andere klassieker uit het genre (Henry, Portait Of A Serial Killer) volgen we het verhaal via de ogen van de psychopaat. Het is een allesbehalve gemakkelijke filmrit, want zijn hersenen liggen nu eenmaal overhoop. Als de moordenaar na het plegen van een moord zijn handen wast met staalwol, wil hij dan de zonden van zijn handen wassen? Frank wil weg uit de gevangenis in zijn hoofd, toch is dat niet eenvoudig. De lust naar moord is nu eenmaal sterker dan de drang om mooi in het rijtje te lopen. Maniac is een horrorfilm die geen horrorfilm is. Arthouse met een zeer destructief kantje dus, of hoe verheerlijking van geweld kan leiden tot ultieme kunst. Niet te missen, in huis halen is de boodschap.
Didier BECU
07/07/2014
---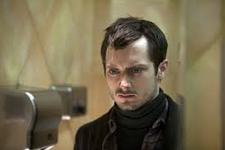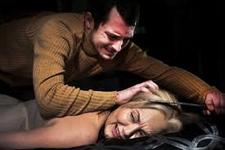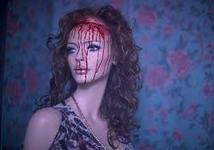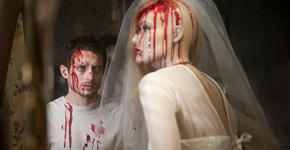 ---