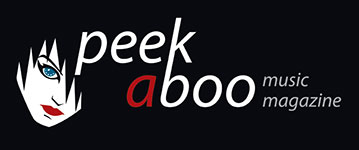 like this cult movies review
---
BOB CLARK
Porky's
Movie
•
Cult movies
Comedy
•
Coming Of Age
[65/100]

Arrow
01/07/2014, Didier BECU
---
American critics couldn't understand it, but back in 1982 Porky's was one of the most successful films of that year. The main reason was of course the boom of the videotape. Out of a sudden everyone could turn his living room into a home cinema. People started renting films or recording them from telly. The most wanted titles were of course the forbidden fruits. Young people were watching Tootsie, but most of all they wanted to see some nudity. Even when Porky's has a rather innocent look in 2014, lots of people were putting Bob Clark on the cross for daring to spread such immoral things. It looked like the director didn't care as a year later he made Porky's II: The Next Day. Later on, others were making Porky's Revenge and the almost forgotten Pimpin' Pee Wee.


Anyone who knows something about cinema, will never dare to say that Porky's is a good movie. Technically speaking surely not, but this comedy has put a real stamp on the 80's. You can even state that the movie caused the boom of the teen sexcomedy. A genre that was immensely popular in the 80's, just think of My Tutor, Screwballs, The Last American Virgin or Risky Business. Later it all got rougher when the brothers invented American Pie, but Porky's remains the mother of that style.


The story itself is incredible simple. We follow some horny teen guys in Florida at the Angel Beach High School during the 50's. They only think about the ultimate way to satisfy their sexual needs. Nerd Pee Wee (Dan Monahan) and his friends really want to do everything to see some boobs. If the girls from their college are sending them away, they seek fortune in a nearby striptease bar named Porky's, but it also ends in a disaster.


Porky's is certainly not a masterpiece, but there are plenty of memorable scenes included that no one will ever forget. There is the one in the shower, the part in where Kim Cattrall (the later Sex & The City-star) turns out to be Lassie in bed (we kid you not) and of course the one in where gym teacher Balbricker (Nancy Parsons) is getting fooled by her colleagues when she makes a complaint against the horny guys.


Let's not beat about the bush: Porky's is a bit dated, but at the same time irresistible too. Today you keep on wondering why back then you kept on rewinding some parts as all by all the movie is, compared to today's standards, quite innocent. All what rest is a portion of great melancholy!


Porky's is released in Europe on Blu-ray on Arrow. It's the same transfer as the one that's being used on the US-release on 20th Century Fox. There are some extra's included too. In Porky's Through the Peephole director Bob Clark tells how difficult it was to get this project get arranged. Finally there's Skin Classic! in where Mr. Skin reveals you in a nutshell the history of the sex comedy. Incredible what you learn when reading Peek-A-Boo, not?
Didier BECU
01/07/2014
---
De Amerikaanse filmcritici begrepen er geen snars van, maar Porky's werd wel in 1982 de vijfde meest bekeken film. Dat alles had natuurlijk met de opkomst van de videotape te maken. Plotseling kon iedereen zijn huiskamer tot cinema omtoveren. Men ging massaal films huren of nam die van de televisie op. De meest begeerde titels waren natuurlijk de verboden vruchten. Jongeren keken wel naar Tootsie, maar nog liever wilden ze films op de buis waar heel wat bloot aan te pas komt. En alhoewel Porky's anno 2014 er als een allesbehalve gedurfde film uitziet, werd hij destijds door heel wat moraalridders aan het kruis genageld. Wellicht zal het regisseur Bob Clark ook geen moer hebben gescheeld, want een jaar later maakte hij het vervolg Porky's II: The Next Day. Later maakten anderen nog Porky's Revenge en in 2009 verscheen zelfs de volledig vergeten Pimpin' Pee Wee.



Wie iets van cinema afweet zal het nooit in zijn hoofd halen om Porky's goed te vinden, toch heeft deze prent een onuitwisbare stempel op de jaren 80 gedrukt. In het kielzog van American Graffiti werd hiermee immers de sekskomedie voor tieners geboren. Een genre dat in de jaren 80 hoge toppen scheerde, denk maar aan My Tutor, The Last American Virgin of Risky Business. Later werd het nog wat gortiger toen de broerjes Weitz American Pie bedachten. Maar Porky's blijft nog altijd de moeder van dit genre.



Het verhaal is eigenlijk ongelooflijk simpel. In het Florida van de jaren vijftig volgen we enkele pubers op de Angel Beach High School die maar één ding voor oog hebben: zo vlug mogelijk met een vrouw het bed induiken! Pee Wee (Dan Monahan) en zijn vriendjes hebben er alles voor over om een paar blote borsten te zien. Als de meisjes uit hun college de geile jongens de laan uitsturen zoeken ze hun heil in de nabijgelegen stripteasetent Porky's, maar ook daar loopt het verkeerd af.



Porky's is wel geen meesterwerk, maar bezit talloze scènes die iedere veertiger zich nog levendig voor de geest zal kunnen halen: de douchescène, Kim Cattrall (de latere Sex & The City-ster) die Lassie in bed wordt (hmmm, jawel) en natuurlijk ook die waarin gymlerares Balbricker (Nancy Parsons) door haar collega's wordt uitgelachen wanneer zij een aanklacht tegen de hitsige jongens bij de directie indient.



Laten we er geen doekjes omwinden: Porky's is gedateerd, maar tegelijkertijd onweerstaanbaar. Je vraagt je zelfs af waarom je destijds de videotape steeds heen en weer hebt gespoeld, want al bij al is deze film uiterst braaf. Wat rest is een flinke brok fijne melancholie.



Porky's is in Europa op Blu-ray te vinden op Arrow die trouwens dezelfde transfer gebruikte als die van de in de States verschenen versie van 20th Century Fox. Er zijn heel wat extra's aanwezig. In Porky's Through the Peephole vertelt regisseur Bob Clark hoe moeilijk het was om deze film te draaien (niemand geloofde in het project). In Skin Classic! onthult Mr. Skin je de geschiedenis van de sekskomedie. Wat je allemaal niet leert bij het lezen van Peek-A-Boo, niet?
Didier BECU
01/07/2014
---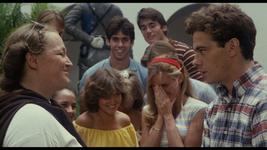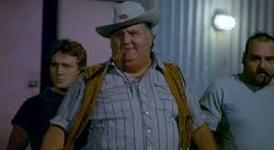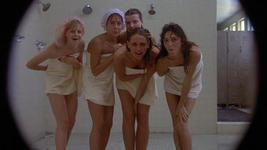 ---