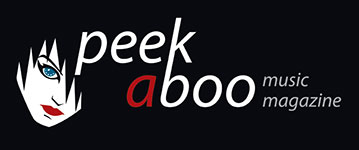 like this cd review
---
GOD MODULE
Prophecy
Music
•
CD
Harsh Electro
•
Hellelectro
[85/100]

Metropolis Records
29/09/2015, Ruben SAEY
---
Since a long time God Module is a guarantee for dark electro which is often labelled as harsh electro or hellectro. With their seventh album Prophecy, the group releases another dark and solid new album.

The album starts with Wasteland, a melody that reminds me of a children's song and then takes a complete different turn that plunges you into the black hole. The tune is provided with the necessary beats, and the voice that is coming out of that black hole, leaves little to the imagination. This is God Module as God Module should sound like!

The album continues with Second Coming, a strong song in true EBM style. Here and there the sound is laced with dreamy synths, while the vocals and the beats do the rest. The difference in style with the opening song arouses the curiosity for the rest of the album. The diversity of each track excludes every chance of boredom.

A big surprise for me was Claws: it does what claws do! It grabs you out of the thumping beats so you can breathe for a moment. The song is a haven o this album, mysterious soundscapes, the beats are away and the distortions on the vocals are switched off for a few moments.

Abduction shows another different face of the band: it's more friendly, the beats are still there, but not as hard as in the first part of the album. In We Are Legend, I get a strong Joy Division feeling, as the song could be an electro version of Atmosphere: a very danceable song with soft synths, without losing the God Module sound.

Deceit is again full of pounding beats, dark synths and lots of distortion. This very varied God Module album closes with Transform: a song that goes on until everyone is on his knees. I am sure that Prophecy contains a lot of dancefloor killers.
Ruben SAEY
29/09/2015
---
God Module staat al jaren garant voor donkere electro, die ook vaak harsh- of hellectro wordt genoemd en ze brengen met de regelmaat van een klok nieuw materiaal uit. Ook nu komt de groep met een bijzonder duister en stevig nieuw album naar buiten. Prophecy is ondertussen het zevende album, ten minste als je ook hun eerste twee in eigen beheer uitgebrachte albums meerekent.
Het album start met Wasteland, een melodietje dat me aan één of ander kinderliedje doet denken om dan een complete bocht te nemen en zo het zwarte gat induikt. Het melodietje wordt voorzien van de nodige beats en de stem die uit dat zwarte gat klinkt laat weinig aan de verbeelding over. Dit is God Module zoals God Module moet klinken!
Het album gaat door met Second Coming, een sterk intro in ware EBM-stijl. Hier en daar is het wat doorspekt met zweverige synths, terwijl de vocals en de beats de rest doen. Het verschil in stijl met het openingsnummer prikkelt de nieuwsgierigheid naar het vervolg. Die verscheidenheid gaat bij elke track verder waardoor elke kans op verveling de kop wordt ingedrukt. Een grote verassing voor mij was het vijfde nummer Claws: het doet wat klauwen doen. Het grijpt je even uit de bonkende wereld van stomende beats en duistere dansvloeren zodat je eventjes op adem kan komen. Het is een rustpunt op dit album, mysterieuze soundscapes, de beats worden even achterwege gelaten en de distortions op de zang worden voor een paar ogenblikken uitgezet. Deze rustpauze is aangenaam, maar wie God Module kent, weet dat dit niet van lange duur zal zijn.
Met Abduction toont de band een iets ander gezicht: wat vriendelijker, de beats zijn er nog wel, maar toch niet zo dreunend als in het eerste deel van het album. Bij We Are Legend krijg ik een sterk Joy Division-gevoel, omdat het nummer zo een electroversie van Atmosphere zou kunnen zijn. Deze sfeer blijft heel het nummer lang wel ergens subtiel aanwezig. Een heel dansbaar nummer met ook hier iets meer aandacht voor de zachtere kant van de synths, dit alles zonder de God Module-sound te verliezen. Na enkele zachtere nummers steekt de band met Deceit meteen weer het vuur aan de lont. Een strak tempo, beukende beats, donkere synths en ook de distortionknop staat weer aan. Dit heel gevarieerd, maar op en top God Module-album, wordt afgesloten met Transform waarin alle registers open gaan tot iedereen op de knieën zit. Ik ben er zeker van dat er in Prophecy weer heel wat dancefloorkillers zitten.
Ruben SAEY
29/09/2015
---