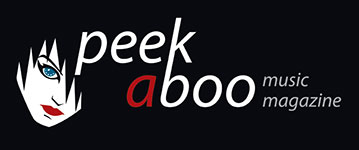 like this cd review
---
HOCICO
Artificial Extinction
Music
•
CD
Dark Electro
•
Harsh Electro
•
Industrial
[93/100]

Out Of Line
09/07/2019, Jurgen BRAECKEVELT
---
From far away Mexico the new Hocico reaches our continent. Yet again an extremely aggressive harsh / industrial sounding album called Artificial Extinction. Erik Garcia and Oscar Mayorga provoke their machinery again and this to unprecedented heights and aggression. The band that entered the stage for the first time in 1994 meanwhile released lots of music for the electro-loving mobs. Wondering what they have to offer to us this time...
And we don't have to wait long to be sucked into their pitch black dark electro. They seem to have a patent on this style and even more! 'Dark Sunday' immediately makes this clear. The melody, typical of them and cheerful in themselves, is supported by immense dark beats. And they have a go at it, slow but yet with extremely exciting pace. You can already smell the rubber odor of the dancing shoe soles scorching. It gives me the impression that they are tuned a bit lower than ever before. The fact that this duo is not devoid of more cinematic / spherical music is nothing new neither. With 'El Ballet Mecanico' we get an electro track with a lot of diversity. Quite simple and modest, but with a strong dose of distortion and other raped sounds and lyrics it delivers a solid kick in the ass. 'Blinded Race' can be classified in the same category. 'Breathing Under Your Feet' maybe also, although more techno influences mingle with their rather classical sound. A gem, without a doubt!
We know stage animal Erk does not need much time to take a thorough breath. So after some relative peace it's full throttle again with title song 'Artificial Extinction'. Pounding harsh electro with a lot of aggression and anger in the vocal parts.
'Shut Me Down' is another blast until the end. Unashamed and with a lost sense of reality, unstoppably aggressive, … It reminds me a bit of the style represented by the Belgian harsh electro-icon Suicide Commando.
Tanzen und Im Rhytmus Bleiben we often read on T-shirts and sweaty tattooed EBM bodies. Hocico carries the opinion. 'Psychonaut' is another blissful, rather dark song. Excessively slow dark beats that still give you some time to breath... Although the aggression continues to siege with 'Damaged', 'Cross The Line' and 'Palabras de Sangre' that is topped with a firm dose of old school EBM sauce.
The fact Hocico is familiar with various styles becomes clear again with the closing track 'Quite Zone (In Dead SIlence)' which balances on the thin lines between dark electro, future pop and synth pop. And does it matter? Nope!
With Artificial Extinction Hocico delivers another beautiful work of art. The duo has remained unbelievably strong and steady going since 1994, with their unabashedly aggressive electro. They also continue to produce music at a high pace and, as far as I'm concerned, they can continue for ever!.

OUT OF LINE
Jurgen BRAECKEVELT
09/07/2019
---
Uit het verre Mexico waait een nieuwe Hocico binnen. Het alweer extreem agressieve harsh/industrial klinkende Artificial Extinction. Erik Garcia en Oscar Mayorga tergen weer de machinerie tot ongekende hoogte en agressie. De band die in 1994 voor het eerst een podium besteeg, liet al geweldige muziek op het electro-minnend gepeupel los. Benieuwd wat ze nu in petto hebben.
Lang hoeven we niet te wachten om meegezogen te worden in diepe donkere electro. Dark Sunday maakt meteen duidelijk dat ze er meer dan een patent op hebben. De hen typerende en an sich vrolijke melodie wordt geruggesteund door immense dark beats. En die gaan tekeer op een gezapig maar uitermate opzwepend tempo. Je ruikt nu reeds de door het dansen schroeiende rubbergeur van de schoenzolen. Mij geeft het de indruk dat ze nog wat tonen dieper zijn getuned dan ooit voorheen. Dat het gezelschap niet gespeend is van wat meer filmisch/sferische muziek is ook niets nieuws. Met El Ballet Mecanico krijgen we een electro-stukje met heel veel diversiteit. Vrij eenvoudig en ingetogen, ondanks een stevige dosis distortie en andere verkrachte tonen die het lyrische een stevige trap onder het kontwerk geven. Blinded Race valt in dezelfde categorie te classeren. Breathing Under Your Feet eventueel ook. Hoewel hier meer techno-invloeden doorheen het eerder klassiek klinkende geluid fietsen. Een pareltje, zonder enige twijfel.
We weten dat het podiumbeest Erik niet veel tijd nodig heeft om even een grondige teug adem tot zich te nemen. Dus na de relatieve rust, terug vol gas met de titelsong Artificial Extinction. Stampende harsh electro met de agressie en kwaadheid in het vocale deel.
Shut Me Down is weer zo'n knaller over de gehele lijn. Onverdroten en zonder enige zin voor realiteit. Onstopbaar agressief en het doet me denken aan de stijl die we van het Belgische harsh electro-icoon Suicide Commando in grote mate krijgen voorgeschoteld.
Tanzen und Im Rhytmus Bleiben. Aan het Duitse front lezen we het op T-shirts en zien we het getatoeëerd op menig bezweet EBM-lijf. Hocico is van hetzelfde gedacht. Psychonaut is een zalige vrij donkere song. Tergend trage darkbeats die je nog de kans bieden wat lucht te happen... hoewel. De agressie mag tomeloos verder zegevieren met Damaged, Cross The Line en een door een stevige dosis old school EBM-saus overgoten Palabras De Sangre.
Dat Hocico op verschillende fronten thuis is wordt duidelijk met de afsluiter Quite Zone (In Dead SIlence) dewelke balanceert op een zone tussen dark electro, future pop en synthpop. Maar maakt het ook maar één moer uit? Nope!
Hocico levert alweer een prachtwerk af. Het duo blijft ongelooflijk overeind, al sedert 1994, met hun onverdroten agressieve electro. Ze blijven ook aan een hoog tempo muziek maken. En wat mij betreft mogen ze dat blijven doen.
Jurgen BRAECKEVELT
09/07/2019
---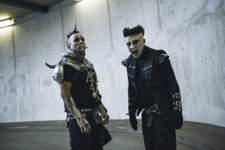 ---