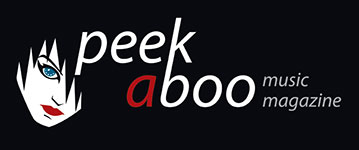 like this vinyl / digital review
---
RADERKRAFT
Smart Control
Music
•
Vinyl / Digital
Minimal
•
Synth Wave
[96/100]

03/06/2019, Jurgen BRAECKEVELT
---
Amazement, joy, a touch of emotion. Or being struck in a small place deep into your soul. At unexpected moments. That's how I felt at Waveteef, when Raderkraft stroke the audience with its minimal synthwave in an underground vault. This is the project of the Dutch/Amsterdammer Willem Stinissen. He presented his EP Smart Control. And this was my feeling: anyone can hear this...
Raderkraft is purely minimal. An arsenal of analog synths performing a swan dance and resulting in musical gems. Namely 4 on this EP.
Smart Control excels by its simplicity. It sounds retro, like early eighties. Minimal covered with distorted vocals sounding cacophonic and yet still symphonic. Same thing with Sonne. Beauty without frills. You can perceive some slightly more contemporary tones, but with arrangements from the past.
In Hinter Den Bergen you will hear some more introvert and deeper sounds, as well as more recent synthwave. It gives you a kind of trance feeling and completely pulls you into yourself. Then the wonderful outro song of this EP, Du Bist Meine, rolls out like a TGV. Tight tempo, bone-dry analog drums producing a nicely danceable rythm. On top of that a good supporting bass line and a melodic synth parade of endless beeps. A song that may last endlessly once you get into that state of surrender.
Raderkraft has everything that makes minimal so beautiful. It sounds like heaven, it is heaven and also live it is a direct hit. Go get it online, order their vinyl and enjoy. This is a joyful ride….
Jurgen BRAECKEVELT
03/06/2019
---
Verwondering, blijdschap, een vleugje ontroering zelf. Of noem het getroffen worden in een klein plaatsje, ergens diep in de ziel van je zijn. Het treft je soms op onverwachte momenten. Zo overkwam het mij tijdens een avondje minimal op Waveteef, toen Raderkraft het publiek in een ondergronds gewelf mocht beschieten met zijn minimale synthwave. Mij tot dat moment onbekend. Het is het project van de Nederlander/Amsterdammer Willem Stinissen. Hij stelde er zijn EP Smart Control voor. Toen al bekroop me het gevoel van: dit mag iedereen horen….
Raderkraft is minimal in een heel pure vorm. Een arsenaal aan analoge synths die op een geweldige manier een zwanendans uitvoert die resulteert in muzikale pareltjes. En zo krijgen we er 4 op deze EP.
Smart Control is uitmuntend in zijn eenvoud. Heel erg retro klinkend ook, vroege eighties. De minimal die met overstuurde vocalen bedekt als kakafonie georchestreerd is, maar toch symfonisch samenklinkt. En met Sonne meer van hetzelfde. Schoonheid, zonder veel tierlantijntjes en/of opsmuk. Je ontwaart al iets meer hedendaagse tonen, maar dan in een arrangement van toen.
Ingetogenheid en diepere klanken, en meteen ook recenter klinkende synthwave, krijgen we voorgeschoteld met Hinter Den Bergen. Het geeft een soort trancegevoel, trekt je helemaal in jezelf.
En dan als geweldige uittrede uit deze EP walst Du Bist Meine als een TGV uit de boxen. Strak tempo, kurkdroge analoge drums die een uitermate dansbaar ritme produceren. Daarbovenop een ondersteunende baslijn en een melodieuze synthparade van eindeloos zichzelf herhalende bliepjes. En nummer ook dat eindeloos mag blijven duren, eens je in die staat van overgave komt.
Raderkraft heeft alles wat minimal zo mooi maakt. Het klinkt hemels, het is hemels en live dan ook nog een voltreffer. Rep je naar die online, bestel die vinyl en geniet. This is a joyful ride….
Jurgen BRAECKEVELT
03/06/2019
---